Unlock your nationwide benefits today by downloading your UA Alumni App!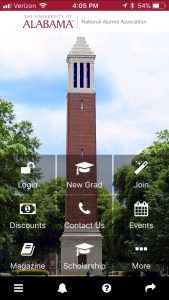 Become a part of the Alabama family and join the Association that helps support The University of Alabama. Over 35,500 members include not only alumni, but also thousands of University of Alabama supporters and Crimson Tide Fans. Our members know that the best way to receive news from campus is to have an active membership in the Alabama Alumni Association. By joining the Alabama Alumni Association, you can share in the University experience. Membership for Joint Donors (Husband & Wife) is a minimum of $65 and $40 for an Individual Donor. Make your check payable to the Alumni Fund and mail it to Alabama Alumni Association, P. O. Box 861928, Tuscaloosa, Alabama 35486-0017 or you can join online.
Benefits
The National Alumni Association has a membership benefits package that includes a membership card and car decal, quarterly issues of our award winning Alabama Alumni Magazine, discounts at various area merchants, hotel and rental car discounts, and much more.  The revenue gained from your membership will allow the organization to continue to provide quality alumni programming and scholarships to outstanding students. Join today and become a part of an organization that is committed to providing our members valuable benefits and meaningful services. Join the Alabama Alumni Association and receive the following benefits:

Apply for your Alabama Alumni Affinity Credit Card today!
See what the BAMA Credit Card can do for you!