Unlock your nationwide benefits today by downloading your UA Alumni App!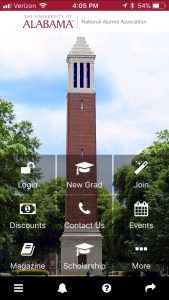 Become a part of the Alabama family and join the Association that helps support The University of Alabama. Over 35,500 members include not only alumni, but also thousands of University of Alabama supporters and Crimson Tide Fans. Our members know that the best way to receive news from campus is to have an active membership in the Alabama Alumni Association. By joining the Alabama Alumni Association, you can share in the University experience. Membership for Joint Donors (Husband & Wife) is a minimum of $75 and $50 for an Individual Donor. Make your check payable to the Alumni Fund and mail it to Alabama Alumni Association, P. O. Box 861928, Tuscaloosa, Alabama 35486-0017 or you can join online.
Benefits
The National Alumni Association has a membership benefits package that includes a membership card and car decal, quarterly issues of our award winning Alabama Alumni Magazine, discounts at various area merchants, hotel and rental car discounts, and much more.  The revenue gained from your membership will allow the organization to continue to provide quality alumni programming and scholarships to outstanding students. Join today and become a part of an organization that is committed to providing our members valuable benefits and meaningful services. Join the Alabama Alumni Association and receive the following benefits:
Alabama Alumni Magazine (quarterly)
An opportunity for your child or grandchild to qualify for the Alumni Heritage Scholarship and/or the Alumni Scholar Award (must be a UA graduate)
Book Scholarship for UA Early College students
Information on Homecoming, reunions, A-Day, etc
Charitable Tax Deduction
Free Admission to the Bryant Museum, Moundville Archaeological Park and Alabama Museum of Natural History
Free admission to The Gorgas House Museum
Tuscaloosa children's Hands-On Museum, one-half price for one member and one guest
Information on Alumni Chapter events in your area
10% discount on clothing and souvenirs at, The Trunk, The College Store, Alabama Book Store, Off Campus Book Store and Alumni Hall Stores
10% discount on clothing and souvenirs at the Supply Store Use Coupon code – activealumni (excluding "red tagged" or otherwise reduced in price items)
$3.00 off an Express Oil Change
A Contributor Card and Car Decal
Budget Car Rental Discounts Budget.com or call 1-800-331-1212 AWD #D7059000
Avis Car Rental Discounts Avis.com or call 1-800-331-1212 AWD #D2659000
An opportunity to join the Alabama Credit Union
20% discount on all University of Alabama Press books purchased at http://www.uapress.ua.edu/
Discount code: UAbook01
10% discount on Facility Rental at the Bryant Conference Center
Discount on insurance through Liberty Mutual www.libertymutual.com/ua
Discount on Alumni Insurance Programs
15% discount at Hotel Capstone. NO BLACKOUT DATES.  Use code UAALUMNI in the Corporate Box.  Alumni Membership Card must be shown at check in.
Receive 10% discount room rates at The Jack Warner Inn at Northriver, (http://thejackwarner.com/)  in Tuscaloosa. Call 205-343-4215 and tell them you are a member of the NAA.
 Receive 20% off initiation fees at NorthRiver Yacht Club for Nationial/Non-Resident Members and 10% off initiation fees for Resident Members.   Call 205-343-4565 for more details and mention you are a member of the NAA.
Member Deals – discounts on theme parks, water parks, hotels, and more.
Checklist of Essentials for UA Students https://www.ocm.com/uat

Apply for your Alabama Alumni Affinity Credit Card today!
See what the BAMA Credit Card can do for you!