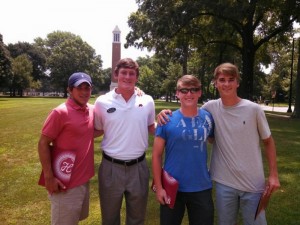 Thank you for your interest in the Discovering Bama program.
The Discovering BAMA is a uniquely personalized campus visit program available to high school students who want to learn more about The University of Alabama. Prospective students must be recommended by a current member of the National Alumni Association to participate. Members may recommend prospective students using the form below.
As a prospective student, you and your family will experience an individualized campus visit that is tailored to your specific interests. Each schedule varies, and most visits include a campus tour, lunch with a current student, and meetings with an academic advisor in your intended field of study.
After a recommendation is received, we will reach out to you to schedule your visit. If you have any questions regarding scheduling a visit, please email us.
Discovering BAMA is offered Monday-Friday. A typical visit will last around four hours between 8:30 a.m. and 4 p.m. Due to the high volume of visits, please allow at least two weeks notice to complete scheduling and provide a first and second choice for your visit date.
We look forward to meeting you at the Capstone!
Not an active member with NAA?  Join The National Alumni Association

If you have questions about the nomination form, please email Anna Grace Barrett or call (205) 348-0639.