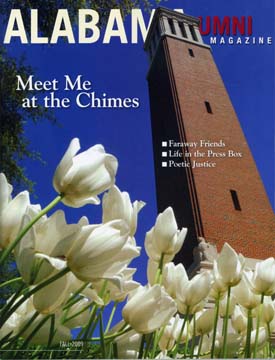 With no academic or family connections to the University, some people love us just because they do.
by Mary Cypress Howell
As the sound of an elephant roars and clips of the Bear flash on a giant screen, the excitement builds. Crowds sing the words to the fight song and wave their shakers as contagious energy spreads. Finally, the excitement comes to a climax—the football team rushes onto the field to a sound like thunder.
It's always good. But it's better the first time.
Many of us who grew up in Alabama don't remember our baptismal visit to campus; with parents who are alumni and fans, we sat in the stands of Bryant-Denny as babies. Others who first come as students get to absorb the magic of that experience during a freshman Saturday afternoon. With this feeling like no other in the world, it's no wonder we become die-hard supporters of our university.
But there are some people with no earthly connection to the Capstone who nonetheless are counted among its biggest fans, strongest financial supporters and most successful student recruiters.
Legends of the South
For most of these uncommon friends, knowledge about the school began long before they set foot on the grounds. Legends of Bear Bryant, stories of civil rights efforts and controversies over national championships popped up in conversations across the country in the 1960s. It was then that Bill Decas' curiosity began.
As a young man, Decas was a regular college football viewer, and as such he couldn't help being interested in the 1966 season when Alabama, a team he knew nothing about, was cheated out of the national championship, he said. UA was undefeated that year, but Notre Dame came out of the rankings as number one. According to Decas, with all the media coverage in the Northeast favoring Notre Dame, they couldn't help but be pushed to the top spot; but he felt strongly that the Tide deserved it more.
"I felt like Alabama was the underdog, and got mistreated. That's initially what attracted me to them," he said. "But I watched them over the years and found other things that were attractive—not just Bear Bryant, but the way they played the game. The players were local, home-grown boys, which was something very appealing to a young person like myself following college football."
While the Crimson Tide continued to dominate, Decas continued to follow this school that was so different from his own alma mater, Colby College in Maine. But it was a quarter-century later that he first set foot onto the campus. "As time went on, I realized if I like this so much, why don't I go down there and see a game or two?" he said. So in 1992, the Massachusetts lawyer bought tickets, got on a plane and went to his first Alabama football game, not knowing one other person in the stadium. "I went to the Auburn game," Decas said. "A few weeks later, they won the national championship. Ever since then, I've been going to six or seven games a year. That's how it began," he said.
Throughout the years, Decas has brought his mother, brother, co-workers and friends with him to games in Tuscaloosa and at other SEC schools. But he has also made several friends at the University who welcome him every time he arrives.
"All this time I've developed friendships with a lot of people down there," he said. "I've gotten to know about a lot of the aspects of the University—not just the football program, but other athletic programs and the academic situation." Decas has become a strong supporter of the University as a whole, and said he's happy about that. "I feel as if I've given back a lot less than I've received in enjoyment and pride from following the school all these years," he added.
Of course, friends and acquaintances in New England question his devotion; but people in the South question it as well. "Alabama people always joke about me–a guy from Massachusetts—coming down to watch their football games," Decas said. "I tell them, 'You folks are spoiled. You were born in the state. You had parents who went to UA. You've inherited it. I found it.'"
Decas isn't the only person from another part of the country who gets questioned about his love for the University. Around the same time he started following the Tide, Johnny Nicola from Pennsylvania made his first trip down, starting a lifetime of crimson passion. Like Decas, his awe for UA began long before he crossed the Alabama state line.
During the 1950s, Tony Chiccino, Nicola's brother-in-law, played football at the University of Kentucky, when Paul "Bear" Bryant was its head coach. While there, he became good friends with teammate Dude Hennessey, who went on to coach with Bryant at UA. Staying friends with Hennessey after college, Chiccino and, consequently, Nicola couldn't help but follow Bryant and his Tide team. "My brother-in-law was the one who always said, 'You wanna follow good football, you gotta go down South,'" Nicola said. "So after I got out of the service in '65, a couple of years later I decided I was going to go down and visit Alabama."
Nicola didn't know anybody in Alabama, except for Hennessey. But that was a good connection to have. "I basically just went to football practices," Nicola remembered. "I met Coach Bryant and thought he was a great person. I was in awe of him and the way he carried himself and spoke. There was nothing greater than going to Alabama football games back then."
It was during this time that football clubs became popular, including in Nicola's home state. The local fraternal organizations met to discuss the team of their choice and travel to games together. Schools from the Northeast were the focus of most of the clubs in the region. But after visiting the South, Nicola and a few others decided they wanted to start a Bama booster club in Pennsylvania, and the Bridgeport Bama Boosters were born. "When I started out, there were Penn State clubs and Notre Dame clubs up here where I used to socialize," Nicola said. "Those are no longer; but the Alabama club still is. We made a name up here."
What started out as a group of friends hoping to make a yearly pilgrimage to a college football game ended up putting their town on the map. In 1979, Nicola's enthusiasm paid off when the coach came to Pennsylvania to visit the faraway fans. "He came and visited with us on Dec. 19," Nicola said. "Six days before Christmas he came—of course Alabama won a national championship that year."
There was a large snow storm, Nicola remembered, but Bryant and almost 600 guests still made it to a banquet held in his honor. "All the papers covered it," Nicola said. "He did me the biggest favor coming up to visit." Since then, Ray Perkins, Gene Stallings, three UA presidents and other Alabama friends have attended similar events with the Bridgeport booster club.
The group still organizes a trip to Tuscaloosa for a football game every fall. Their events have extended past banquets; the members enjoy golf tournaments and other fundraisers that have helped them create scholarships for UA students who come from Pennsylvania.
In the final seconds
Football has been captivating Americans for more than a century, and former U.S. Secretary of State Condoleezza Rice is no exception.
Although Rice began her life in Birmingham, Ala., when she was 13 her family moved to Colorado, and she earned her bachelor's and doctoral degrees from the University of Denver, along with a master's from Notre Dame. But she never forgot her early years in the South. "My connection to The University of Alabama, an institution steeped in tradition and history, started as a young girl," Rice said. "My father and I would listen to Alabama football games on the radio every weekend, and later watched the Bear Bryant Show whenever we could. Over the decades, I have enjoyed the occasional visit to Tuscaloosa and spending time on the campus, meeting and engaging with students and rooting the Crimson Tide athletes on to victory."
It's no surprise that during a visit to London in early 2005, when she met with Jack Straw, lord chancellor and secretary of state for justice in England, Rice shared with him memories of her childhood in Alabama and her love for UA football. She must have told some good stories, because Straw was mesmerized, not only with the sport, but the whole state of Alabama, particularly the Civil Rights Movement. Realizing his interest, Rice invited him to visit Alabama with her, which he did, in October 2005.
"I had a fascinating trip to Alabama, something I will never forget," Straw recounted. "I was incredibly grateful for the kindness and hospitality shown to me from everyone involved. It was one of the real highlights of my career."
Mark Davies, special advisor to Straw, had joined him on the trip, and, quite unexpectedly, also fell in love with the state and the campus. After visiting various other places in the state, attending a memorial service for the victims of the Sixteenth Street Baptist Church bombing in Birmingham and a reception for relief workers who helped after Hurricane Katrina, the group converged on the Capstone.
Along with presenting the Frank A. Nix Lecture, sponsored by the Blackburn Institute, they attended a football game against Tennessee. "I will never forget driving to the stadium in the secretary of state's very long convoy of vehicles, and sensing the excitement on every street—seeing the houses decked out in Bama colors, and the parties in the gardens and on the verandas, and then the big crowds around the stadium," Davies said. "I've been to some big sporting occasions in the UK and the rest of Europe, and this was on a par with them."
But then he confronted an experience like no other before. He stepped into Bryant-Denny Stadium, and the atmosphere won him over. "I've never known anything like it—the packed stadium, the vibrant colors, the noise, the sense of excitement and passion," he said. "It was a brilliant experience." Alabama won 6-3 with a field goal in the last seconds of the game. Even though Straw and his envoy knew little about American football, Davies said they were all in favor when Rice insisted, against the wishes of her security detail, that they stay until the very end, in hopes that the Tide would pull through. "Everyone wanted to explain the game to these strange English people, and by the end of the match, I felt like I was a football veteran," Davies laughed.
It wasn't just the game that attracted him, though. "The most abiding memory is of the very great sense of friendship we felt throughout our visit," he said. "I know for a fact that everyone in our party had a wonderful time. We still talk about it."
Other fans abroad
As these newfound friends from England demonstrate, Bama fans can be found in all corners of the globe. A group from Canada fell in love with Alabama football during the 1992 season and has since traveled down for several games. A cafe in Russia is named for the state of Alabama, and displays memorailita from the University. And UA alum Dr. Langston Haygood has recently raised a group of fans in Ukraine.
A professional counselor, Haygood began spreading his seminars past the borders of the United States about five years ago, training psychologists, psychiatrists, lawyers, pastors and lay people in counseling. During his travels, Haygood, who earned his PhD from the University in educational psychology in 2005, has passed on his passion for all things UA to some Ukrainian friends, along with some crimson wardrobe items. "When I arrive at the airport in Odessa, I'm usually met by Ukrainians wearing Bama caps and clothing," he said. "They yell 'Roll Tide,' and have developed a connection to the University as close as anyone who has actually been here."
"I wear Bama clothes not only when Dr. Haygood arrives," said Sasha Popov, who helps the counselor with the audio and visual aspects of his seminars in Ukraine. "I wear it because I like the color, and because I feel united with other Bama people." Popov also uses a picture of himself in an Alabama hat as his profile photo on Skype, a computer application through which users can make voice calls over the Internet.
And his affection has already continued to the next generation. Popov's 18-year-old daughter, Dasha, recently moved to Alabama to start college at Jefferson State Community College. After a year, Haygood will evaluate her English skills and hopes to help her transfer to UA. "Dasha is totally into Bama," Haygood said. "She stayed with a family [there] last fall and went to the home football games. She knows."
Anya Plachova Hall, one of Haygood's translators during his work in Ukraine, is also getting to experience Alabama firsthand–she recently married a man from Birmingham, and moved there. She is quick to express her excitement about her new home and its proximity to her friend's university, and she has already visited the campus a few times. "UA provides the best teachers, high-quality education and great opportunities for the students to realize all their skills and potential," she said. "And the libraries—they are giants!" She hopes to eventually find a position with the Russian program at UA.
Hall echoes the sentiments of others, who find their own reasons for wanting to be one of us. Whether traveling across states or oceans, they become fast friends when they arrive, and sometimes before. As Nicola describes bringing Pennsylvanians to the South: "I always try to bring guests, and Alabama sells itself."
To receive four issues of the Alabama Alumni Magazine each year, Join the Alabama Alumni Association Online