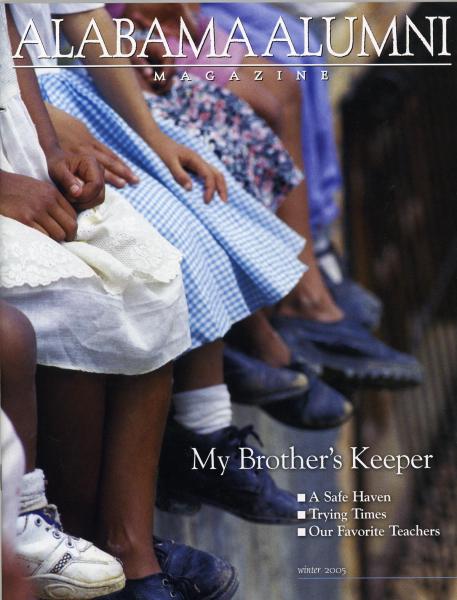 by Tatiana Richards
The American Gulf Coast—a beautiful place made of sandy beaches and streets and parks with French names, shaded by trees dripping with Spanish moss; home to jazz music, fresh Southern seafood, decadent riverboats and the best Mardi Gras celebrations in the world.
Then it came. In the midst of the busiest hurricane season on record arrived the storm of them all. Hurricane Katrina brought winds, water and destruction. People fled their beloved cities, many of their homes deep underwater, searching for refuge. They ended up far away, in places like Houston, Atlanta, Memphis—and The University of Alabama. And the healing began.
On Aug. 29, 2005, Katrina made landfall as a Category 4 hurricane, the most powerful such weather system to hit the United States since Hurricane Camille in 1969. During the storm and in the aftermath, more than 1,000 people lost their lives in southern Alabama, Mississippi and Louisiana. As those who survived evacuated to other parts of the country, many ended up in Tuscaloosa, where the residents of the campus and the surrounding community were determined to make them feel at home.
Two days before the hurricane hit, George Brown, director of UA's Student Recreation Center, received word from the Red Cross that his facility would possibly serve as a shelter for victims of the storm. They expected anywhere from 25 to 50 Alabamians to stay there, for no longer than a couple of days.
"Everything changed when the levees broke," Brown said. After that, people from all along the affected coastal areas began arriving at the Rec Center. "We didn't think it would be that big," said Brown. "Within 72 hours of becoming a shelter, we became a city."
And like a city, the shelter never slept. Maintaining the operation was a 24-hour-a-day job, said Brown. A typical day began with food being served from a truck by the Salvation Army. Outback Steakhouse, the Kiwanis club and various church and civic groups also donated food to help feed the hundreds of people at the center.
After eating, the evacuees (whom Brown fondly referred to as "patrons") would go to a communications center established by the Rec Center staff where there were televisions, phones and computers with Internet access that helped to keep them informed and to get in touch with loved ones. A job-search bulletin board was installed to inform people who planned to stay in the area of employment opportunities. The Tuscaloosa Department of Veterans Affairs and the Social Security Office for Economic Relief had tables in the communications center to help the dislocated receive financial assistance. This was extremely important, said Brown, because the disaster occurred at the end of the month, and many victims were on fixed incomes and desperately needed the paychecks and other funds they had been expecting.
While their parents were busy in the communications center, the approximately 130 school-aged children at the shelter needed something to do. Workers at the shelter created a structured, organized child-care area where University students took turns reading to the children and playing games with them.
Of course, the limited staff of the Rec Center couldn't do all of the work by themselves, said Brown, and true to the South's reputation for hospitality, "hordes of people volunteered." People from all facets of the UA family came, at all hours of the day, from faculty and staff members to student organizations.
Included in this group were Crimson Tide football players, who dropped by to help out on Labor Day. Sophomore cornerback Simeon Castille said that although it was a holiday and the football team's day off from practice, volunteering at the shelter was just the right thing to do. Senior defensive tackle Jeremy Clark agreed. "If I was in that situation, I would like for somebody to help me."
Graduate student and cornerback Anthony Madison said that it was something that the team felt they needed to do, especially to help the children involved. "It affects the adults, but it has a bigger impact on the kids. I'd like to say to those people that I'm praying for them. The team is praying for them."
At times there were so many helpers that the Recreation Center had to turn volunteers away, referring them to other shelters in town to share their assistance. "It was so heartwarming to see people giving of their time," said Brown.
But time wasn't the only thing contributed. Volunteers took people shopping and to the movies; groups offered housing; students, faculty, staff and community members donated food, clothing, toiletries and other necessities. Eventually, the quantity of gifts was so overwhelming that two 32-foot-long trucks filled with extra clothing, food and other items were sent to a shelter in Eutaw, Ala.
Brown credited his staff, whom he describes as "tireless, amazing and dedicated," with enabling the Rec Center to be an effective sanctuary while still offering its regular services. "The true testimony of the Alabama spirit was realized when the patrons co-existed," he said.
At its busiest point, the shelter served as a home to about 600 people. After a couple of weeks, the last of the evacuees returned to their own homes or moved on to other locations, and the city was no more. "Our role as a shelter is over, but the situation is not over," said Brown. He said that the staff of the center learned that they can mobilize quickly and must always be ready to help, and he feels that if something similar were to happen again, the people of Tuscaloosa would have no problem taking care of others in need.
Becoming Fast Friends
Andy Warhol once said that he did the same thing every day—went to work and painted. So does Jay Langhorne. Only these days, this artist is far away from his home in New Orleans, where he spent the past few decades sketching portraits in the city's famous Jackson Square. Langhorne evacuated to Tuscaloosa when Hurricane Katrina came to call.
On the day Alabama beat Tennessee on the football field, Langhorne had set up shop on the UA Quad with charcoals, an easel and a lawn chair. "Mom, I like it when he uses the pink," commented his customer, 5-year-old Alli Swann, as she posed for a drawing. "Can he use some more?"
"I can't use too much pink, or you'll look like a kewpie doll!" he warned.
Alli's mother, Traci Swann, laughed. A UA graduate who lives in Tuscaloosa, Traci has a lot of relatives who made their home in New Orleans, so the tragedy struck a strong chord with her. When she read about Langhorne in the local newspaper, she was determined to try to find him. "As many times as I've been to New Orleans, I've probably seen him down there," she said. "I'm glad we ran into him. His talent is amazing."
When Langhorne left New Orleans with his wife, Marie, and youngest daughter, Ophelia, he did not expect to be gone long. After a few days, he realized that the storm was more destructive than anyone imagined it would be. "All my work is underwater," he said.
He and his family were staying in the Jameson Inn when they met Steve and Teresa Mills. When the Millses, who live in nearby Northport, learned that there were Katrina evacuees in the area, they wanted to help. They asked the staff at the Jameson Inn to direct them to such a family, and they were introduced to the Langhornes.
Langhorne was touched by their hospitality. Their benefactors gave them clothing and food, and they helped Langhorne to re-establish himself in Tuscaloosa. They purchased art supplies for him, and helped to procure an apartment in the Clara Verners Towers.
Originally from New York, Langhorne said he knew from the age of five that he wanted to be an artist. Although his family couldn't afford art lessons, he practiced by copying pictures from comic books. When he was old enough, he joined the Army in which he trained to be an accountant. "I was so bored I didn't know what to do," he laughed, saying that he spent much of his time drawing pictures outside the ledgers.
He later used money from the GI Bill to study at the famous School of Visual Arts in New York and at New York University. When the money ran out, he began to travel and draw. He sketched portraits at a hotel in Puerto Rico and drew illustrations of rodeos in Denver and Texas before ending up in New Orleans. (He said that he originally went there to party, but stayed when he met his wife.)
Now that he is settled in central Alabama, Langhorne said he is content. He had been wanting a change of scenery, he said. "I like it," he added. "The people are friendly."
Alli Swann smiled shyly when she looked at her completed portrait, and Langhorne smiled in return, leaning back in his chair to search for his next subject.
To receive four issues of the Alabama Alumni Magazine each year, Join the Alabama Alumni Association Online