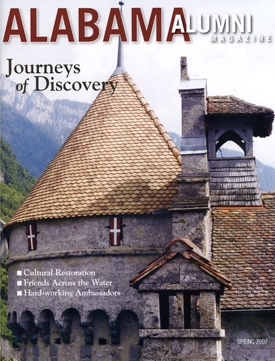 Today's students benefit from a myriad of choices to study abroad, and each year more and more are choosing to gain a global perspective.
by Deidre Stalnaker
Near the new gates commemorating The University of Alabama's 175th anniversary, on the Crimson Promenade, is a yellow brick building named for Braxton Bragg Comer, who was Alabama's governor from 1907 to 1911 and whose legacy was the foundation of Alabama's modern public school system.
On any given day, flags from different countries, unrecognizable by most who walk by, line the building, representing the department housed inside. That department is the Capstone International Center, which includes the English Language Institute, International Programs, International Services and the International Center for Students. A quote attributed to Mark Twain is prominently posted atop the door of the center: "Travel is fatal to prejudice."
Those who utilize its services study abroad, learn about global topics, mentor international students and are international students themselves.
"We want students to be both good citizens of Alabama as well as good global citizens," said Dr. Jane Stanfield, assistant vice president for international education and global outreach. "Many nations, one world. We value diversity and richness, but bottom line—it is one world and we have to share."
Traveling to other countries to augment their education is becoming increasingly popular with students. "The average for the past five years is about 600 UA students per year who study abroad," said Angela Channell, director of the study abroad program and assistant director of Capstone International Academic Programs. "That's up from 200 seven years ago. We've grown steadily the past few years. Student interest has increased. Many more students come to UA with an expectation to study abroad."
There are UA programs in 26 different countries, and they can change from year to year. The most popular destination is Western Europe, specifically the United Kingdom and Spain.
Anne Capitell, '05, spent the spring 2003 semester in Alcala de Henares, near Madrid, Spain. "I really wanted to learn [Spanish] fluently," she said. "I heard a lot of good things about the school and I wanted to go to perfect the language."
Studying abroad not only helped her language skills, it also helped her understand how the world views the United States. Being there at the start of the war with Iraq, Capitell experienced some hostility toward Americans. "Most were really nice to me, but I had a few experiences where people weren't excited that I was from the U.S.," Capitell said. "One thing I remember is that all the Americans stayed in one building and one day there was graffiti [there] that said, 'Go Home Americans.'"
But the tensions she experienced didn't ruin her semester abroad. Capitell, who now teaches Spanish at Briarwood Christian High School in Birmingham, said, "It's probably the best thing I ever did. It really helps you feel more confident about yourself and helps you be more open-minded. I was in a foreign country by myself so it really forced me to make friends and get out of my comfort zone."
Students apply for foreign study for various reasons, including increasing language fluency, obtaining field experience or gaining world perspective, while earning academic credit. Jacob Delker, a UA junior who is a double major in finance and German and wants to be a financial analyst in the international securities market, expects the time he spent abroad to help him in his future job search. "I don't think it would be possible to break into this field unless you study abroad."
Delker spent last summer as a student at the University of Klangenfurt in Austria. He describes the best part of studying abroad as, "Learning simple everyday things that cannot be learned in a classroom, everything from shopping in the supermarkets to the southern dialect of Austria."
"After being there two weeks it felt like everyday life," Delker added. "It was a lot easier to adjust than I expected it to be." He plans to study at the University of Mannheim in Germany this fall to expand on his overseas experiences.
"Our mission is to help realize any student, faculty member or college's international goals," Stanfield explained. "That's what I love about this position—I get to work with everyone on campus." There are cooperative programs with colleges and departments of the University, including volunteer services.
The four-year-old Ghana Study Abroad Program combines learning with global community service. "It is a very unique program. There are misunderstandings about Africa that can only be counteracted by visiting," said Dr. Valerie Phillips, instructor for the Ghana program and director of the UA Community Service Center.
The UA students who participated in the 2005 course donated 500 books to the Val Phillips Preparatory and Junior Secondary School in Axim, Ghana. At the school each visiting student spent a day in a classroom teaching the children about Alabama.
Students also visited the Elmina Slave Castle in Elmina, Ghana, an experience that took the historical relationship between Africa and Alabama beyond a textbook understanding to one that was personal and real. "Taking students from the textbooks to reality makes them deal with the academy of learning about slavery, the reality of the slave trade and the emotions brought up by slavery," said Dr. Seth Appiah-Opoku, UA assistant professor of geography and director of the Alabama Ghana Program.
"We really believe that you can't teach experience. And that's what UA international study is about—experience," Stanfield added. "We can teach a lot of things, but we can't teach experience."
One doesn't necessarily need to travel abroad to gain a global experience. Some traditional students serve as international ambassadors, or mentors, to international students. They spend time together, introduce the international student to the campus and area, and work with International Student Services in facilitating activities, such as trips to the Civil Rights Museum, a symphony or canoe trips.
UA shares its campus with about 1,000 international students, or four percent of the almost 24,000 students enrolled, representing 86 countries.
The English Language Institute has a conversation partner program that meets two hours a week. "We have a waiting list of American students who want to participate," Stanfield said. These programs are not only a great way to introduce the foreign student to Alabama and American culture, but serve as a way for native students to learn about other cultures as well. "They study language and enjoy insights they gain from another culture on a common topic, like the way you count on your fingers."
Autumn Smith, '03, a language arts teacher at Pelham High School, participated in the conversation partner program while attending UA. She now uses that experience with her students who speak English as their second language. "I have a better understanding of my students now—I feel I can connect with them more quickly because of the experience I gained with ELI. It gave me a better understanding of how difficult it is being in a different country and trying to adapt."
Deidre Stalnaker is a communication specialist in UA's Office of Media Relations.
To receive four issues of the Alabama Alumni Magazine each year, Join the Alabama Alumni Association Online