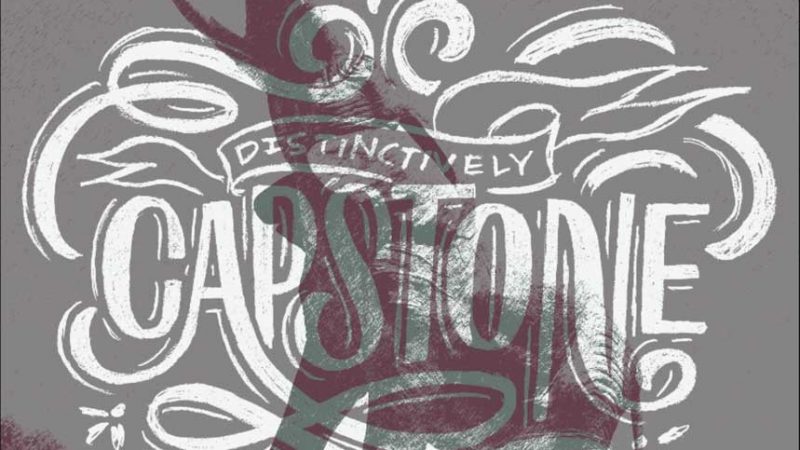 By Annabelle Blomeley and Edwin Stanton
Ask a group of University of Alabama alumni what is distinctive to them about The University of Alabama and you will get multiple answers. There are a variety of iconic features on and off campus that alumni carry with them long after they graduate. It might be a special location, a particular class, a memorable event or the people they spent time with during their tenure on campus. Here are the top answers, in no particular order, from alumni on what is distinctively Capstone to them.
Quad Squirrels
While Big Al may be The University of Alabama's beloved mascot, many students consider the Quad squirrels to be similarly important figures around campus. Whether they're stealing students' lunches, running in front of pedestrians on the sidewalk, or dropping acorns onto unsuspecting passersby from the treetops, the squirrels have made their mark on campus and in students' hearts.
Campus Art
Although UA might be known as a football school, the University has a diverse and growing art department and community. In the Woods Quad sculpture garden, there's the sleeping robot named "Iron Giant," a bronze crescent moon made of camellias titled "Flourish," and "The Quilted Vessel," a casted aluminum sculpture in a quilted boat shape. Close to campus in Manderson Landing on the banks of the Black Warrior River, a 30-foot sculpture of the Roman goddess Minerva erupting out of a crescent wave with an owl on her arm dominates the dock.
Architecture
Known for its picturesque capstones, brick facades and towering Greek columns, The University of Alabama boasts 297 buildings on campus. From museums like the Alabama Museum of Natural History to cultural and historical landmarks such as the President's Mansion and the Little Round House, the University's architecture helps tell the story of the 190-year-old campus, including its destruction in 1865 during the Civil War.
Picnics/Hanging on the Quad
The University of Alabama wouldn't be the same without the beloved Quad, a 22-acre green space in almost the center of the campus. Home to many of the original buildings and the historic Denny Chimes, the Quad is now rarely seen without students picnicking in the grass, playing sports with friends, and walking to and from class, especially on sunny days. The Quad is made up of one side of grassy lawn and another side with a grove of trees.
Bid Day/Squeal Day
With nearly one third of the student population at UA participating in Greek life, August in Tuscaloosa is normally abuzz with sorority recruitment. At the end of the long rush week, sorority members open their bids in Bryant-Denny Stadium before running to their new "home" in what is affectionately known as Bid Day. Around 2,000 students participate in sorority rush week annually, with even more joining sororities through continuous open bidding throughout the school year.
Denny Chimes
The University of Alabama Quad just wouldn't be the same without the towering Denny Chimes and its musical tolls. Originally envisioned as a memorial for World War I, the 115-foot tower was eventually finished in 1929 and dedicated to George Denny, who served as University president. Inside the structure are 25 bronze bells in a carillon, which ring out with "Westminster Chimes" every 15 minutes as well as other songs played by a carillonneur. Denny Chimes is made from Alabama limestone and bricks from Virginia, which was President Denny's home state.
The Strip
Several of the names of the businesses have changed, but The Strip is still one of the most popular attractions for University students. Even alumni come back to campus and take their families to The Strip in the fall for football weekends.
The five-block area down the street from campus houses eateries, shops and bars that UA students have frequented for years.
University grads certainly remember popular eateries such as Solomon's, Kwik Snak, Tut's Place and International Deli. Older alumni will remember Rex Pharmacy, The Tide Theatre and Bamastuff (formerly the Alabama Bookstore), which has been around since 1939.
Buffalo Phil's, formerly Wings & Things, has also been a mainstay for more than 40 years. The Varsity, The Booth, Egan's and The Ivory Tusk were popular nightlife destinations. They are gone, but not forgotten. Some old places, The Houndstooth and Gallettes, are still around.
Popular hangouts
City Café
Across the Black Warrior River from Tuscaloosa is historic downtown Northport. Some of the businesses there have been operating for nearly a century. One of them is City Café, a University staple.
Opened in 1931, this meat-and-three became a perfect lunchtime hangout for UA students on a budget, and a perfect breakfast spot for students after pulling late-night study sessions for exams.
During the lunch rush, the joint is standing room only. Just over 150 diners can be seated, but waiting customers stand in lines that can sometimes stretch out the door and around the corner. Patrons may even have to eat with waiting customers hovering over their table.
Rama Jama's
Started by Gary Lewis in 1996. Located across from Bryant-Denny Stadium on the corner of Bryant Drive and Wallace Wade Avenue. It was previously a gas station. Has been a popular hangout on game days. Serve burgers, hot dogs and breakfast.
Nick's in the Sticks
This family-owned restaurant was started by Nick Delgado in 1939 in Greene County, and moved to its current Culver Road location in 1953. The official name is Nick's Original Filet House, but everyone in Tuscaloosa prefers to call it Nick's in the Sticks. Folks can wait up to two hours for Nick's famous bacon-wrapped steak filets, beer-battered onion rings and signature drink, The Nicodemus.
The atmosphere hasn't changed much since it opened. The ceiling is covered with a few thousand $1 bills, including some foreign currency from guests from Australia, Germany and Japan.
The Corner
Established by John Puryear and Bill Schuessler in 1946 on the corner of Paul W. Bryant Drive and 8th Avenue, The Corner Store is synonymous with The University of Alabama. This UA icon was a 24-hour convenience store that sold groceries and UA apparel before the original building was demolished in 2013. It was rebuilt as The Corner Supe Store, and it's still a popular place for students and alumni to purchase Alabama apparel and merchandise.
Football traditions
Rammer Jammer
It makes sense this iconic cheer gets its name from Rammer- Jammer, a campus humor and literary magazine from the 1920s. The Yellowhammer is the state bird. Add them together and you get "Rammer Jammer, Yellow Hammer, Give 'em Hell, Alabama!"
Million Dollar Band director James Ferguson, who came from Ole Miss, patterned the cadence of the cheer to "Hotty Toddy," the Rebels' fight song. While it's not officially associated with Alabama, it's one of the most popular Crimson Tide traditions after a win.
Walk of Champions
Two hours before kickoff, fans pack in front of Bryant-Denny Stadium to cheer on the team as they enter the stadium. The walkway was constructed in 2004 and is adorned with granite slabs listing all 18 of the Crimson Tide's national titles, complete with team roster, coaches and record. There are also special markers listing the program's conference titles.
Homecoming Bonfire
This tradition's been around for more than 70 years. The night before the homecoming football game, students, alumni and fans gather at the steps of Gorgas Library for a pep rally, complete with the Million Dollar Band and the football team.
Afterward, a tall, wooden pile constructed at the center of the Quad is lit ablaze with the fire department close by in case things get out of hand.
Walk of Fame
A tradition that started in 1948, Crimson Tide football captains are honored with their handprints and cleatmarks placed in concrete around Denny Chimes. Alabama legends Joe Namath, Ken Stabler and Bart Starr are among the enshrined, as well as recent Crimson Tide stars such as Derrick Henry, Tua Tagovailoa and DeVonta Smith. It's a spring tradition for the previous season's captains to be honored in this manner as fans gather for the ceremony before the annual A-Day game.
National Titles
It doesn't take long for national titles to come up in the conversation of what's distinctively Alabama. The Crimson Tide boasts 18 of them for football, the most of any Division I school in the country. Coach Wallace Wade's got three titles. His 1925 team won the program's first title after beating Washington in the Rose Bowl. Alabama won a pair of titles under Frank Thomas (1934, '41) and one with Gene Stallings (1992). Paul W. Bryant and current coach Nick Saban each lay claim to six Alabama national championships.
Houndstooth
You can't go to The University of Alabama without seeing the iconic houndstooth design. You see it on dresses, purses, earrings, shoes, shirts and jackets. It's even painted on faces for football games. There are even some houndstooth tattoos out there.
Paul "Bear" Bryant, of course, is responsible for bringing this look to Tuscaloosa with the signature houndstooth fedora hat he wore on the sidelines. The story of how Bryant started wearing the historic hat varies. One version is he got his first hat from Baldone Tailoring Co., in Birmingham, before his first season as the Crimson Tide's football coach. It's also been reported that Bryant received a Houndstooth hat from New York Jets owner Sonny Werblin after the Jets took Joe Namath in the 1965 American Football League draft.
Whichever story you believe, the houndstooth tradition lives on.
Big Al
The University of Alabama's history with the elephant dates back to the 1930 season with an article written by Everett Strupper in the Atlanta Journal. Writers then referred to Alabama as Red Elephants.
Big Al wasn't officially introduced as the Crimson Tide mascot until 1979. It was created by student Walt Tart and homecoming chairman Ann Paige. The name Big Al was voted on by students after a popular DJ on campus named Al Brown. Big Al's debut came in Alabama's game against Penn State in the Sugar Bowl, which the Crimson Tide won 14-7 to claim the national championship.
Yea Alabama!
The football program started in 1892 but didn't have an official fight song until after the Crimson Tide won their first national title in 1926. The campus magazine Rammer Jammer was responsible for Yea Alabama. In 1925, the publication offered $50 for the best fight song.
A few months later, Alabama won its first national title at the Rose Bowl, and that's when submissions came streaming in. Ethelred "Epp" Sykes, The Crimson White editor who earlier had written pleas for a fight song, was the winner. He donated his prize to pay for an arrangement to be written so the Million Dollar Band could play it in time for the 1926 football season.
Million Dollar Band
What's The University of Alabama without The Million Dollar Band? The band has been a part of the University for more than a century and got its moniker in 1922 from W. C. "Champ" Pickens, an Alabama alumnus and football manager in 1896. The band had a penchant for fundraising from merchants. Because of this, the band traveled in style by train to the Crimson Tide's game with Georgia Tech. The Yellow Jackets won big, 33-7, which prompted an Atlanta sports writer to comment to Pickens, "You don't have much of a team, what do you have at Alabama?" Pickens replied, "A Million Dollar Band."
To receive four issues of the Alabama Alumni Magazine each year, join the Alabama Alumni Association Online.