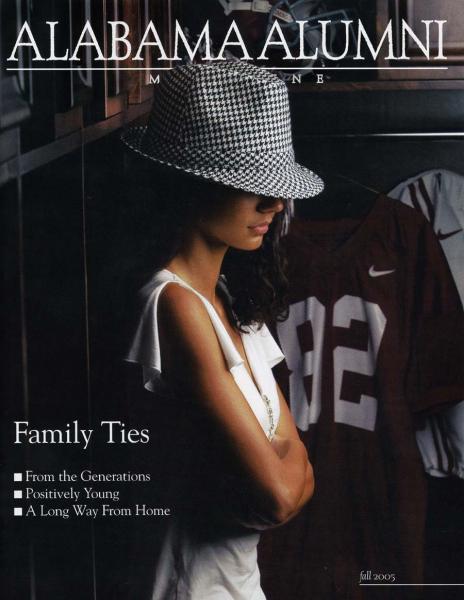 by Tiffany Summerville

To the Crimson Tide faithful, names like Kenny Stabler, Woodrow Lowe, Johnny Musso, Tony Nathan, Tommy Wilcox and Don McNeal draw instant associations with the phrases "All-American," "championship team" and "great Alabama football." But for eight young ladies at The University of Alabama, these names mean something quite different.
They represent someone they can always call to help when things go wrong; the person to ask if they need money, and who won't hesitate to write that check; the one who can seem hopelessly out of date, but still offer the best advice in the world; and hands-down the most important man in their life—their daddy.
Alexa Stabler, Briana and Adrienne Lowe, Tyler Musso, Natalie and Nadia Nathan, Kristi Wilcox and Jessica McNeal are continuing a family tradition, but they are also carving their own path at a university that is very different from the one their fathers attended. Good ole dad, who spent many a glory day in Bryant-Denny Stadium, might not recognize all the parts of today's expanding Capstone, but he has only to ask his little girl and she'll straighten him out. After all, it's her campus now.
Kenny and Alexa Stabler
UA freshman Alexa Stabler has a fairly recognizable last name, at least in these parts. But her father's fame didn't get in the way this summer when he accompanied her to Bama Bound, the University's freshman orientation event. "People did pick up on it," she said, but the 18-year-old went on to clarify that those who did were mostly other parents and not her freshman peers. "Guys my age don't really know who he is," she explained.
For Alexa, attending The University of Alabama was an easy decision. "I didn't even apply anywhere else just because I knew I was coming to Alabama," she said, noting the four UA scholarships she received were icing on the cake. "My dad has brought me up around Tuscaloosa and the University, and I don't think there's anywhere better to go."
"It makes me really happy that she chose Alabama," said Alexa's father, Kenny Stabler. A quarterback under Coach Bryant in the late 1960s who went on to play with several professional teams, the "Snake" has stayed active in UA athletics and co-hosts Alabama's gameday broadcasts with Eli Gold.
Friendly, confident and driven, Alexa wants to be a broadcast news anchor, not a far cry from the work her father does, or that of her mother, Rose Stabler, who is a broadcast meteorologist. She cherishes her close relationship with her dad. "He's always been a really good dad and role model," she said. "I know he had a wild reputation when playing in the NFL, but that's not him at all. If I or my sister need anything, he'd do it. I'm always around him, and he's always there."
Now that she's in college, that fact really hasn't changed. "I'm gonna probably be there more than the normal parent," Kenny noted, and mentions that he is considering looking for a place of residence in town now that Alexa lives on campus and her younger sister, Marissa, 16, will follow shortly. "I want to give her whatever support she needs—financial, moral, family, fatherly support—all the direction you can give them," he says of his daughters. "I wouldn't trade them for all the boys in Alabama."
Alexa said she's been touched by the nice reception she's received from the UA community and appreciates the respect shown to her father, and that being Alexa Stabler at The University of Alabama isn't that bad. "There are no downsides to it except I can't top out," she mused. "I can't win a national championship or anything." Still, a little thing like the male sport of football won't keep Alexa from contributing. "I wanted to come to Alabama because my dad has loved Alabama and gotten so much out of his experience here. I want to do the same, and leave my own mark. I can't win football games, but I can hopefully make a difference and give back."
Woodrow, Briana and Adrienne Lowe
Briana and Adrienne Lowe remember sitting in the kitchen talking with their parents when their father, Woodrow Lowe, began to reminisce about his days as a linebacker under Coach Bryant. "Dad said, 'I remember when I had to ask Bear Bryant if I could marry your Mama,'" Briana recalled.
Woodrow met his future wife, Linda, at UA. He played football. She was in the band. Eventually, he started considering marriage, but wanted permission first, so he went to his father . . . and to his coach. "Bear Bryant told me to think about it and come back in a couple of weeks," Woodrow remembered. "I came back and sat down on that couch in that museum and we talked for about an hour, and he gave me his blessing."
To Briana and Adrienne, the fact that their father asked his college football coach if he could marry their mom is quite humorous. "I asked Dad what he would have done if Bear Bryant had said no, and Mom said we would have had a different daddy," Briana laughingly relates. "I guess they had to ask him if they wanted to do anything."
The Lowe girls' experiences at UA have been different from their father's, but both of Woodrow's daughters are glad they can share his college life in their own unique ways. Briana, 25, graduated in 2002 with a degree in computer science and earned her master's degree two years later. Now she's employed at UA's Alumni Hall as an advancement information systems programmer. Adrienne, 23, will graduate in December with a degree in fashion retail after interning with Neiman Marcus in Atlanta. The girls followed their older brother to Alabama and have a younger brother who plans on attending as well.
Both will tell you they have a very close relationship with their father. "You could call me and my sister Daddy's girls," Briana said. "We could ask him for anything and he'd try his best to get it for us. But we don't take advantage of that."
After several years in the NFL with the San Diego Chargers and then coaching jobs at various schools, including UAB, Woodrow recently accepted the head coaching position at Smiths Station High School in Lee County, Ala. This football dad, who spends every day on the field instructing boys, admits it's different when it comes to raising his daughters. "I think little girls learn what a man is and should be and could be through their fathers. I think that extra care should be taken when you're raising a girl, as far as establishing trust and a relationship that is always open," he says. "My daughters look to me for approval; they need to know how I feel."
Johnny and Tyler Musso 
Tyler Musso is the youngest child of Alabama All-American halfback Johnny Musso and his wife, Tanner. But not only is she the baby, she's also the only girl in a family that includes four older brothers. "She's my favorite daughter by far," Johnny jokes.
"I don't think I could love a girl any more than that one. I had a girl because I kept trying. I don't know what we would have done if we had had the fifth boy," he mused. "Probably kept trying for a girl!"
While her brothers attended UA, Northwestern and Wheaton College—playing their fair share of college football along the way—Tyler decided Alabama was the place for her and followed her parents and older brother to the Capstone. The 21-year-old junior art major says she wants to one day design jewelry, have a family and live in the South. Despite the fact she was raised in Chicago, where her dad works with the Chicago Board of Trade, Tyler considers herself a Southern girl and says Tuscaloosa feels more like home.
"I always thought Alabama was home to me, but somehow our kids felt that, too," said Johnny, who adds that Tyler was attracted to UA when he would bring her down for campus visits and football games. "She was not being anyone's daughter, just being herself, and people were nice to her and she fell in love with Alabama," he said.
"It kind of felt right," said Tyler of her decision to come to Alabama. "It's neat coming down here and so many people telling stories of Mom and Dad. It's like I get to meet their version of me at my age." But Tyler admitted there have been times when versions of Mom and Dad just couldn't live up to the real thing, like those days during her freshman year when, feeling a little homesick, she would make a detour while walking to class and go by Denny Chimes to place her hands in her father's handprints, captured there in cement. The Walk of Fame around the Chimes holds the handprints and footprints of all UA football captains since the 1940s.
Tyler said that although she can't repeat his performances on the football field like her brothers, there are more important characteristics of her father she strives to imitate. "As a person, my dad is very bright and generous. He's got great character. Constantly trying to fill his shoes is going to be hard, but it's something I try to do," she said.
"I hope she is all the person she's capable of being," Johnny said. "I hope she reaches her full, God-given potential. I hope she's grounded in who she is, and I hope she will be a beautiful person, inside and out, because that's how I see her."
Tony, Natalie and Nadia Nathan
Natalie Nathan had to get used to the way things are in Tuscaloosa. At first, it seemed odd to have strangers approach and strike up a friendly conversation with her in the way of all good, hospitable Southerners, admitted the 21-year-old. That's just not the way things are done in Natalie's hometown of Miami, where her father, Tony Nathan, played and coached for the Miami Dolphins. But after returning to her parents' alma mater to pursue a degree in management, Natalie adapted easily to her new environment. "Yes ma'am" and "ya'll" have now become a part of her regular vocabulary, which gets her teased by her friends back home. She doesn't mind.
Natalie graduates in December, but she'll get to spend one semester at Alabama with her younger sister, Nadia, 18, who began her freshman year in August and chose UA in order to be with Natalie. The veteran big sister, Natalie has already told Nadia that it's really not a big deal to go to school where your dad was a star running back, though it has had its perks at times. "Everyone is in awe [of him], but I don't consider it stardom," said Natalie, who grew up around professional athletes like Warrick Dunn and even babysat Dan Marino's children. Still, neither of the Nathan girls had experienced the college football fandom that exists in Alabama until they came to campus. "It's unreal how highly football is held in this state," Natalie says.
Though he said he didn't actively encourage his girls to follow his footsteps to the University (his oldest, Nicole, attended the University of South Florida), Tony and his wife, Johnnie, are glad they did. "It's a good feeling to have someone continue what you started," he said. Now in his third year as the running backs coach at Florida International University, Tony hasn't strayed from the game he loves. After playing and coaching with the Dolphins, he took a position on the coaching staff of the Tampa Bay Buccaneers, but at that time his family stayed in Miami so his daughters didn't have to change schools.
"Personally, he feels bad about going to Tampa for six years, but we knew it was his job," said Natalie. "He wasn't leaving us, he was working for us. He was always there when you needed him. We'd talk every night."
Tommy and Kristi Wilcox
Kristi Wilcox wasn't planning to attend The University of Alabama. "I grew up here, so when I graduated high school I really wanted to get out of Tuscaloosa," she said. "However, Alabama offered a wonderful National Merit scholarship package that I just couldn't refuse. Of course, that suited my dad just fine, though I know he would have supported me no matter where I chose to go to school."
"I was tickled to death," said Tommy Wilcox of his daughter's decision to study at UA, where he was a two-time All-American safety under Coach Bryant from 1979 to 1982. He's especially glad Kristi stayed near the family, which includes his wife, Mary, and younger daughter, Kacie.
"With a girl, you never want to give up. As a daddy, you try to protect them as much or as long as you can. I'm just glad she decided to stay close," he said. "They say you gotta give them a little space and let them try their wings and fly. But there's a difference between flying to another tree and flying to a different forest."
Not one to limit herself despite her father's protective nature, Kristi recently returned from England after spending part of the summer at Oxford with a UA study abroad program. Now in her junior year, Kristi is an honors student pursuing an English degree, with plans to go to medical school. "My dad means the world to me," she said. "I owe him so much. He gave me a good sense of work ethic, fight and heart. I've always been a very independent person, so going to college didn't really change our relationship that much except for the fact that I am not home as much—which he reminds me of very frequently."
"She's very mature," said Tommy, who now works in pharmaceutical sales and hosts a syndicated hunting and fishing show called Tommy Wilcox Outdoors. "She's always been the kind of person who knew what she wanted to do and wanted to accomplish. It took me two or three years to figure that out."
Tommy is quick to say how proud he is of Kristi and Kacie. "I wouldn't trade them for a boy, as much joy as they've brought to my life," he said.
Kristi is equally proud of her father, but not just because of his status in the history of Alabama football. "My dad was an amazing football player, but that is not the only thing he did with his life," she said.
Don and Jessica McNeal 
She looked at UCLA, and Brown University's track-and-field program was looking at her, but in the end, Jessica McNeal decided to come to her father's university. "I kinda wanted her to make that decision on her own," said Don McNeal. "I wanted her to have options—but, of course, I wanted her to go to The University of Alabama."
Jessica, who began her freshman year this fall, plans to major in psychology and follow a pre-dental track. She's also going to run for the Crimson Tide women's track team. Growing up in Miami while her dad played for the Miami Dolphins, Jessica didn't get to frequent the UA campus too often, but she does remember attending the 2000 Orange Bowl in Miami when Alabama played Michigan. "That's the first time I saw Alabama fever and how the fans get into it, and I just loved it," she said. "I really got to see what Daddy was talking about."
Don, a member of the Tide's 1979 championship team and a contributor to that year's famous Goal Line Stand, is now a children's pastor at his church in Hialeah, Fla. After 10 years with the Dolphins, he chose a different career path; he's been a pastor for the past 13 years, and is now pursuing a master's degree in counseling. In July, he came to Tuscaloosa with Jessica for her orientation session. "I love the way you could walk around and people still knew who Daddy was," Jessica said.
I tell my daughter she's gonna have to come back and sweep my name off from time to time," said Don, referring to his footprints and handprints, forever ingrained at the Chimes. "At least three times a week," promises Jessica, never one to let her dad down.
The McNeal and Nathan families have been close friends for years, and Jessica grew up with Natalie and Nadia Nathan; now Nadia is her roommate at the University. Like the Nathans, Don and his wife, Rhonda, will be visiting Tuscaloosa in the fall for some games, and later for some track meets. "I've got an interest up there," Don said. "I have a bigger reason to go back now; and it's good to go back."
To receive four issues of the Alabama Alumni Magazine each year, Join the Alabama Alumni Association Online