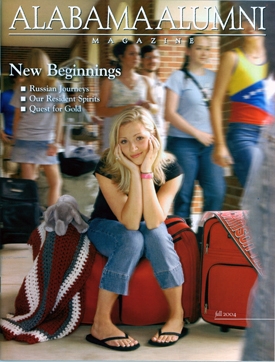 by Elizabeth Smith
Most of the students who make up this fall's 2004 freshman class were born in 1986 and are part of a group known by many names, from Generation Y, the Hip Hop Generation and NeXters to the Digital Generation and the Millennial Generation. Whatever name is used, it all comes down to the same population—more than 57 million people, born between 1981 and 1995.
They grew up in a world of Web surfing, e-mail and MTV. In fact, the Internet is their medium of choice, just as network television is for their parents. It takes a different mind-set to market to them, get and keep their interest and respond to them as customers.
The University of Alabama welcomed the second largest freshman class in the history of the University this fall, mainly from this age group. The incoming class is 53 percent female and 47 percent male and includes a large number of National Merit, National Hispanic and National Achievement Scholars. "In the two years with President Witt leading our institution, we have grown the freshman class by double digit percentages," said Dr. Roger Thompson, assistant vice president for enrollment management and University registrar.
These new students will face a very different learning environment than their parents or grandparents, complete with an array of programs designed specifically to help them succeed.
The newly formed Honors College, established by the UA board of trustees in September 2003 and combining the resources of the University Honors, International Honors and Computer-Based Honors programs, will have the largest enrollment in UA history.
The creation of the college proves the commitment of the University, the administration and faculty to the recruitment and education of the best and brightest students, according to Dr. Robert Halli, Honors College dean. "It ensures that they have small classes, top professors, opportunities for professional research travel, research grants and advising matched to their career desires."
The University is increasing the number of freshmen recruited to UA both from around the state and across the country. "Steady growth in the freshman class is what the president and the provost have challenged us to do in admissions, and we will do that in partnership with our alumni," Thompson said.
Elva Bradley, director of the Center for Teaching and Learning, works with programs across campus to ensure that these growing numbers of freshmen have the academic tools they need to succeed. That objective is accomplished through a wide range of tutorial and supplemental instructional services, all of which are designed to help freshmen launch their academic careers from a strong and solid base.
One of the ways CTL works to improve on the University's 84 percent freshman retention rate is through the Undergraduate Student Success Council, which is composed of people from across divisional lines who meet once a month during the academic year to discuss issues related to student adjustment, the collegiate experience and ways to intervene at the earliest possible time. "We know that students who don't make that adjustment to University life in the first couple of weeks of the semester are likely to become an attrition statistic," Bradley said.
The freshman experience involves a partnership with all areas of the University community, according to Dr. Hank Lazer, assistant vice president for undergraduate programs and services. "We admit students who we believe will be able to succeed, and our job is to work with those students to make sure that happens," he said. "We're all working together to build and develop the whole student. It involves academic success, but we fully understand it goes hand-in-hand with a good social, cultural and spiritual learning experience for the student."
Thompson's job, along with his admissions team's, is to get students accepted quickly. Once the admissions office receives an application, a prospective student can expect a reply within a week in most cases, according to Thompson. The admissions staff has worked diligently to accomplish that goal, whittling acceptance time down from months, with a further goal of 48 hours.
"We're competing for students who have options to go anywhere," Thompson said. "In 2004, our freshman class had more than 1,400 students who were eligible for full-tuition scholarships or higher. We are tremendously thankful for the work our alumni association does and all the scholarships that the chapters have developed. With their scholarship support, we are more competitive for the best and brightest students."
To support the increased number of freshmen, a major residential building phase will be ready for occupancy in the fall of 2005, resulting in approximately 960 new bed spaces. These will be living-learning communities with live-in faculty and hall directors who are actively engaged in the lives of the students who live there. The ambitious goal will involve a significant number of honors students in the beginning, but there will be general space available as well. About 85 percent of entering freshmen live on campus, and the University would like to see that number increase, according to Lazer.
"I would say another phase in that whole development would be for us to do a better job of communicating the value of living on campus that first year," Lazer said, "Students who live on campus that first year succeed at a significantly higher rate than those who do not. I think if parents were a little better informed on the data, those who choose not to live in the residence halls would rethink it."
The freshman experience is also defined by individual classes and subject areas. A few years ago, UA administrators noticed that, as in most public institutions, students had significant difficulty with their initial math course—MATH 100 had a 40 percent pass rate. The Math Technology Learning Center was born, and with a computer-based individual tutorial approach to math, the University has seen nearly a 100 percent increase in the pass rate.
Freshman seminars have been developed as a way to involve senior faculty members with first-year students. The small discussion courses may be based on contemporary subject matter or an area that is of particular interest to the faculty member, Lazer explained. More than anything else, the classes are used to introduce the student to what it's like to become passionate about learning. Classes are open to all students, and feedback tends to be very positive, he said, from both students and faculty.
The Freshman Compass course is another important transitional aspect of the first-year experience. The semester-long orientation course is taught several different ways across campus, and three-quarters of entering freshmen sign up. Dr. Richard Livingston, assistant director of learning enhancement in the Center for Teaching and Learning, authored the textbook used in the class: UA Fundamentals: Adjusting to Life at a Major University.

"It's a difficult transition, both academically and socially, going from a high-school environment to a major research university," Livingston said. "Oftentimes, our freshmen have been very good students their whole lives, but they tell me they really have not had to push themselves academically. When they come to the University, they sometimes find that the academic demands are much greater than what they may have been used to in high school. In the Freshman Compass classes, we try to help them develop the skills they will need to become successful college students."
Freshmen start their academic year on a positive note through participation in the Capstone Convocation, a ceremony on the Quad for new students, faculty and staff that emphasizes family, community and what it means to be an honorable and active University citizen, said Lazer. "It's brief, it's moving, it's dignified, and there are only two speakers—President Witt and the SGA president," he said.
At this gathering, the new students recite for the first time the Capstone Creed, a statement developed by the Student Leaders Council to embody the core values that sustain members of the UA community. "Students developed the Capstone Creed, and I think it's a beautiful and moving way for the University to chart its direction," Lazer added.
As classes started this fall, Honors College students began a discussion on a book they read over the summer, How to Change the World: Social Entrepreneurs and the Power of New Ideas, written by David Bornstein, who will be on campus in late September to take part in student discussions. Halli said the one-credit discussion sessions early in the fall term facilitate bonding among participants.
Throughout every segment of the University, great care is being taken to put success within the grasp of this Millennial Generation. Said Thompson, "This is a very special place, and this freshman class is a good representation of the type of future we'll have at The University of Alabama."
Elizabeth Smith is a communication specialist in UA's Office of Media Relations.
To receive four issues of the Alabama Alumni Magazine each year, Join the Alabama Alumni Association Online