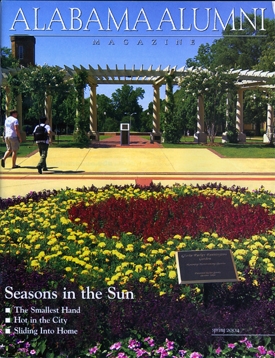 by Lindsey Herring
What is taken for granted on the University of Alabama campus on a warm, sunny afternoon? Is it the temperatures that reach the 60s and 70s even in winter months, or the few billowy clouds sprinkled through the constant blue sky? Is it the blend of classic Greek Revival architecture, with columns gracing each building? Or is it the grass so green you wonder if it is planted fresh daily, or the hues of seasonal flowers balanced in a perfect color scheme?
None of this is unappreciated—the temperate climate of the area and the beauty of the physical campus are noticed, enjoyed, absorbed, and frequently remarked upon by residents and visitors alike.
What is often overlooked, however, are those people who help to make the campus the best it can be for its students, faculty and alumni. Giving credit where credit is due, most of how we look can be attributed to the staff of the University's landscape and grounds maintenance department.
The department consists of 33 people, including a grounds manager, assistant manager, groundskeeper work leader, small-equipment mechanic, heavy-equipment operator, tree trimmer and vehicle operator. They manage the entire landscape of the University, which includes everything from choosing what flowers are planted on campus and where, to irrigating the Quad.
The landscape and grounds maintenance department received UA's 2003 Sam S. May Commitment to Service Award in September, presented for outstanding customer service and never-ending improvement in customer relations. The award honors a man who worked as a custodian in the chemistry department from 1911 to 1941, and learned chemistry from instructors during his lunch hours and later tutored students and helped in research projects.
"I was thrilled when the department was recognized," said David Womack, former manager of landscape and grounds maintenance. "People do not know the challenges my employees face every day."
Womack, who retired on Jan. 31, had been with the University for 30 years.
He began in 1975 as assistant horticulturist after earning his degree in horticulture from Mississippi State. He has now been replaced with an interim manager, Mike Brass.
As anyone who drives through the grounds can see, UA is growing. With the current construction of a new medical facility, a child research and development center and a science building, along with ongoing construction at the Ferguson Center, the face of the campus is changing. And as new buildings are planned and renovations are made to existing ones, the grounds manager gives input to make upkeep easier once the facility is completed, according to Womack. He said it has been exciting to be part of the landscape plans for new facilities.
In addition to construction plans, the grounds themselves have now become the focus for widespread upgrades, according to Thad Turnipseed, director of facilities. "There are 50 buildings targeted for updated looks, including new plantings of seasonal flowers three times a year," he said. "These selected sites are a mixture of some of our most visible areas." Along with new landscaping, the plans also call for washing and exterior painting of the buildings.
Designed with the input of a landscape architect, the changes have already begun to be implemented, according to Turnipseed, and will take about 12 months to complete. "One of the first projects was the cleaning, painting and polishing of the entrance signs to the campus," he said.
The groundskeeping staff is busy year- round, focusing on the most miniscule details of grass, trees, flowers, shrubs and any other aspect of the landscape, even things the average person might feel is of little or no importance, Womack noted. It all comes together to make the perfect combination.
"Having things green is the foundation for everything else looking its best," Womack said. But keeping the campus green is a demanding task, when heavy equipment and machinery are frequently in use over grassy areas, he said.
Consistency is all important. "We edge and trim intently," he said, "and we try to keep everything mowed on a regular schedule." When the grass is heavy, from March until November, it has to be mowed on a one-and-a-half-week cycle.
Womack has taken particular pride in his tulips, of which many colors and varieties are used each year at various locations on the campus. "I pick new varieties that will add twists to things," he said. Womack has grown his own varieties of tulips, and also chosen to use unusual yellow, pink and apricot hues, among others.
Timing, Womack said, is the key to successful color combination. At one point, a flower will be one pure color, and then it will change into a mix of colors. The bloom could be four or five different colors over just a few weeks of time, he said. When paired with one or more flowers with the same blooming pattern, the blend can create a brilliant color scheme.
Dr. Cheree Causey, assistant vice president for student affairs, said she is well aware of the dedication of the landscape and grounds staff. During Homecoming 2002, Causey hosted a campus event near the Crimson Promenade, and called the grounds staff for some last-minute help. "I called the department with little notice that a small area of campus did not look as spectacular as I knew was possible," she said. "Without hesitation, Darnell Ball and Dave Womack came to the site personally with several groundskeepers and worked tirelessly to spiff up the area."
Within a two-hour time span, that part of campus had been transformed into something of exceptional beauty, Causey said. "Our event was surrounded by
glorious beauty, all because the staff was willing to invest extra energy in making our campus shine," she said. Causey nominated the grounds staff for the Sam S. May Award because, she said, "Whether the weather is 100 degrees or 10 degrees, the staff remains friendly and works diligently."
"We're as much in promotion of the University as any other area," Womack explained.
Correcting damage to the grounds caused by campus events and making the landscape look suitable for future occasions, while also trying to work with the public to establish reasonable rules and limits for events held on the grounds, can be difficult, Womack said. "The biggest challenge is probably working with people, and probably the greatest reward, too," Womack said.
Some other of his greatest joys in his time at the University have been seeing 29-cent seedlings become "great big trees," said Womack, and working with the interchange of color and color schemes of the landscape.
The beauty of the University of Alabama campus has been its hallmark throughout its many years, yet that magnificent mixture of colors in bloom, lush grasses and manicured greenery could not exist without the dedication of one group of people. The UA groundskeepers make it possible for everyone who comes here, at any time of year, to experience the campus in its splendor.
To receive four issues of the Alabama Alumni Magazine each year, Join the Alabama Alumni Association Online