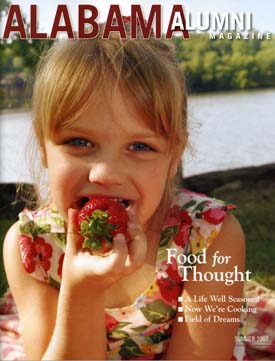 The campus joins the country in efforts toward wiser food choices and lower obesity rates, while preparing students to enter a changing food-service industry. 
by Katharine Snowden

Over dinner: it's where some of life's most important moments take place. At family gatherings and on first dates, during celebratory toasts and the sharing of good news, a meal is almost always present.
According to the National Restaurant Association, Americans can choose from nearly 935,000 eating establishments nationwide. Whether dining out or in, food—be it gourmet, comfort or fast—is a strong staple in our society.
The country, however, has been experiencing too much of a good thing. Obesity rates among American adults are at their highest in history and continue to climb, creating heightened awareness toward nutrition and jumpstarting a national trend to promote healthier lifestyles and eating choices. The University of Alabama has joined the effort, not only preparing students for careers in the changing restaurant and food-service world, but also training the UA family to make informed decisions about nutrition.
The restaurant industry currently employs more than 12 million people, making it the largest U.S. employer besides the government. The number of students enrolled in the Restaurant, Hotel and Meetings Management Program at the University has grown accordingly by 90 percent since 2000. Dr. Roy Maize, director of the program in the College of Human Environmental Sciences, says many RHM students cite owning their own restaurant as one of their long-term goals. "We encourage them to work in the industry for other successful hospitality organizations to gain the experience they need prior to opening their own establishments," he explained.
Nearly half of all adults have worked in restaurants in their lifetimes, according to NRA statistics. And with industry experts projecting an 11 percent increase in the number of food-service management positions between 2007 and 2017, Maize said his department anticipates that more individuals will become interested in pursuing a career in the field.
"Customers expect quality food, quality service, a fair price, a good ambiance and a safe and clean environment," said Maize, adding that a primary focus of the UA program is customer service. "Good people skills, a willingness to work long and varied hours and a love for a job that never stays the same are necessary attributes for a successful restaurant manager," he said.
Nutritional education is integrated into the RHM program through courses covering menu planning, trends and marketing, Maize noted. Nutrition awareness is also being integrated into everyday life at UA.
Greta Davis, marketing manager for Bama Dining, said the University recently began posting nutritional information at its dining halls, covering the dishes prepared and served. "We have eliminated trans fat from all fried, sauteed and in-house prepared items," said Davis. Natural and organic food selections are now available at all on-campus convenience stores, and new meal stations that offer vegetarian dishes have been added to dining hall options. Flavored water and juices, as well as low-fat and low-calorie pretzels, baked chips and cereal bars, are now included in the items offered in vending machines.
Homegrown Alabama, a student-led group that educates the community about the value of local produce, brought an open-air market to campus in May, giving local farmers a chance to showcase their products. "This 'farm-to-table' program includes produce that is harvested closest to its peak for a fresher, more flavorful and nutrient-filled result," Davis said. "By partnering with area food producers, Bama Dining and the students are putting into practice a shared commitment to serving the community.
Also in May, UA hosted a conference titled A Systems Response to the Challenge of Obesity. "The major nutrition health trend of concern in the nation right now is obesity," said Margaret Garner, chairman of the conference advisory committee and assistant dean of the College of Community Health Sciences. The issue is particularly important here, indicated Garner, because "the state of Alabama vacillates between being the highest or second highest in obesity rates in the country."
She mentioned the recent Scale Back Alabama program as "just one of the major activities to address the problem statewide." Designed as an eight-week weight-loss effort and sponsored by Alabama's hospitals, the Alabama Department of Public Health and Barber Dairies, Scale Back Alabama encouraged teams of three to five people to lose a collective amount of weight by eating sensibly and being active. It provided an incentive of $1,000 per person for members of the group having the highest percentage of weight loss. According to the program's website, more than 5,000 teams participated in the event, and at its culmination in April, participants had lost a total of 78,472 pounds.
Along with the state, UA is also stepping up its efforts to combat obesity. "For students, we offer nutrition counseling and group presentations on request. Plans for the coming year include weight-management classes," Garner said.
Dr. Grant Savage, the HealthSouth Chair and professor in healthcare management in the Culverhouse College of Commerce and Business Administration, served with Garner on the committee for the obesity conference. Through his related work in Alabama's Black Belt region with Project EXPORT (Excellence in Partnerships for Community Outreach, Research on Health Disparities and Training), he saw firsthand the effects of poor nutrition. Project EXPORT is a large grant initiative created by the National Center on Minority Health and Health Disparities and is backed by the U.S. Department of Health and Human Services.
The UA portion of the project is ongoing and is in conjunction with Tuskegee University. "Health disparities in the Black Belt are a big problem," Savage said. He specified that obesity can be a factor in the risks of heart disease and diabetes, and said that a large portion of healthcare costs are devoted to these chronic illnesses.
Savage has also served as co-chair of the University's Wellness Committee, which aims to create a culture of health and wellness for faculty, staff and family members. From its first meeting in February 2005, the group's direction and vision combined with that of other key committees and administrative leaders have set the foundation for a campaign of health improvement. "My interest was to see greater self-awareness about health within the UA community, and to help faculty and staff members to take responsibility for their own health," Savage said.
As one of its actions, the committee recommended Dr. Rebecca Kelly as UA's first-ever director of health promotion and wellness. She assumed her position in January 2007, headquartered in Russell Hall. "Wellness is not just simply trying to get people to exercise and choose sensible diets," Savage said, "but is also about learning how simple changes in habits can create healthier lifestyles."
While food and the comfort it brings have a strong presence in the American way of life, something else is now being added to the menu: a trend toward making wiser choices. From training students in RHM to offering healthier options on campus, The University of Alabama is ensuring that these important nutritional issues are at the head of its table.
To receive four issues of the Alabama Alumni Magazine each year, Join the Alabama Alumni Association Online