October 12th, 2016
in News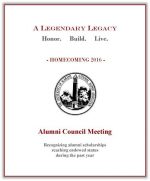 The following scholarships were recognized at the 2016 Alumni Homecoming Council Meeting as becoming fully endowed in perpetuity. These scholarships will begin being awarded for the 2017-2018 academic year.
In-State Chapter Scholarships
Autauga County Chapter
Melanie Walthall Chambliss Scholarship
Chattahoochee Valley Chapter
Phenix City Mayor's Education and CharitableScholarship in honor of Eddie and Deborah Lowe
Choctaw County Chapter
John Y. Christopher, Jr. Scholarship
Crenshaw County Chapter
Mal & Charlotte Moore Crimson Heart Foundation Scholarship
Dallas-Wilcox Counties Chapter
Mary Varner M cCall Dillard Memorial Scholarship
DeKalb County Chapter
Willard Cole Family Scholarship
Jefferson County Chapter
James K. Brabston Memorial Scholarship
J. Philip Norton Memorial Scholarship
Daniel A. Riley, Jr. Endowed in honor of Lynn B. Howell Scholarship
Bishop B. Michael Watson and Margaret Lee Watson Scholarship
Madison County Chapter
Hicklen Children 2014 Scholarship
Montgomery-Lowndes Counties Chapter
Montgomery County Chapter #5 Scholarship
Shelby County Chapter
Ruth Yongue Scholarship
Tallapoosa/Coosa/Clay Counties Chapter
Walter Leslie "Buddy" King Scholarship
Tuscaloosa County Chapter
Dr. Judy L. Bonner Alumni Scholarship
Jon D. Drake Scholarship
Margaret Ann Bigham Gray Scholarship
TCHS Alumni Wildcat Scholarship
Out-of-State Chapter Scholarships

Orange County California Chapter
Greg Hook Memorial Scholarship
Pensacola Florida Chapter
Lamar and Sissy Faulkner Family Scholarship
Chicago Illinois Chapter
Norman and Jeanne Pinkert Scholarship for the Advancement of Geriatric Education & Research
Cincinnati Ohio Chapter
Greater Cincinnati Alumni Chapter Scholarship
East Tennessee Chapter
Virginia K. and William E. Morrow Alumni Scholarship
Congratulations to all of our scholarship endowment participants and Thank You for all you have done to help further the education of deserving students.