The University of Alabama Collegiate License Tag
NOW AVAILABLE A COLLEGIATE LICENSE MOTORCYCLE TAG
AND COLLEGIATE VESSEL STICKER.

Helping others never looked so good!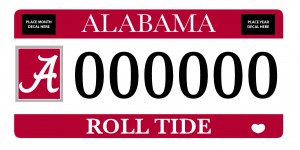 To give deserving young people the opportunity to realize the dream of higher education, UA's National Alumni Association asks that you Ride with the Tide. Join 50,000 fellow Alabamians by showing your UA pride with this winning icon! Over 97 percent of the proceeds from the sale of University of Alabama license tags fund scholarship programs at UA.
To purchase, check with your local county tag issuing office
Two types of UA collegiate license tags are available at your local county license office:
Numeric tag-a sequence of six numbers and letters; immediate availability.
Personalized Tag – three to four week delivery.
The cost of either a numbered or a personalized collegiate license tag is $50 above your normal tag cost and a portion of this amount is tax deductible. Your local county tag issuing office can provide cost details specific to your county.
UA Collegiate License Tags may be purchased now, regardless of your tag renewal month.
To renew your UA Collegiate License Tag each year, just tell your local county license office that you want to continue to Ride with the Tide!
Proceeds from the sale of Collegiate License Tags fund graduate and undergraduate scholarships at The University of Alabama.
For more information on The University of Alabama Collegiate License Tags contact:
David Wilson
National Alumni Association
P. O. Box 861928
Tuscaloosa, Alabama 35486
E-Mail: dwilson@alumni.ua.edu
Phone: (205) 348-1551
Out-of-State Collegiate Tags
Even if you don't live in Alabama, certain states offer Alabama tags. Join Bama fans all across the country and Ride with the Tide. Below are states that offer a University of Alabama Collegiate Tag. Click the links below for more information.
Tags Currently Available
Tags in Process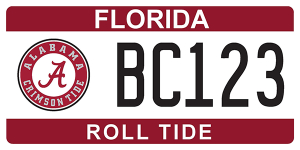 Florida Tag
3,000 vouchers must be sold, get yours today!
For more information on The University of Alabama Out-of-State Collegiate License Tags contact:
National Alumni Association
P. O. Box 861928
Tuscaloosa, Alabama 35486
E-Mail: Alumni@alumni.ua.edu
Phone: (205) 348-5963