FATE is a social networking organization. It is an open-membership organization for all enrolled students at The University of Alabama. FATE gives students the opportunity to make friends, get free stuff and have fun. FATE is the largest student organization on campus with more than 3,000 members. FATE is sponsored by The University of Alabama Alumni Association.
Membership in FATE is $20.00 a year. Below are some ways to join or renew your FATE Membership.
Personal check (fill out the printable membership form and mail to: FATE P. O. Box 861928 Tuscaloosa, AL 35486)
Cash – stop by Alumni Hall and present your completed application along with your payment to the receptionist.
Fax printed & signed application with credit card information to (205) 348-1737
 Mission Statement
University of Alabama students are the Future Alumni of this great institution. The Traditions that are created today will be our path for tomorrow. Excellence should always be our goal. Students are an important ingredient in the future development of the Alabama Alumni Association. The mission of FATE is to build a strong relationship and bridge the gap between Alabama alumni and University of Alabama students. The Alabama Alumni Association would like to be part of a student's educational and social experience while at the Capstone.
If you have any comments or questions, please contact Cayla Hayes chayes@alumni.ua.edu or call (205) 348-1559.
Events
TBA
Benefits
Why Join?
Great way to meet other students and make friends
Free social events each month with dinner
No officers and no meetings to attend
Opportunities to attend special career events
Career networking receptions
Free stuff, coupons and discounts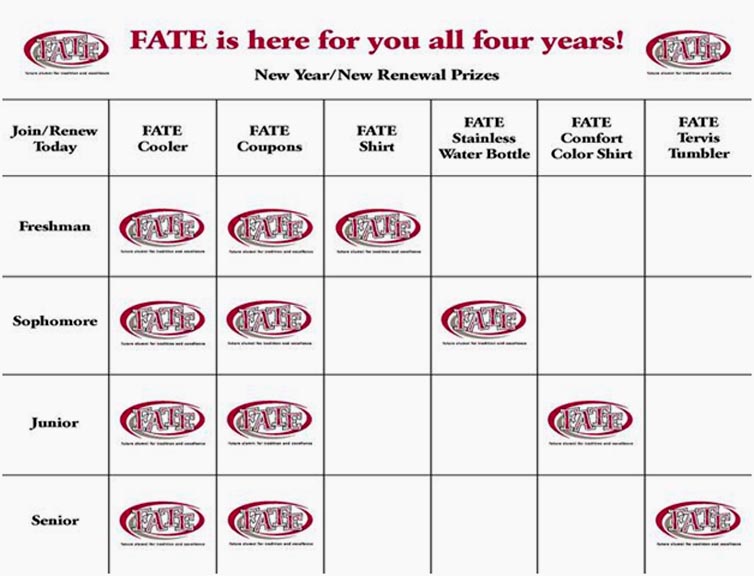 Free Stuff
FATE cooler
FATE t-shirt
Area merchant coupons included n cooler with FATE swag
Membership card for discounts at local merchants
Purchase a meal at 15th Street Diner and you'll receive a free birthday cake
Free FATE events with dinner
Four issues of the Alabama Alumni Magazine
Discounts
Membership Card for discounts at local merchants
10% off non-discounted items at Wing's Sports Grille
10% discount at The Trunk
10% discount at Tut's
$2.00 off Express Oil Change
Four-cents black and white copies at the UPS store
Opportunity to join the Alabama Credit Union
Benefits/Discounts are subject to change
Photo Gallery