About
Our chapter of the University of Alabama National Alumni Association was created in 2007 as a community for UA followers on the Northshore of New Orleans, along the I-12 corridor from Hammond to the Mississippi Gulf Coast. We are former students and alums, we are parents of students, we are athletic boosters, and we are friends of the University.   We live in Louisiana and we proudly display our Alabama insignia on clothing and cars, we gather to cheer our team, and we tell our neighbors at every opportunity about the good things going on in Tuscaloosa.   We are all connected by our allegiance to The Capstone. Welcome! We invite you to join us as we continue to grow and expand our programs and membership benefits. If you are nterested in assisting with student recruitment, scholarship fundraising, chapter communications or any other area of interest, please let us know. And don't forget to follow us on Facebook!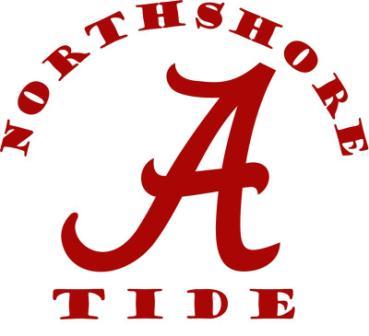 Dennis Charlesworth
Chapter President
Northshore Tide Friends & Alumni Of UA
148 Fountainbleu Drive
andeville, LA 70471
Chapter Officers
2021 Chapter Officers
President – Dennis Charlesworth
Alan Freeman – President Elect
Julie Moreau – Student Recruiter
Find us on Facebook!
Subscribe to the Northshore email list
OPPORTUNITIES 4 U TO GET INVOLVED:
We are organizing leadership roles for the July, 2010-June, 2011 year, so please send an email to julie148@bellsouth.net to identify yourself as someone we can count on to assist in one of the following areas:
Student Recruitment-assist Regional Recruiter at local College Fair, interface with local high school guidance counselors, write notes or make phone calls to local students and parents who've expressed interest in The University, assist with Student Send-Off reception.
Communications-email website updates, Facebook updates and flyers; maintain mailing list, press release or media contacts for publicity.
Scholarship-fundraising and development of a Northshore Tide endowed scholarship to help local students who wish to attend The University and need help defraying the cost.
Membership-help generate ideas and enroll and renew members in Northshore Tide, maintain list, and assist with activities and events designed to promote membership, including enlisting new and recent graduates and fostering ties with our local students (future members) and their families.
Special Events-help plan and carry out chapter meetings, social events, travel events, recruitment functions and fundraisers.
Events
LOCAL BAMA GROUP WINS NATIONAL AWARD
The Northshore Tide, a local group of alumni, fans and friends of The University of Alabama, was recognized by the National Alumni Association as Chapter of the Year for Out-of-State chapters in Division AAA.
The award was based on our activities in 2011-12, which included collecting and transporting several truckloads of water and supplies to Tuscaloosa in April, 2011, after the devastating tornado, collecting toys from throughout the state to deliver to Tuscaloosa during the holidays for families who were still displaced from the tornado, and providing toiletries and diapers for St. Tammany's Safe Harbor shelter for victims of domestic violence.
Northshore Tide also partnered with UA alum and Saints player Roman Harper's Hope 4*1 foundation to support and mentor an "Alabama" classroom at Success Prep Academy in New Orleans.
Every year, Northshore Tide representatives work with the University's recruiters to visit local high schools to offer information for students considering attending the University.  The Northshore's 2012 enrollment is nearly 20 students, the largest number since Northshore Tide was formed five years ago.
Weekly football game watch parties are held during the fall at Coscino's Pizza in Mandeville, and a regular e-newsletter is sent to about 250 local Alabama supporters.  Northshore Tide leadership also provided support services to the National Alumni Association at events surrounding the BCS game in New Orleans last January.
A scholarship fund has been established which, when fully endowed, will offer financial assistance to local high school students attending Alabama.
Northshore Tide President Julie Moreau says that the group's primary mission is to project a positive image of The University of Alabama in the local community.  "We are Louisianians, we live and work in this community.  We just happen to have a common connection to Alabama.  Both states are passionate and highly competitive when it comes to sports.  But we want our friends and neighbors and fellow Louisianians to know us as Alabama fans having a positive impact in our community."
At the University of Alabama National Alumni Association award presentation are (from left)  Chapter Development Director Mark Roberts of Tuscaloosa, AL, Northshore Tide Treasurer Cam Mayfield of Covington, LA, Northshore Tide President Julie Moreau of Mandeville, LA, and National Alumi Association President Sabrina Keating of Jasper, AL.
Gallery