Roll Tide and welcome to Bama in the Upstate!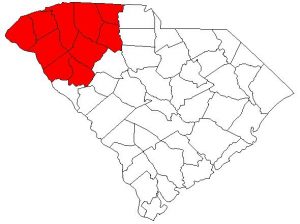 This area known as the Upstate of South Carolina is the westernmost part the state, includes ten counties, and is the fastest growing region of South Carolina. The two largest cities are Greenville and Spartanburg, and several hundred University of Alabama alumni, parents of current students, and fans call the Upstate home.
Bama in the Upstate became an official alumni chapter (with by-laws) of The University of Alabama in July 2016, though many alumni and fans gathered for events for several years before this. Membership in Bama in the Upstate is open to all alumni, friends, and fans living in the Greenville/Spartanburg area (and all counties around).
Membership dues are $15 for a single membership and $20 for a family membership annually and go to support the chapter events throughout the year as well as establishing scholarship funds for graduating high school seniors from the Upstate who are enrolling at the University. The membership form may be completed here and then printed and mailed to the address indicated.
Since Bama in the Upstate is new, please join us as fans, alumni, parents of former and current students, and partners in what we hope will be an award-winning alumni chapter at the University of Alabama!
Sharon Knight
President
Bama in the Upstate
shayknight@yahoo.com