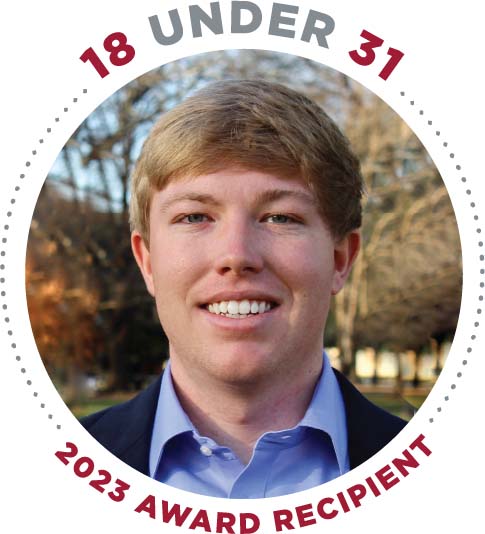 Rhett Aderholt
South Talladega County Alumni Chapter secretary, Rhett Aderholt, is a Sylacauga native and resident. Aderholt was an active leader in the Sylacauga City Schools from his time at Pinecrest Elementary through his graduation at Sylacauga High. Aderholt played basketball for the Aggies throughout middle school and high school, where he was a letterman, as well as represented the student body in student government and various other club positions. He also enjoyed working with missions through Mignon Baptist and spending time serving his community in various capacities. After graduating from Sylacauga High School with honors in 2016, Aderholt joined the freshman class at UA, where he became a brother of Sigma Nu fraternity. While at the Capstone, Aderholt again took leadership positions in his fraternity as the alumni chairman, was a member of Student Alumni Association and other public relations and honor societies, and worked for Dr. Tim Hebson, dean of students, UA football recruiting and the Office of Disability Services. Aderholt received his B.A. in public relations and business management, magna cum laude, in December of 2019 and his M.S. in marketing in August of 2020. Upon graduating, Aderholt returned to Sylacauga to open Kabinett, LLC., a cabinetry sales and installation business, which specializes in kitchen and bath projects. Aderholt serves on the board of directors for the Sylacauga Chamber of Commerce, leads the Economic Pillar team and attends Church of the Highlands. When not conducting business, Aderholt likes to attend sporting events, travel and enjoy the lake.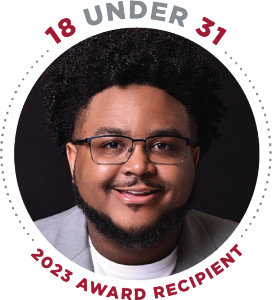 Daniel Barnes
Daniel Barnes is an executive producer and TV development executive currently based in Los Angeles, California. He was born and raised in Huntsville, Alabama, and is a proud graduate of The University of Alabama with a degree in telecommunication and film. In 2014, Barnes was selected for the prestigious Television Academy Foundation internship in the category of Children's Programming. He was the first Black student from The University of Alabama to be selected for this internship. At the end of his internship, he was hired full time by Hasbro Studios and has been working in children and family entertainment since. Over his career, he has worked on some of the biggest children's brands including "My Little Pony," "Transformers," "Rescue Heroes," "Thomas the Tank Engine," "Dino Dana," "Blippi," "Cocomelon," "Morphle," "Mega Bloks," "Little Baby Bum," "Care Bears" and "Holly Hobbie" while working at major studios such as Hasbro Studios, Amazon Prime Video, Moonbug Entertainment and currently Cloudco Entertainment. Barnes also has a passion for giving back. In 2017, he was awarded the esteemed Hasbro Community Chest Award for volunteering more than 200 community service hours in Los Angeles. Because of Barnes's passion for championing diverse and underrepresented voices in the entertainment industry, he was profiled in 2020 by the Emmys for his efforts and work in amplifying and creating equitable opportunities for underrepresented voices. In 2021, Barnes was selected by The University of Alabama's College of Communication as an Outstanding Alumnus. In his spare time, Barnes enjoys spending time with friends and family, going to concerts and traveling.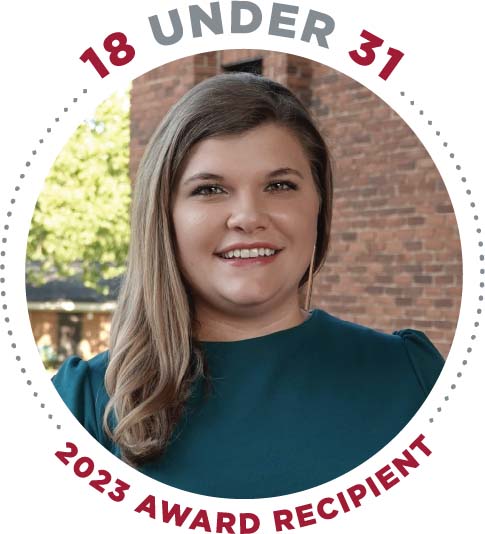 Meghan Chambliss
Meghan Chambliss serves as the business administration specialist at the Huntsville/Madison County Chamber of Commerce in Huntsville, Alabama. She will mark five years of service at the Chamber in March of 2023. Growing up in Tuscaloosa, Alabama, she went on to attend The University of Alabama and graduated from the Culverhouse College of Business with a bachelor's degree in marketing in 2016. Shortly afterward, she moved to Huntsville, where she became involved in numerous activities. Chambliss is a graduate of Leadership Huntsville's Connect Program Class C-23 and is now a volunteer, helping future classes. Through her work at the Chamber, Chambliss manages the Chamber's board of directors and executive committee events. She is also in charge of Accounts Payable. She enjoys her work with local companies, assisting with planning and managing events such as announcements, groundbreakings and ribbon cuttings. Chambliss also runs the Chamber's fun committee, which is important for employee morale and retention. This includes birthday and holiday event planning, a summer retreat, and College Colors Day in the fall, among other activities. Outside of work she enjoys meeting up with friends and her small group through Church of the Highlands. Chambliss also enjoys shopping and supporting local restaurants and businesses, gardening and visiting family.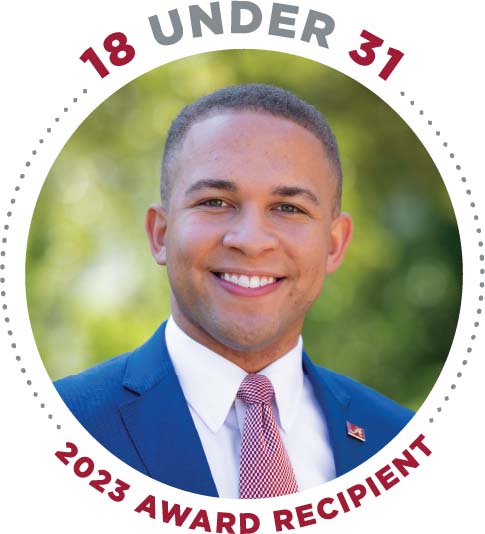 Royce L. Dickerson
Royce L. Dickerson is currently a Master of Business Administration candidate at the Manderson Graduate School of Business. He is a member of Kappa Alpha Psi Fraternity Incorporated, the National Black MBA Association, serves as the president of the Graduate Student Association, and is also a licensed Realtor. A graduate of The University of Alabama, he earned his Bachelor of Science degree in business administration and expanded his passion for heightening the student experience as a liaison between students and administrators. During his academic career, he has been actively involved in organizations such as Capstone Men and Women, the Blackburn Institute, Honors College, the Student Government Association, Jasons Senior Men's Honorary and various honor societies. He has also worked with Apple and Adobe, where he assisted in the successful integration of two campus rollouts to make technological programming more accessible to underserved students. Dickerson was the recipient of the 2021 Alumni Student Award by the National Alumni Association, recognizing his contributions and achievements within the UA community. A native of Atlanta, Georgia, he often spends time serving his community through involvement with the Tuscaloosa County Alumni Chapter, Children's Miracle Network, Keller Williams Reality, The United Way, The White House Historical Association—where he is National Co-Chair of the Next Gen Leaders program, and various volunteer ministries. He has also worked with the Alabama Department of Corrections, serving in local prison programs where he aids incarcerated men on their entrepreneurial aspirations. Dickerson's many interests include business, education, government, history, leadership and service.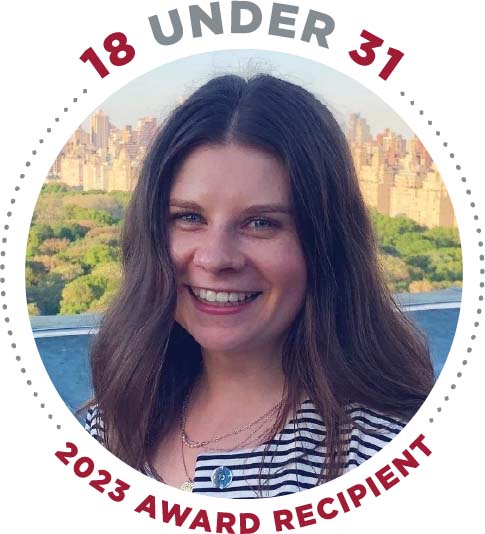 Sarah Dougherty
Sarah Dougherty is an account director, content specialist at The Bliss Group focused on financial and professional services, driving client teams, providing strategic counsel and bringing content programs to life. She was previously an associate, then senior associate at New York Life, where she supported the core insurance and retirement business' earned and owned media strategies. Dougherty also co-founded the company's national young professionals group. Before that, Dougherty worked with corporate and crisis clients at Burson-Marsteller. She is currently part of The Plank Center for Leadership in Public Relations' Emerging Leaders Committee and served as vice president of career services on the 2016-2017 National Committee of the Public Relations Student Society of America. Dougherty is a two-time graduate of The University of Alabama. In spring 2022, Dougherty earned an M.A. in advertising and public relations as part of the UA Online Marketing Communication Management program. In 2017 she earned a B.A. in communication, cum laude, with majors in public relations and Spanish and a global studies certificate from UA's College of Communication and Information Sciences (C&IS). She was named the C&IS Barban Scholar and a 2017 Outstanding Senior by the National Alumni Association; these awards recognize students who have consistently demonstrated exceptional achievement and personal character, and whose contributions to UA exemplify the spirit of the UA tradition and high potential in their future career field. Based in New York City, you can find her trying a new restaurant or running through Central Park in her free time.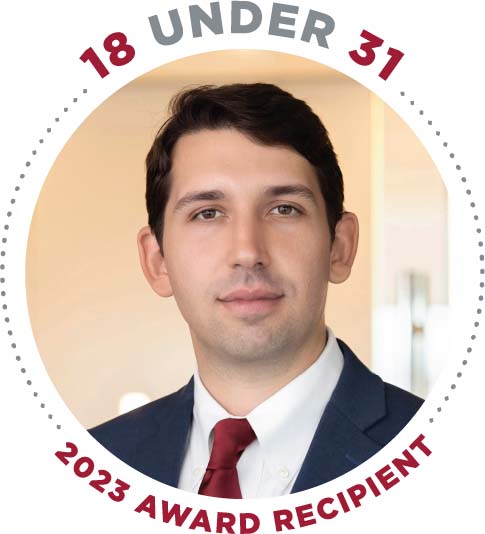 Jake Eigner
Jake Eigner is a D.C.-based thought leader and attorney specializing in retirement, labor law and asset management. He is currently employed by the Groom Law Group, the top-ranked benefits law firm in the country, where he has published or been quoted in more than a dozen articles in publications including "Fast Company," "Bloomberg Law," "Westlaw Expert Insights," "The Institute of International Economic Law" and the "Investment Advisor Association Newsletter." He also writes regular columns for "BenefitsPRO Magazine" and "401(k) Specialist Magazine" and has appeared on popular retirement podcasts. Prior to his legal career, Eigner was the youngest-ever vice president at the largest privately-owned registered investment advisor in the United States. There, he closed more than $23 million in business and recruited a dozen fellow Alabama alumni to work at Fisher Investments through Manderson career fairs. He subsequently attended Georgetown Law on the Thomas Kennedy scholarship and graduated with honors. At Georgetown, Eigner was a fellow at the Institute of International Economic Law and a Business Law Scholar. Eigner is a proud UA alumnus and is active in the local alumni chapter. While at Alabama, he served as a senator in the Student Government Association and as chairman of the Senate Ethics Committee, as well as winning the Outstanding Sophomore and Faculty Economics Awards, graduating in 2016 as a member of Phi Beta Kappa. In his spare time, Eigner trains in Muay Thai and is a runner, most recently completing the DC Rock n' Roll Half Marathon.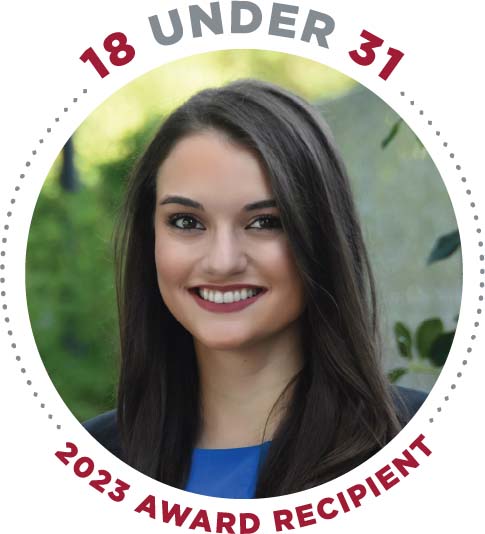 Kristen Ellis
Kristen Ellis has more than six years of experience in public relations—leading consumer and corporate communications, brand marketing, and reputation management programs for a variety of clients—from publicly traded companies to nonprofits. Her work has spanned industries and business sectors, including clients such as The Home Depot, Goldfish, Habitat for Humanity, T-Mobile, Bayer, Johnson & Johnson, Soma, Chico's, White House Black Market, the CDC and Food Lion. Ellis volunteers on PRSA Georgia's College Relations Committee. She also serves as a professional adviser to Kennesaw State University's PRSSA chapter and is a mentor to Alabama students through The Oakley Society professional development program, which she participated in as a student herself. Ellis has taken part in student and young professional mentorship programs and created and moderated programming for student conferences. She's received numerous industry awards for work with her clients and teams, as well as the 2020 PRSA Georgia Forty Under 40 Award and 2021 Rising Star Award from PRSA Georgia. Ellis graduated from The University of Alabama with a degree in public relations and minors in business and Spanish. At UA, she was president of the College of Communication & Information Sciences Ambassadors and a member of the Student Executive Council and Student Alumni Association. Highlights of her career include meeting Steve Harvey and The Property Brothers, receiving Client Service Excellence Awards and being published in "PR Daily." She's grateful for the endless support of her family, friends and colleagues—from which she learns so much every day.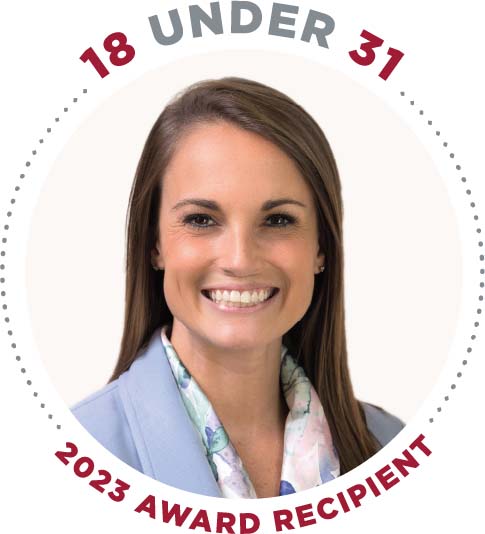 Samantha Gaffney
Samantha Gaffney was raised in West Palm Beach, Florida, where she attended high school at The King's Academy. She graduated magna cum laude from The University of Alabama in 2014 with a Bachelor of Science in commerce and business administration, specialization in health care management, and minor in computer-based honors and research. She was inducted into several honor societies: the XXXI Women's Honor Society, University Honors Program, Mortar Board, Omicron Delta Kappa, Blue Key, Lambda Sigma, Order of Omega and the Healthcare Management Society. She was also actively involved in intramurals, community service and the Alpha Gamma Delta Sorority. She served as director of Sigma Rho Chis on the Panhellenic Executive Board and president of the University Stewards. In 2017, Gaffney graduated from the University of Alabama Birmingham, completing a Master of Business Administration and a Master of Science in health administration. Gaffney then moved to Los Angeles, California, where she was selected as the top candidate for the Hospital Administrative Fellowship position for the UCLA Health System, the number five health system in the country. She now serves as the manager and chief of staff for the UCLA Santa Monica Medical Center, overseeing the daily operations, finances and strategy of the 281-bed hospital. It is her mission to make an impactful contribution to the health of members of her community and around the world. Gaffney enjoys mentoring, traveling, snowboarding, spending time with friends and family, and Alabama football.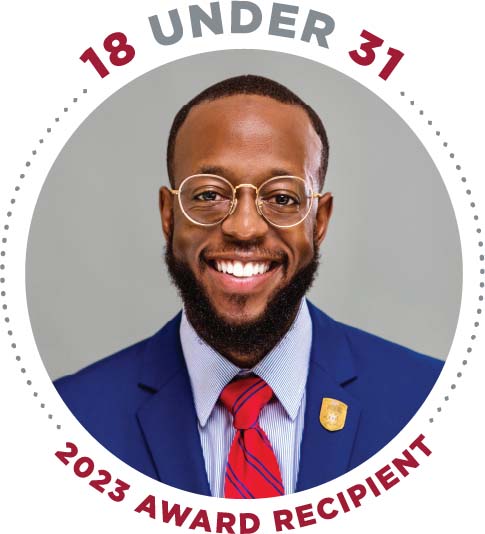 Terrance Lewis
Terrance Lewis is a 2017 graduate of The Capstone. He received his undergraduate degree in secondary education social science, and immediately began making an impact through his service as an educator within the Columbus, Georgia area schools. For four years, Lewis taught middle school and high school social studies while serving on multiple committees and holding many leadership positions. Upon his return to Columbus, he joined the Chattahoochee Valley Bama Club, where he was selected and continues to serve as a member of the scholarship committee. As a committee member, he is responsible for selecting well-deserving local high school students as recipients of the multiple scholarships endowed through its chapter. Lewis later endowed the Clara Byrd and Lue Ellen Lewis Opportunity Endowed Scholarship to provide even more opportunities for the deserving students living within the Chattahoochee Valley region. He is an active member of his community as a proud member of the Omega Psi Phi Fraternity Incorporated, where he has held many local-level and state-level positions. In addition, he gives back to local high school sports by serving as a wrestling official in Georgia and Alabama and was the youngest official selected to officiate the 2022 Alabama High School State Wrestling Tournament in Huntsville, Alabama. Lewis currently serves as an educational consultant for the A+ College Ready initiative in Alabama while simultaneously working for the Summer Math and Science Honors Program (SMASH), a program designed to provide STEM opportunities for students of color living in the Metro Atlanta area.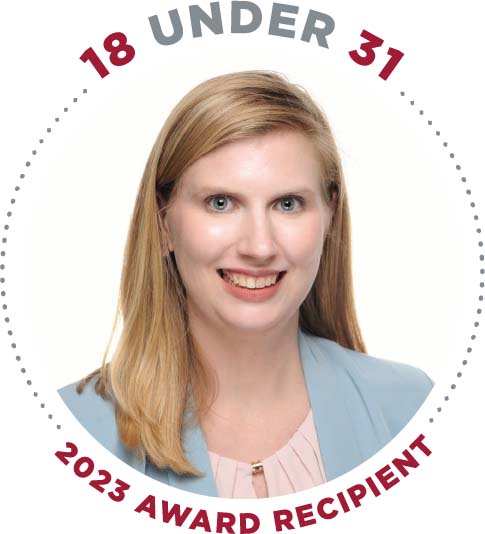 Shelby Mills
Shelby Mills is a third-generation alumna of The University of Alabama from Hazel Green, Alabama, and began her career at UA in 2010. Coming to Tuscaloosa knowing she wanted to pursue chemical and biological engineering, Mills spent 10 years on campus earning three degrees in that major from the College of Engineering (B.S. 2014, M.S. 2016, and Ph.D. 2020). Mills began working in synthetic biology during graduate school. This sparked her interest in the field, and she currently works as an R&D scientist at Glycosyn LLC in Massachusetts. Mills has always been active in her communities, both during her time on campus and afterwards. While in graduate school at UA, Mills managed a research laboratory, taught classes, and advocated for graduate students by serving as the Graduate Student Association president for two consecutive years. Mills is a volunteer leader in AIChE, a nonprofit, professional society for chemical engineers. Her participation at AIChE to date has included sitting on governing councils, being a featured panelist at student conferences, overseeing student competitions and leading the Young Professionals committee. Mills met her husband, Connor, while they were both students at UA. They have been happily married for three years and have two dogs together. They enjoy playing board games, exploring New England and spending quality time with loved ones.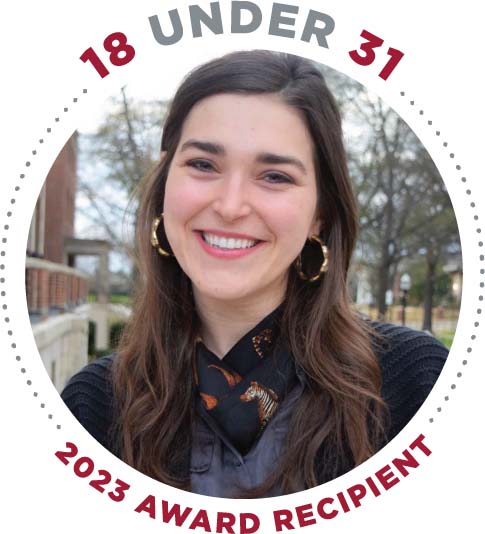 Maret Montanari
Maret Montanari is a public relations specialist at Jackson Spalding in Dallas, Texas, where she champions the art of storytelling for clients across all time zones. With media relations as her bread and butter, Montanari leads public relations efforts and integrated campaigns for national consumer brands, including Chick-fil-A, Mendocino Farms and Texas Monthly. Her award-winning work has landed clients coverage in The New York Times, The Wall Street Journal, People Magazine, CBS Mornings and more. Outside of Jackson Spalding, Montanari serves as chair of The Plank Center for Leadership in Public Relations' Emerging Leaders Committee where she champions leadership and mentorship amongst young professionals in the industry. She also keeps busy growing her footprint as a food blogger on her Instagram account, @sishoodofthetravelingfork, where she shares her culinary creations and more. Montanari graduated summa cum laude with a 4.0 from The University of Alabama in 2019 with a degree in public relations. During her college career, Montanari was recognized as PRWeek's PR Student of the Year, making her the first University of Alabama student to receive the award, and the only active student named a Female Trailblazer as part of the University's 125 Years of Women celebration. She was also a core member of Capstone Agency, leading the number one ranked student-run communications agency. While her days at the Capstone have concluded, Montanari enjoys staying connected to her alma mater through Tide in Texas, the North Texas Alumni Chapter, and mentoring the next generation of PR professionals through The College of Communication & Information Sciences' Oakley Society program.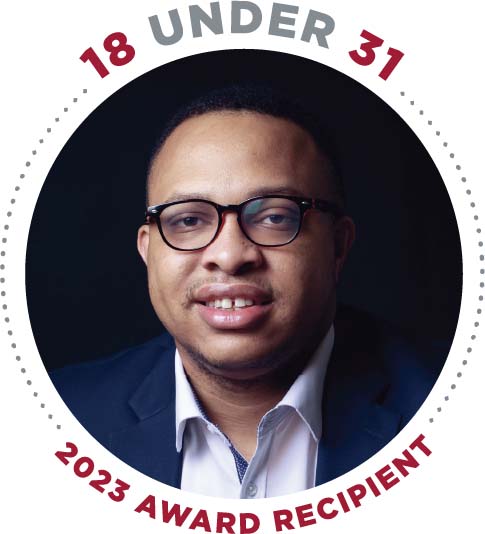 Dr. Ifeanyi Okpala
Dr. Ifeanyi Okpala, PMP is an ExxonMobil project engineer managing the execution of global capital projects to support the continuous development of low-carbon and product solutions serving world markets. These projects are part of ExxonMobil's "Growing the Gulf" $20 billion investment to build and expand 11 manufacturing facilities and create tens of thousands of jobs and billions of dollars of economic activity. The world depends on the manufacturing and industrial sectors to get the energy transition right, and Okpala's work is mission-critical to the future of energy supply and demand. He obtained his master's and doctorate degrees in civil engineering from The University of Alabama in the fall 2019 and spring 2022 semesters respectively. He is a LEED Green Associate, and Engineering-In-Training (EIT) in the state of Texas. From 2018 to 2022 at UA, he was a graduate council fellow, research assistant, teaching assistant, and instructor of record for the construction engineering and safety engineering classes. His research develops foundational insights supporting the use of robotics and automation to improve construction workers' safety, health and productivity. Okpala continues to build on more than seven years of research and industry experience managing projects and programs in consulting, research, construction, petroleum, and gas industries. On the UA campus, he served the community as a graduate school ambassador, graduate teaching fellow, career center advisory board member and president of the African Students Association. Okpala is a member of the NSBE, PMI, ASSP, American Society of Civil Engineers and other professional societies.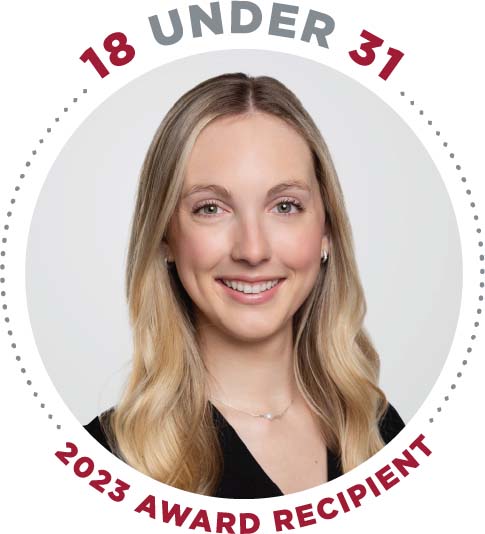 Abbi Ondocsin Pellegrino
Abbi Ondocsin Pellegrino is from Madison, Alabama, and graduated from the Culverhouse College of Business in 2018 with a dual major in finance and economics. During her four years at the University, Pellegrino was involved in many student organizations and held leadership positions in the Culverhouse Investment Management Group, Investment Banking Academy, Business Honors Program and Chi Omega sorority. Upon graduation, Pellegrino began her career at Vanderbilt University in Nashville, Tennessee, covering a variety of asset classes as an analyst with the university's $7 billion endowment. Pellegrino's investment background and passion for promoting women in her field led her to a startup team of five women in Washington, D.C., focused on investing for female entrepreneurs and fund managers. Pellegrino has continued to advocate, mentor and promote women aspiring to careers in the investment world through her continued engagement with current students in the Culverhouse Investment Management Group and its strong network of female alumni. She currently works as a senior investment analyst sourcing and underwriting private equity investments for the Walton family office. Pellegrino resides in D.C. and loves taking advantage of the museums in the city, playing tennis and golf, and making it back to campus for any Alabama sporting event with her husband Ryan, whom she met at UA.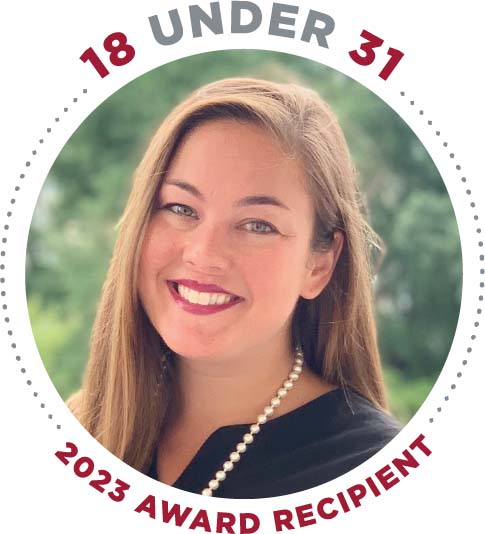 Shelby Shaw Newman
Shelby Shaw Newman is a proud graduate of The University of Alabama with a Bachelor of Arts in communication studies. Following graduation, Newman moved to the nation's capital, Washington, D.C., to begin her career in government relations, a move that prompted a rapid transition to work on Capitol Hill. Newman was humbled to be selected for a role with Congressman Bradley Byrne, serving the people of Alabama's first congressional district, before taking a promotion to become a press secretary for Tennessee's Eighth District. After gaining experience on the Hill and receiving a master's degree in strategic public relations from the George Washington University, Newman felt drawn to the agriculture industry, which led to an opportunity to work as the communications and marketing manager at the National Turkey Federation. Eventually foreseeing a transition away from Washington, Newman was hired in 2021 as the corporate communications specialist at leading global food company, JBS USA, at their headquarters in Greeley, Colorado. She recently returned to the turkey industry as an independent contractor to lead the organization's communications and marketing department. During her time in Washington, Newman always aimed to connect people (especially Southerners) and provide mentorship opportunities to those new to the area. Among her leadership opportunities, she served as the National Capital Alumni Chapter's president for three years and as Alabama's Cherry Blossom Princess in 2018. Newman was recently married to the love of her life, John, in December of 2022. They share a one-year-old dog, Theo, and now reside in Tempe, Arizona, where they aspire to become small business owners.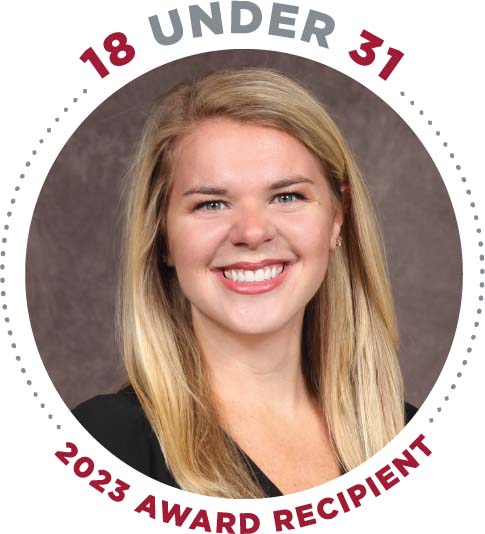 Sara Snider
Sara Snider is a director within the Merrill Practice Management Group and is responsible for the team's strategic marketing, communications and branding. Snider started her career at Merrill as an intern and joined full time in 2015 with the Thundering Herd in New York City. After completing a rotational analyst program across several groups, Snider joined the Strategic Growth Markets team focused on developing engagement efforts with traditionally underserved clients and communities and transforming digital client acquisition. Snider graduated summa cum laude from The University of Alabama where she earned her bachelor's and master's degrees in finance. She completed both degrees in four years and earned multiple scholarships and honors. Staying connected to her alma mater, Snider joined the Associate Board of Visitors of the Culverhouse College of Business at Alabama in 2019 and currently serves as the vice chair. She was awarded the Young Alumni Outstanding Achievement Award in 2020 by the college and is the recipient of the 2019 Women's Bond Club Rising Star award. Snider returned to her roots and currently lives in Atlanta after spending the first five years of her career in New York City. She enjoys staying active, reading and spending time with family and friends.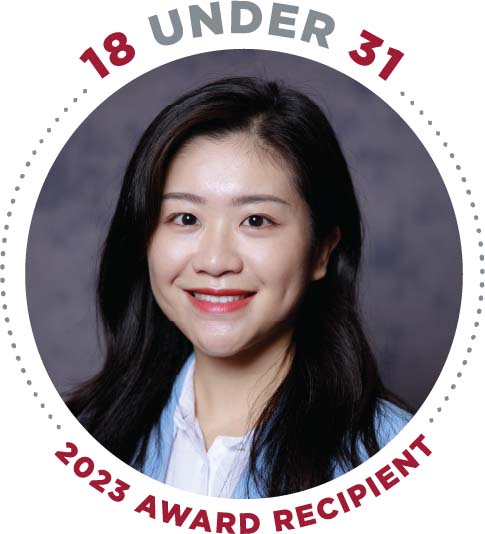 Dr. Siyuan Song
Siyuan Song is currently an assistant professor in the Department of Civil, Construction, and Environmental Engineering at The University of Alabama. Song obtained her Ph.D. in civil engineering from UA in December 2017. Her research interests include occupational safety and health, workforce training and development, engineering education, building information modeling, and machine learning and AI in construction. She has been a lead principal investigator on federal grants through the U.S. Department of Labor to build new training capacities by providing workplace safety and health training to employers and workers in the South. Song has published over 20 peer-reviewed journal articles, conference proceedings and book chapters. Her research lab, Safety Automation and Visualization Environment (SAVE) Laboratory, is working on a wide range of projects to implement and develop innovative research methods to create solutions for safety and productivity problems in construction and general industries. Song has mentored over 20 graduate and undergraduate students in their research projects. She has fostered great collaborative professional relationships with multiple construction corporations, industry organizations and governmental agencies. Song is also experienced in teaching engineering topics, including construction safety, building information modeling, Revit, and Capstone Design; and coaching the ABC, DBIA and ASC student competition teams. She strives to integrate technology and innovation into engineering topics to provide motivation and desire for student learning.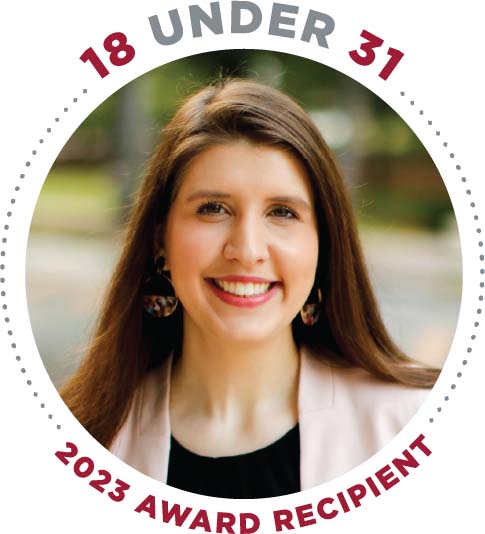 Anna Claire Toxey
Anna Claire Toxey is an innovative and passionate communication professional who has four years of experience working in the higher education sector. As the current coordinator of external communications for The University of Alabama College of Engineering, she is responsible for overseeing the development of strategic communication initiatives for alumni, donors and supporters of the college. She is experienced in developing high-impact communication campaigns and deliverables for various organizations and target audiences within the University. Prior to joining the College of Engineering, she managed communication and alumni relations at UA's College of Communication and Information Sciences and Office of Alumni Affairs. She is also an adjunct instructor for UA's Department of Advertising and Public Relations. In this role, she teaches upper-level public relations students the principles of written and digital communication in her "Public Relations Writing" course. Toxey is a two-time graduate of the University and holds both a bachelor's degree in communication and information sciences and a master's degree in advertising and public relations. She is also an active supporter of the Tuscaloosa County Alumni Chapter and serves as a member of the chapter's executive board.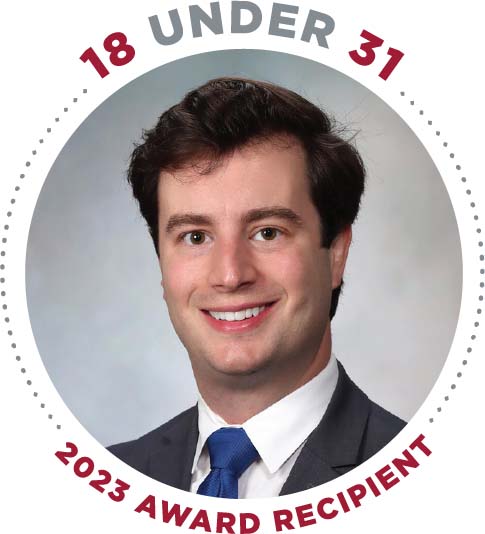 Spencer Twigg
Spencer Twigg was born and raised in Gadsden, Alabama. From early on, he had a passion for all aspects of healthcare. He knew when he applied to attend The University of Alabama that he wanted to be a hospital administrator. His interests quickly aligned with his studies in the Culverhouse College of Business. While there, he served as the president of the Health Care Management Society and went on to obtain his Master of Science in health care management from Johns Hopkins University. Following his education, Twigg was selected for an Administrative Fellowship at Carolinas Hospital in Florence, South Carolina, where he worked as a hospital operator over various clinical, ancillary and diagnostic departments. At 25, he was promoted to assistant chief executive officer of a 124-bed hospital in Mullins County, South Carolina, where he first became invested in rural healthcare. Many barriers to health and access to care were present in the community, which drove his interest in delivering care to the underserved. Through grant writing, he was able to obtain funding to address pediatric food insecurity as well as fund a 3D Mammography Unit for earlier detection of breast cancer in at risk women. Most recently, he was able to achieve his dream of working as an administrator at the no. 1 hospital in the United States. He currently serves as the operational leader for the Departments of Anesthesiology, Ophthalmology, and Preoperative Evaluation (POE) Clinic in Jacksonville, Florida.