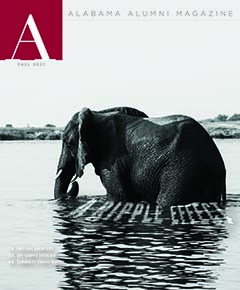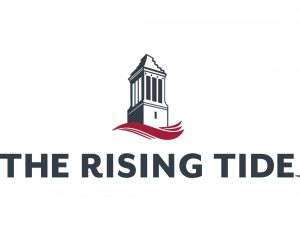 UA embarks on the largest fundraising campaign in state history
BY STEPHANIE KIRKLAND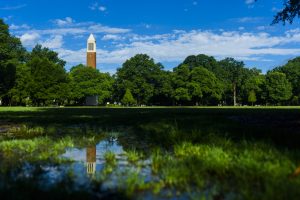 Like single drops of water, we are each limited in what we can accomplish on our own.
But as individual drops coalesce, we become a force strong enough to transform
the landscape of the world around us.
It is a fitting image to describe The University of Alabama's latest endeavor—the $1.5 billion Rising Tide Capital Campaign, which launched in September and is the largest fundraising campaign in state history.
Like water, The Rising Tide is vital to the life of the University, and it roars as it propels us forward. It represents a gathering wave of alumni, students, faculty and supporters who, together, magnify their power and strengthen their force for good.
As UA pursues this historic effort, every corner of campus  — and every corner of the state — will be touched.
Together, we will not only elevate UA to its greatest heights; we will transform the world around us.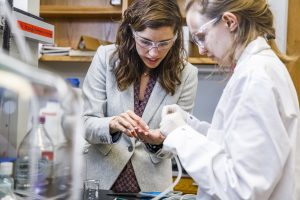 Leading the Charge
A campaign of this magnitude begins well before it is announced publicly. Planning for The Rising Tide Capital Campaign began in 2015, with the first gifts made just a year later. Since campaign counting began in October 2016, UA has raised more than $925 million, or more than 61% of the 10-year campaign goal.
"Our alumni, faculty, staff, supporters and friends have always united to support UA's mission and advance its contributions as the state's flagship university," said UA President Stuart R. Bell. "This campaign will amplify the University's impact through teaching, research and service for generations. We are thrilled by what has been accomplished to date and look forward to seeing the direct impact of campaign donations on our students, research efforts, faculty endeavors, local and statewide economies and much more."
Leading the way is a committed group of volunteers comprised of UA alumni and friends from all across the country. This group of 21 is charged with spreading the message and rallying support, as well as connecting friends and fellow classmates with the UA programs about which they're most passionate and where they can have the most impact.
Campaign co-chairs Kathy and Mike Mouron, who provided the lead gift for the Stran-Harden adapted athletics facility in 2016, are prime examples of the synergy created when passionate alumni connect with meaningful causes.
"We get tremendously emotional every time we step foot into Stran-Hardin Arena," said Mike, a 1972 graduate. "As a parent and grandparent, I like to see the reaction of the parents and siblings of the athletes. To experience their joy at seeing a facility for their loved ones who have made do and put up with so much—they glow. You see that you're impacting lives far beyond the athletes, who are tremendous themselves."
While the Mourons didn't personally know any adapted athletes before giving to the program, they felt a connection to the students' dedication and wanted to help expand their opportunities.
"The friendships we've made through our involvement with the program have enriched our lives tremendously," said Kathy Mouron, a 1973 graduate. "We want other people to experience what we have, and to feel as rewarded for giving back as we do."
For Tuscaloosa natives Karen and Jim Brooks, who are also serving as co-chairs of The Rising Tide, philanthropic giving is how they've seen the University grow and how their families have made an impact on the University that's meant so much to them personally. Both were born and raised in Tuscaloosa, and Jim remembers selling programs at the stadium when he was just 10 years old.
Karen, a UA alumna and member of the Board of Trustees, feels overcome with pride every time she drives by Reese Phifer Hall, which is named after her father. "I cannot express the impact that gifts have on your children and grandchildren," Karen said. "It's a source of pride that you can't put into words."
"And by being involved and giving back ourselves, we're not only helping the University and the state; We're also teaching our grandchildren about giving back. It's a legacy that we're so proud of."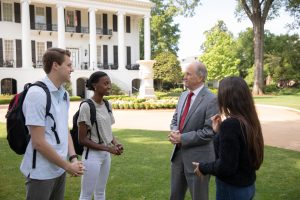 Transformational Impact
The Rising Tide Capital Campaign is built on four pillars—the promise of our students, the prominence of our faculty and research capabilities, the pride we feel in our campus and the passion unleashed through athletics.
The goal of the campaign is to elevate UA students as future legends; to dominate the fields of research and athletics; to lift UA alumni to new heights; and to serve and lead communities near and far.
"Capital campaigns present incredible opportunities to showcase the impact of philanthropy," said Capital Campaign Director Allison Flemming Leitner. "The legacy of The Rising Tide will be to elevate the University to its greatest heights in all areas—from the groundbreaking research that our faculty produce to the once-in-a-lifetime opportunities that we're able to provide for our students."
Aligned with the University's strategic plan, campaign goals include increasing access, achievement and diversity through scholarships, fellowships and programming for undergraduate and graduate students; elevating UA's success and impact through research and endowments supporting faculty; enhancing the campus with new and upgraded facilities; and extending our dominance in college athletics.
The campaign will add 1,000 new endowed scholarships and 75 new faculty endowments, and it will impact more than 500,000 square feet of space across campus. Additionally, the Crimson Standard component of the campaign will raise $600 million for athletic facility enhancements, program support and scholarships.
"Needs-based, endowed scholarships are critically important for students who may not otherwise be able to attend UA due to financial hardships," said UA President Stuart R. Bell. "We want our students to leave UA educated and equipped to make an immediate impact without the burden of significant student debt. Many of our best and brightest students need some financial assistance to reach their educational and career goals. An investment in scholarships will pay huge dividends as future UA alumni will continue to influence our communities, state, nation and world."
A Collective Force
As UA looks to prepare the next generation of leaders and innovators through the Rising Tide, one message remains constant: Every gift matters, and our collective force is stronger than our individual efforts alone.
"Anyone who has traveled to campus recently has to be impressed by the quality of the students, the faculty and the grounds," Mike Mouron said. "It's our responsibility to continue the momentum. Things don't stand still. You either move forward or you're moving backward."
For Jim Brooks, the campaign is an opportunity to cement UA as a forward-thinking leader globally.
"One reason why we are so fortunate to have Dr. Bell's leadership is his research background," Brooks said. "That's where the future is—it's in research and in the things that are going to be developed here. And to be successful in that, you have to bring together the right faculty with the right resources. That's the direction we need to go in both for the University and for our state. I can't tell you how proud it makes me just to be associated with what's going on right now."
The Mourons see gifts made to The Rising Tide Capital Campaign as investments in the growth and well-being of their home state. "It's hard to find a place in the state where the University isn't playing a role at least tangentially, whether through alumni leadership at a company, a faculty member's research or outreach led by students," Mike Mouron said.
And, just as the University's impact is multifaceted, so is the impact of its donor base.
"Everybody is a part of this," Kathy  Mouron said. "We are like drops of water. Whatever you contribute will have an impact. The stronger we make the University the stronger we make Alabama, and the better the world is for everybody."
Learn more at risingtide.ua.edu.
To receive four issues of the Alabama Alumni Magazine each year, join the Alabama Alumni Association Online.