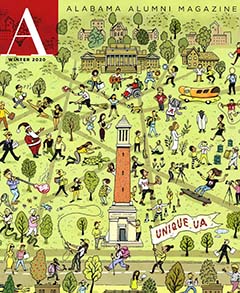 By Caroline Gazzara-McKenzie
Most people who enroll at The University of Alabama know what to expect—the game days of a football powerhouse, the columned architecture that is quintessentially Southern, the experience that student organizations provide, and of course, the classes that can define a student's academic career. But inside our academic halls, it's not just your usual English lit or macroeconomics offered to today's students.
Classes like Fly Fishing, The Birth of Rock and Roll, and History of Knitting may seem unorthodox, but students love them. Interested in Glassblowing? There's a class for that. Looking to understand the natural world around us? The Capstone has you covered. It's classes like these that, while seemingly odd and unconventional, make The University of Alabama stand out.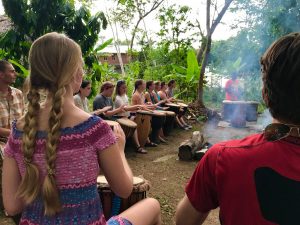 Diving into the unknown
The University offers dozens of unusual classes for students to take. It's all about where to look, and that's where New College comes in. Founded in 1971, New College
specializes in students who want to further their education but don't quite "fit" into a pre-made major.
As a rarity in the university atmosphere, New College sets itself apart by having professors teach special interest classes and let the students' create their futures. It's why, when Dr. Michael Steinberg joined UA in 2006, he was excited to offer extraordinary classes, including Fly Fishing, Birds and Birding, and Field Studies in Belize.
"I was hired in the New College, which gives us the freedom to develop interesting courses," Steinberg said. "My plan was to take advantage of that, in a good way of course, and design courses that got students outside through experiential learning. And that's really what I've done and I've been happy with it."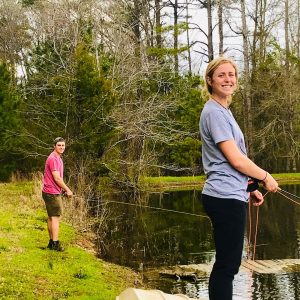 Steinberg's Fly Fishing course, offered in the spring semesters and went virtual in 2020, isn't just about fishing. Sure, students learn how to tie a fly and cast, but there's more to it than meets the eye. Steinberg includes discussions of aquatic ecosystems, water pollution and mindfulness. In a traditional setting, students would go out onto the Quad to practice casting before heading to Marrs Spring Pond on campus or other fishing holes in Tuscaloosa County. Approximately 12 to 15 students take the Fly Fishing course, usually offered once a year. Steinberg's students are learning more about Alabama's ecosystem and how nature thrives in the Deep South.
Alongside Steinberg's Fly Fishing course is his Birds and Birding class, which explores the birds of Alabama, how birds affect their environment and more. Steinberg, who is an avid bird watcher, said he loves this class because students get to be outside and see nature up close. "I think one thing they take away from it is really learning to observe nature in a deeper way," Steinberg said. "Because I think that's important. It's important to just to be able to observe the world around us, because we're so connected to electronics, or so hurried, we're so scheduled, that we fail to see things around us."
At first, when students go to the Quad to observe, they don't see or hear anything, but then observation sets in, he said. "And so I think it's really important, again, for people to detach from sort of the electronic or their busy world and be able to see the world around them, to see the natural world around them."
The mockingbird can be found often at the Capstone; it's all about where you look. The mockingbird loves suburban areas, shrubbery and holly trees, all found on campus. Steinberg said he enjoys taking his students out to the Quad and seeing them find their first bird and identifying the species; seeing his class explore nature is everything he wanted as a professor.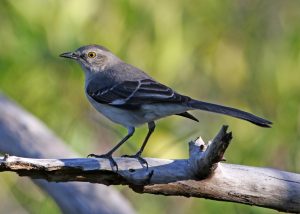 The class also looks at uncommon birds, like birds of prey or prehistoric fossils. Using a journal, the students draw and document what they see. Steinberg covers the impact of birds on the environment, as well as predatory animals that impact bird populations.
By far, Steinberg's favorite class to teach is his Field Studies in Belize summer interim class. Steinberg, who has worked in Belize for 25 years and wrote his PhD dissertation on black howler monkey conservation, takes approximately 20 students to Belize for three weeks for an immersive experience of the culture, aquatic and land ecosystems, animal conservation and exploring the country. Part of the class includes snorkeling in the coral reef to understand marine life, while the other parts focus on exploring the culture and wildlife of Belize. The class stays in a village with local citizens, dining with the residents and taking part in traditional Belize culture.
"I've had students tell me that it's changed their lives. And, you know, just not only from sort of a major or career standpoint, but also from the relationships they develop with each other, because we're in close quarters for more than three weeks, that students develop really close bonds with each other … And actually, it's just a really powerful personal experience," Steinberg said.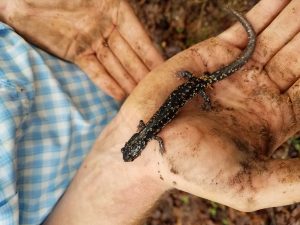 The Nature Around Us
Ever been curious about the amphibians of Alabama and the Southeast? Dr. Scott Jones, professor of Snake and Frog Hunting and Spiders, Snakes and Dirt, is the guy for you. Jones, who specializes in amphibian research, has been at UA since 2016.
There is no actual hunting involved in the Snake and Frog Hunting course. Instead, Jones teaches his students about Alabama's biodiversity, identifying several species and learning about the history of frogs and snakes. "Just getting the chance to go out in the field with people and show them this really cool group of animals is always fun," Jones said. "Just having a couple hours, to romp around in the woods and flip over logs and stuff and show somebody a salamander that some of the students may never have had any interaction with any of these critters is amazing," Jones said. "And so just being able to share it like, here are these really cool things that you probably stepped over the logs that are around all the time, but you know, if you look under this log, here's this really neat looking thing."
If snakes, spiders and other creepy crawlies freak you out, Jones offers the class Spiders, Snakes and Dirt to explore the phobias behind these species. Although he is not a licensed mental health professional, Jones dives into the understanding of the creatures that scare us. His class, which usually has between three to 10 people, goes outside to fully embrace nature.
Visiting Van de Graaff Park and Arboretum in Northport, Alabama, in the evening, Jones has his students take in the surroundings and explore. They'll spot water scorpions, common snakes and insect life and start to learn more about what's in their area. Jones said it's an immersive class in which his students learn to disconnect from technology and go outside and relax.
"It's about the disconnect from nature and the need for a connection with nature," he said. "And so we look at some readings from E.O. Wilson, particularly about biophilia. And just this idea that humans need to have a connection to nature. We look at some literature about, why are humans disconnecting from nature. Why is that a bad thing? And then also talk about phobias as a particular reason that people disconnect from nature. We also cover sensationalism."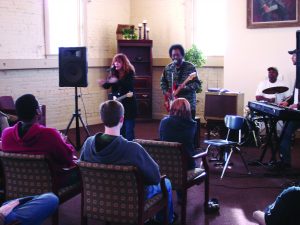 Creating Music
For Dr. Joseph Hornsby, retirement didn't suit him. The former head of the Blount Scholars Program knew he had more to offer UA. The blues-loving professor wanted to offer a different history class, one called Robert Johnson and The Birth of Rock and Roll.
Who's Robert Johnson? He was a 1930s blues artist whoss guitar playing would leave a lasting impression on the history of music. Hornsby said his class learns about Johnson's legacy, listens to music from the '60s and '70s, and experiences music in a variety of ways.
"What my students get from this class is a musical experience that they may never have gotten before," Hornsby said.
Johnson's impact on the music industry also influenced Dr. Ted Trost, a professor in the religious studies department. Trost teaches a songwriting class through New College, letting students explore the art of songwriting. He kicks off the class by having every student play a song of their choice as an introductory mixer, which usually results in students identifying their future project partners.
The class continues to listen to different styles of music throughout the semester, sometimes playing troubadour music or the blues. They'll quickly learn to hear the rhythms of the songs and start creating their own melodies. By the end of the semester, the class produces several songs. Trost, who has been teaching the class intermittently since 2007, said that the class produced two CDs in 2007 and 2009 and then compiled the songs into a playlist after each semester.
"There is a lot of freedom early in the semester because it is very important that writing groups become acquainted with one another. Then the main activity turns to making songs together. People who have particularly enjoyed this class have embraced the workshop aspect of it. In the process, students learn new ways of expressing themselves and listening to others," Trost said.
Hands on Learning
Did you know that The University of Alabama is home to a glass studio? In fact, it even offers a Glassblowing class annually for students to explore the world of glass.
Housed inside Shelby Hall on the engineering side of campus, the Glassblowing class offers students a chance to learn about torches, creating glass rods, using the tubing instruments needed to blow glass and make other projects. Rick Smith, the Glassblowing Facility manager, is one of only a few glassblowers in the Southeast and teaches the course during the summer interim term.
"One thing students get out of this class, even if they're not going to be blowing glass, is it gives them a better idea of the glassware they're using, and what its limitations are and what to expect," Smith said.
Any student can take the glassblowing class, despite it being a chemistry course. Smith once asked a non-STEM major why they'd take this class, and he was told, "It just looked like fun." And that's really what it comes down to, offering courses that students are interested in.
The Capstone even boasts a History of Knitting course, where students learn about pre-
industrialization fabric making process and take in the vast impact the clothing industry has on society. The students even knit a small, cloth square by hand, showing them how tedious and costly fabric can be.
Dr. Heather Kopelson learned how to knit in middle school while living overseas to pass the time. Her interest in knitting would lead her to create this course that introduces the history of clothing and how it has evolved throughout time. Although an interim class, students who take Kopelson's course are quickly immersed in the world of fabric. She even spins her own yarn, demonstrating to her students the old-world process. "It's interesting, just generally thinking about how sometimes students come into the class having never really done a hobby where they make things, or not since elementary school," Kopelson said. "And that's the other reason I like teaching it … (in college) you're spending time on computers, before COVID-19 and more so now. And it can be nice to have something tangible. You can touch and you can see the progress, so I think it helps people to just get that sense of accomplishment."
UA's unusual clubs
Odd classes aren't the only thing available on campus; clubs at UA are also just as interesting, with more than 600 clubs on average. Mollie Tinney, assistant director of organization engagement, loves to see what students are interested in. From Crimson Smash Club, which is meant to bring together gamers who love the franchise "Super Smash Bros," to the UA Deadheads, a group that enjoys listening to The Grateful Dead, students continue to explore different avenues at the Capstone.
Dating back to as early as the 1890s, the University's student population created clubs to bring people together. Academic clubs, honor societies and social organizations continue to showcase student interests. Especially during the COVID-19 pandemic, student clubs continue to thrive by creatively reaching out via social media to keep students engaged.
Tinney said the E-Sports Club has taken off in the past two years as digital gaming becomes more popular. UA even has its own Game Development Club, which brings students together to learn how to create a video game.
If video games aren't for you, the Capstone has several other unusual clubs. Tinney said her favorite club is G.O.A.T, or Geriatric Organization for Animal Therapy, which partners with local farms and nursing homes in Tuscaloosa County. Students and patients love the experience, getting to hold goats and rabbits. There's also the College of Engineering Does Radical Theatre, Alabama's Print and Bookmaking club, and Beekeeping club.
Other clubs include Vegan Voices, an outlet for vegans, Students United with America's Toothfairy and UASpace. Students United with America's Toothfairy travel around the county to teach the importance of dental hygiene to K-12 students. UASpace is a group that gets together to create small satellites and partner with NASA to launch them into space. At this time, the organization is working on a potential prototype.
To receive four issues of the Alabama Alumni Magazine each year, join the Alabama Alumni Association Online.