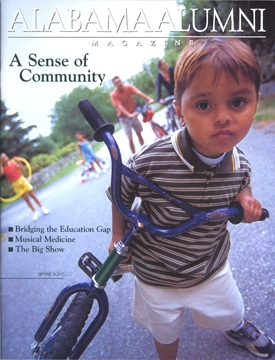 by Laura Neergaard
While some children grow up being told the sky's the limit, others just hope to make it to tomorrow. These children come from a different place—one where life doesn't involve plans for college or careers, but instead is focused simply on getting by, day to day.
This disparity in the hopes and dreams of today's students is something that some of yesterday's students are hoping to change, and the emergence of a variety of service programs is helping them achieve their goal.
One program in particular is gaining national recognition for its efforts to eliminate the education gap that exists between the nation's socio-economic tiers. Teach For America is the creation of Wendy Kopp, a Princeton graduate, who made her senior thesis into a reality in 1990.
Teach For America recruits into its ranks graduating college seniors and recent college graduates with proven leadership skills, the best and brightest from across the country, who are committed to eliminating the educational inequities that exist in under-resourced areas. After a highly competitive application and interview process, the chosen participants, primarily non-education majors, are prepared for their roles through a summer training institute.
They then devote two years to teaching elementary, junior-or high-school children at schools in low-income areas, many located in rural spots or inner cities, where it is difficult to attract qualified educators because of low salaries and challenging environments. Those accepted to be part of Teach For America also pledge a lifetime commitment to pursuing educational equality for all children.
The University of Alabama has contributed 13 graduates to the Teach For America corps since the program's inception, four of whom are current members.
One current teacher, Mary Chastain, a 2003 UA graduate, never planned on ending up in the classroom.
A broadcast news major with social work and health minors, she planned on jumping into a TV career when her bachelor's degree was completed. However, Chastain said she gained a lot of insight into the problems of poverty during her college years, through working on news stories about crime and studying problems with health care. She came to the conclusion that poverty-related troubles had one common link—education.
"I soon realized that whereas I had always dreamed of being an on-air reporter, I felt my calling was to be on the other side of the camera—directly working to effect change, not just calling attention to the problems," Chastain said. "It wasn't where my head was, but where my heart was."
After applying, interviewing and attending Teach For America's summer training institute, Chastain was placed in the New Orleans corps, where she now teaches fourth graders. "This experience has truly been life changing for me," she said. "I guess, for one thing, I have always taken my excellent education for granted. Growing up in small, affluent Fairhope, Ala., I was afforded an amazing public education. It enrages me that children, no matter where they grow up, are not getting the same opportunity that I had."
The hope of leveling the playing field for low-income children draws many graduates to Teach For America, and most are rewarded with tangible results. Out of Chastain's 27 fourth graders this year, only a couple were performing at their grade level in math and reading at the start of the school year. Now, she proudly acknowledges that her class is "well on the way to having 100 percent."
"My students really wanted to learn; they just needed to be told they could and given the tools for success," she explained.
What makes Teach For America so successful is the realization of its members that they must go above and beyond, spending time outside of school, instilling in their students faith in their own abilities, said Chastain. She explains, "When my students came in at the beginning of this year, many of them were unconfident, apathetic and 'turned off' to learning. I knew that beyond teaching them the basics—reading, writing, math, science, social studies—I had to teach them something else: a love for learning and the power of knowledge."
Mark Martin, another corps member who graduated from UA in 2003, spends countless hours with his students outside of school—taking them to the zoo, baseball games or ice skating—making sure they know he is invested in their lives.
Like Chastain, Martin wasn't planning on a teaching career. He had taken his graduate school entrance exams and interviewed for jobs, but when he received an e-mail from the program, it struck a cord, and he recognized an opportunity he could not pass up.
"Teach For America has been an eye-opening experience, and continues to be each morning at 7:50 a.m. when anywhere from 10 to 20 energetic children rush through my classroom doors," said Martin, who teaches first grade in inner-city Atlanta. "I have been afforded a firsthand look at the daily struggles of the impoverished and under resourced. I have seen children desperate for love, and children smiling all day long regardless of their home life or what they lack."
Despite the rewarding experience, teaching is a tough job—and teaching in a low-income community can be even tougher.
Last year, Martin averaged 12 students at a time, but had 25 students in and out of his class throughout the year. "I had children with perfect attendance who would without warning virtually disappear, only to receive a withdrawal slip and no accompanying explanation a few days later," he said.
On rough days, Chastain relies on her "champions" to get her through. "On those days that I do feel beaten down, one of my kids usually reminds me of the difference I am making in their lives with a note, a drawing, or being the one to get that tough word problem correct when I think that no one will."
As a result of the challenges she has faced while teaching, Chastain says she feels confident she could successfully take on life's next step; but she knows that working with lower-income communities is her passion. "I have to say that because of the rage I have felt in how my students are, in essence, victims of a broken education system, I feel called to work at a higher level to make a difference."
Both Chastain and Martin plan to remain at their schools for a third year, though they will no longer be officially part of Teach For America. "I know that I can't follow each of my students throughout their senior year, but I know that by teaching them how important their education is and how fun learning can be I have instilled within them love of learning and the confidence to be life-long learners," Chastain said.
Martin emphasized the ability of the program's teachers to look past the schools' lack of resources and focus on the positives. "I know that regardless of my future plans, I need to make the most of each day I have in the classroom," he said. "I need to push my kids to get out of them whatever I can academically, while giving back to them every bit of me."
While the impact of one teacher may not seem like much, collectively, the current Teach For America corps of 3,000 is reaching approximately 250,000 students. And that's not all—the program's 9,000 alumni can be found advocating educational equality in various professions across the country.
UA grad and Teach For America alumna Jill Joplin has dedicated herself to the mission embraced by the program. When she says Teach For America changed her entire life, she isn't exaggerating. A member of the 1991 corps, Joplin taught seventh-grade English in Houston. Following her two-year commitment, Joplin joined the Peace Corps, where she taught English in Sri Lanka. She then returned to her hometown of Memphis, Tenn., to teach for two years in the city school system, after which she pursued and received her master's degree from the Harvard Graduate School of Education.
Joplin has returned to the Teach For America network, where she now works as the director of development for the Knowledge is Power Program (KIPP) Metro Atlanta Collaborative. KIPP was founded by two Teach For America alumni who desired to expand the aim of the movement by opening public schools with rigorous academic curricula for students from educationally underserved communities. KIPP students attend school from 7:30 a.m. to 5 p.m. on weekdays, every other Saturday and three weeks during the summer. Joplin's primary task is raising money to support the three Atlanta KIPP schools, and she remains connected to Teach For America by serving on its Atlanta board of advisors.
"Actually experiencing the educational process in an under-resourced area opened my eyes to the real disparities in our country," Joplin said. "You can read about it all you want, but until you work [there] every day you don't see what students experience in different parts of the same city, town, state. . . . It is an injustice that your address directly affects your educational experience."
Kriste Dragon, another UA graduate, currently serves as the executive director of Teach For America's Los Angeles site. Dragon said she first became aware of the disparity in the opportunities available to children based on their place of residence through volunteer work while attending the University. After graduating from UA in 1995, Dragon went on to the University of Georgia School of Law, where her experiences in juvenile public defense increased her desire to promote social justice. Upon graduating, she got her chance to do just that when she joined the Los Angeles corps in 1998.
Like Joplin, Dragon says she has been "changed forever" by her experience with Teach For America. "I have been humbled by the dedication of those around me, and moved by the perseverance of our students."
Teach For America, which started with 500 members placed in six sites, currently places participants in 22 urban and rural regional schools across the country. Although none of these are in Alabama, the state is now on the list for potential sites, according to the program's national office. Several factors are considered when planning each new location, including need, community support, financial support and feasibility of certification and placement. Corps members receive salaries from the school districts that employ them, typically receiving the same pay and benefits as other beginning teachers in their schools.
"The University was extremely influential in my decision to forego the norm and pursue what many others considered a hopeless task," Martin said. "The chance to influence lives is an opportunity bestowed upon a select few, and my time at the University helped pattern that into one of my dreams."
Although Chastain, Martin, Joplin, Dragon and the thousands of others who have participated in Teach For America all began college with ambitions of their own, they have now become dedicated to nurturing the dreams of the next generation.
For more information about Teach For America, visit www.teachforamerica.org.
Laura Neergaard is a University of Alabama senior who has been accepted into the 2005 Teach For America corps, and will be serving in the Mississippi Delta beginning in August.
To receive four issues of the Alabama Alumni Magazine each year, Join the Alabama Alumni Association Online