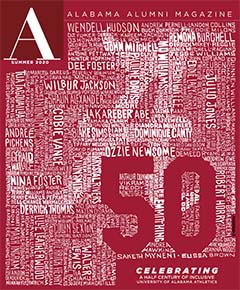 By Caroline Gazzara-McKenzie
When Autherine Lucy Foster first enrolled at The University of Alabama in 1956, she instantly made history as the first African American student at the Capstone, although her enrollment was short-lived. When Vivian Malone Jones and James Hood walked across the sidewalk and into the doors of Foster Auditorium seven years later during the "stand in the schoolhouse door," they too became legends in their own right, leading the way for generations of minority students who would follow.
But there were other firsts who became legends in their own way—on the field, on the court and on the track; on the mat, in the pool or on the golf course. Athletes like Wendell Hudson, John Mitchell, Sylvester Croom, Wilbur Jackson and Oscar Adams, who were the first minority athletes to play at the Capstone.
And there were others to follow, who broke down barriers and made way for diversity to flourish. This year marks roughly 50 years since University of Alabama athletics became inclusive. In this story, we take a look at the years leading up to the integration of UA athletics, the myths, the firsts—those who broke the barriers. For if it wasn't for those firsts, those who played with quiet courage, the many successes that have followed wouldn't have been possible.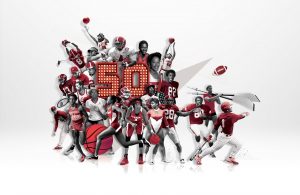 The Tide was changing
Vivian Malone Jones and James Hood were accepted into the University in 1963, but it wasn't until the end of the decade before The University of Alabama recruited its first black athlete. In 1967, five minority athletes walked on and dressed out for the annual spring scrimmage, but only three would see action on the field. None would return for the fall season.
There are a lot of myths behind the reason why Alabama athletics integrated when it did. In the SEC, Alabama was one of the last schools to integrate, with the first in the conference being Kentucky in 1965. Auburn University integrated just one year before the Capstone. There was even a lawsuit filed by the Afro-American Association against coach Paul W. Bryant and UA Athletics in hopes to integrate the team earlier.
Probably the most well-known myth regarding integration is the 1970 loss to the University of Southern California. USC was the first fully integrated team to play in the state of Alabama. The Crimson Tide was still an all-white team, and couldn't keep up with the strength USC brought to the field. Alabama lost, 42–21.
But USC wasn't the first integrated team that Alabama faced. The Crimson Tide played its first integrated team, Penn State, in the 1959 Liberty Bowl in Philadelphia, Pennsylvania. Alabama would fall to Penn State, 7–0. But despite the USC rumor, it isn't true, said Dunnavant. That's because Wilbur Jackson, Alabama football's first black recruit, was already on campus and the roster. But as a freshman, Jackson could not play on the varsity team.
So why did it take nearly a decade for a black student-athlete to join the Crimson Tide? If you ask "Three Days at Foster" producer Keith Dunnavant, it came down to the desegregation of Alabama high schools. "I really believe that from a cultural standpoint, the integration of high schools from a sports standpoint in the late 1960s had a profound impact on this evolution," Dunnavant said.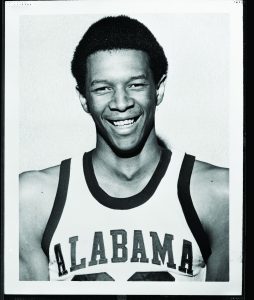 The firsts
   Born and raised in Birmingham, Alabama, during the height of the Civil Rights movement, Wendell Hudson and Oscar Adams were very much aware of their skin tone, but that didn't mean they weren't going to succeed. Although the two knew each other as children and even played basketball together, they went on their separate paths, which eventually led each of them to The University of Alabama.
Leading up to the late 1960s, Paul W. Bryant was not only the head football coach, but he was also Alabama's athletic director. Looking for a new basketball coach, Bryant scouted C.M. Newton, hoping to draw the up-and-coming coach to the South. According to many historians, Newton is believed to have asked Bryant during his phone interview if he could recruit any type of player, essentially asking Bryant if the University was willing to recruit black athletes. Bryant's response was, "Yes."
Newton's first recruit was Hudson, a 6-foot-5 lanky basketball star who attended Parker High School, an all-black school in Birmingham. He had always played pickup games with his friends, not playing organized ball until 10th grade.
Hudson said he chose Alabama because of two reasons: 1) Newton was honest with him and 2) Hudson's mom was on board.
"Basically, what (C.M. Newton) told my mom and myself was 'I'm not going to treat him any differently than anyone on my team,'" Hudson said. "'I don't have a clue what he's gonna go through, but I'm going to do everything I can to take care of him.' I would say, he did exactly what he said he would."
In 1969, Hudson was the first African American student-athlete to be recruited by The University of Alabama. For Adams, his path to UA wasn't a traditional athletic route. The 6-foot-2, 185-pound Adams attended the University because he wanted to try something new.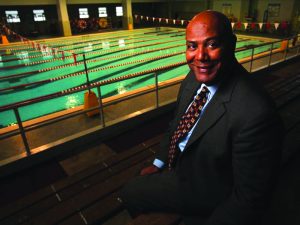 Adams decided early his freshman year that he needed to find something to do, and it was down to football, tennis or swimming. Fortunately for Adams, swimming was his first choice. In the fall of 1969, Adams competed for the Crimson Tide swim team, specifically swimming freestyle. He only swam for one semester, but his legacy was made as the first black athlete to score any point in a UA sport.
"The reason it was so memorable is not just because I scored, but because I didn't know I scored until 40 years later when (Ralph) Sonny Wright told me that I was the first African American to score points at the University. I didn't know until a few years ago," Adams said.
Adams loves to joke that he scored his point during the Dec. 12, 1969, swim meet at Birmingham Southern College before Hudson scored his first basketball point in December 1969. Adams scored his point during the 50-yard freestyle.
Wilbur Jackson, Sylvester Croom and John Mitchell were some of the first black athletes on the Alabama football team. Jackson, a native of Ozark, Alabama, grew up playing "sandlot" football. Croom, born and raised in Tuscaloosa, played for Tuscaloosa High School. Mitchell grew up in Mobile, Alabama, surrounded by a large family. All three knew they could play football; the question was where.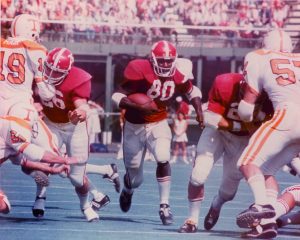 Jackson became the first black football player recruited under coach Bryant in 1970. Mitchell was the first black football player to start in a game in 1971. Croom, along with others, joined the Crimson Tide in 1971, but couldn't play until 1972. All three helped lead Alabama on to win several championships, including the 1973 national title. Mitchell and Croom would return to coach under Bryant before moving on to the NFL.
But for Jackson, it was never about making history. He just wanted to play ball. Even today, he admits he rarely thinks about his impact, but when his daughter attended the University and pointed out her father's handprint and footprint pressed into cement by Denny Chimes to friends, it reminded him that his legacy matters. "I think she was proud of that, so that made me feel good," Jackson said. "But as far as people talking about it, the fact that she realizes it, and that she saw what she saw, that made me more proud than anything else that anyone could do, than what I could do."
"Always on our side"
For those first minority athletes, the focus wasn't just on the field or on the court; there was an additional focus on making sure they were welcomed and felt safe. Like C.M. Newton promised to Hudson, every single athlete was told that although their journey may be tough, the Capstone was on their side.
During Hudson's early playing career for Alabama, his home court experience was vastly different when on the road. Hudson had very limited racial discrimination while on campus, but it was a trip to Ole Miss where Hudson experienced hate on the court. The fans in attendance at that game shouted vulgar profanities, Hudson said. But he didn't let it phase him. After the game, his teammates stood by him in solidarity. "We all had to do the same stuff, and we were all treated the same," Hudson said. "I had to run and I had to get up and do this and that and they did too. We all had to do the same thing. And you know what we found out? We all hated the rain. And we didn't like squats. But we learned that together."
For Dee Dee Foster Worley, '93, her dream was to break barriers. Her stepfather marched alongside Dr. Martin Luther King Jr., and she was raised knowing he was a part of the Civil Rights movement. She was one of very few black gymnasts throughout the country, and in 1989, became the first black gymnast at The University of Alabama.
"I was pointedly aware of the fact that I had the opportunity to make history from the second I started getting my first recruiting letters, especially the letters from Alabama. My parents were cognizant of the fact that Gov. (George) Wallace said 'segregation forever' in front of Foster Auditorium," Worley said. "Because my dad was born and raised in Birmingham, he made sure I was aware of it. I never forgot it. So it was very clear that I had an opportunity to make history if I chose to go to Alabama. … Both my mom and my dad enthusiastically encouraged me to go to Alabama."
Worley was used to being an anomaly in her sport, as well as competing individually, but at Alabama, she found a family that was always on her side. She jokingly recalls former teammate Marie Robinson telling her that being a member of the Crimson Tide no longer meant you competed individually, you competed as a team; their win was your win and your loss was their loss. It's something she's kept with her to this day.
Lakareber Abe, '18, possibly the first African American women's golfer for UA, appreciated how open and willing the University and its athletic department are toward minority students and the progression of inclusion within the programs. Abe, along with Hudson, Worley and Jackson, said it felt like the University didn't view skintone, but simply the athlete. "It's a really cool atmosphere to be in, and then the staff and the support we had is incredible," Abe said. "Everyone is always extremely nice and allows us to speak through things."
In recent years, forums and panels have been held on campus focusing on fostering diversity. One of those forums, Abe said, was about being a minority on campus, where participants could talk about any adversity or difficulties that students faced. It was a way for students to be supported, Abe said. "I just think that is important. … It was an open forum and it wasn't really kids going 'oh, it's so horrible'; it was a conversation about what we can do to make sure people are still comfortable and always feel comfortable no matter their background."
Abe is just the most recent "first" among a long line over the last 50 years since UA Athletics first integrated. And while every "first" is important, every legend makes their own mark, she also knows that she's not the last. "It's both an honor and a privilege to have the chance to follow the men and women that came before me, and I can only hope that everyone that comes after me gets to experience the same thing," Abe said.
For every broken barrier is another legend in the making. Ultimately, it's about being part of the Crimson Tide family.
"The former players have always felt like they were always a part of the University, as part of the tradition there," said Sylvester Croom, one of the first black student-athletes to integrate Alabama football. "When players come there, they know that 30–40 years down, hey, once you wear the Crimson jersey, you'll always be a part of a program."
To receive four issues of the Alabama Alumni Magazine each year, join the Alabama Alumni Association Online.