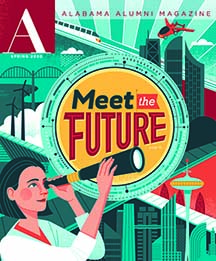 By Erin Peterson
Most of our decisions have few long-term consequences.
Sandwich or salad? Romantic comedy or action thriller? Either way, you probably won't remember what you chose a decade from now.
But every so often, we make a choice that reverberates for a lifetime. We might not recognize its importance when it happens, but we can look back and pinpoint the moment that our lives cleaved into a clear "before" and "after." It's a moment that changes our future.
In the pages that follow, we share excerpts from longer conversations with five alumni from five different decades who share an inflection point that changed their lives. They also share the lessons they drew from that moment that you can apply as you consider making big choices in your own life.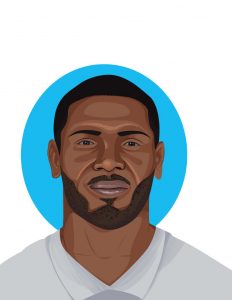 I refocused on relationships.
Javier Arenas, '10, was an All-American defensive back at Alabama and played five seasons in the NFL. Today, he is an analyst for the Crimson Tide.
I was a second-round pick, 50th overall in the 2010 NFL draft. I was a great football player, but I struggled with certain types of authority. I feel as though being raised by my mother, and never knowing or having a relationship with my father, played a role in the way I conducted myself early on in my career. There were times when I would just get up and walk out of the room on the coaches
—because I would try to do things my way, instead of theirs, and I would have success on that particular play, doing it that particular way.
My first four years in the NFL, I had a lot of room for error—I knew there was only a slim chance that I would get cut, due to my relationship with the general manager and the fact that I was a second-round pick. I knew they were going to give me a chance to grow. But in the latter part of my career, I realized that attitude wasn't going to work.
Toward the end of my career, when I was in Atlanta, there was a rift between the defensive back coach, Tim Lewis, and myself. The general manager thought I should be playing defensive back, the coach felt his own way. At the end of the year, I was in the locker room with some of the guys, and one said, "Did you say goodbye to all the coaches?" and I [replied], "I said goodbye to Scotty Pioli and Thomas Dimitroff." He said, "Did you say goodbye to Tim Lewis?" and I said, "Why?" And he said, "Don't burn bridges."
But I did burn that bridge. And that was the last team I played for.
I had a bad attitude toward people who I thought had done me wrong. But it doesn't matter if I'm right. I still have to say, 'Hey, thanks for the opportunity.'
I'm stubborn, and I learned I had to get out of my own way. This business is 30% what you know and 70% relationships.
My ultimate goal is to coach in the NFL, and I learned that the more good relationships you have, the better. Over the past three years, I've gained some new relationships. I've sewn up some old relationships. These days, I try not to let small things knock me off course.
When you let things anger you, when you have an attitude about things, you shut yourself off to the world.
Today, I keep the big picture in mind.
Good advice:
I'm always giving players advice. We had one kid here who was just like me. He got a little thumb injury and walked right off the field. I told him: "I was like that. I did that too. You know where that got me? Traded. After that, I didn't get picked up … I should still be playing! But I'm not because of the decisions I made, simple as that. And you're making those same decisions now." Do players get it? Yeah, they do.
– JAVIER ARENAS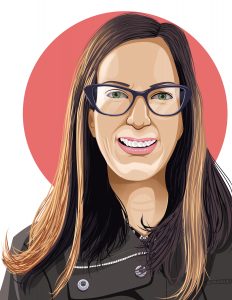 I WENT TO LONDON.
Ann Salamy, MA '98, is a senior program manager at Amazon.
I grew up in a middle class, suburban neighborhood in Northern Virginia. I went to a Catholic all-girls school, and then went to James Madison University (JMU) in the Shenandoah Valley for my undergraduate degree. While I was at JMU, I had the opportunity to study abroad for a semester in London, and I leapt at the chance.
It was my first real experience living abroad, and it opened my eyes to the world beyond the United States. I was exposed to people from different religions and cultural backgrounds. I was
interacting with people very different from me on a daily basis. The currency was different, as were the television programs. Baked beans were a breakfast food. Lemonade was fizzy. A load of laundry could take three-and-a-half hours to do.
The experience raised my awareness of all the ways that life can be different than it is in the United States. Yes, there are inconveniences, but life can be so much bigger, too. That experience planted the seed for me to always ask, "What else is out there?"
When I completed my education, I returned to live in London for four years, working in investment banking human resources. After several years back in the United States, I felt the pull to again return to Europe. I currently live in Luxembourg (a small, landlocked country in Western Europe) and I manage Amazon's corporate MBA program for Europe.
I can travel to Germany, France and Belgium in under 20 minutes, and my dog, Cedar, has used her pet passport to travel to nine countries
and counting.
Good advice:
Push yourself out of your comfort zone: move to a new country, switch careers or learn a new skill.
It is a small world out there. The more of it we can experience, the richer our lives will be, and the more we can appreciate what we have.
– Ann Salamy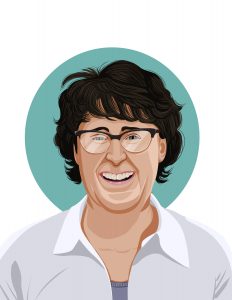 I went to alabama.
Lea Ann Parker, MSW '87, is vice president for compliance at Lifeline Children's Services, a Christian organization which has found thousands of homes for adoptees.
I got my undergrad degree at Ole Miss in psychology and social work, and I decided to pursue a graduate degree in social work. I looked at programs in Louisiana and Alabama, but I couldn't find a distinction that would lead me one way or the other. So I filled out both of the applications.
Then I talked to the Lord about it. I said, "I've got to know which way to go." I finally said, "OK, whichever one accepts me first, that's where I'm going."
I sent out the application to Alabama to meet the deadline, and I held the other one until closer to the deadline, because it cost $25 to apply.
Alabama accepted me before the other deadline had even arrived. It was a logical and common-sense way to look at it, and I trusted that once [Alabama] accepted me, that this was what the Lord wanted.
That $25 decision has meant so much. I met my husband here. My sister moved here and she met her husband here. My mother is here. And I got a job with Lifeline without even sending them a résumé— someone had forwarded it to them for me.
I fell in love with the agency immediately, and I've been here for 32 years. We have started off every morning with a prayer, talking about our needs and asking the Lord to help us. I work with state law and state inspections. I make sure we don't get cited for [regulations] that don't exist. And if I do that well—if I make a good appeal, for example—I take away a barrier [for adoptions] and it goes away for good.
Yes, there are hard days. But this work feels like a gift.
Good advice:
I call [my decisionmaking process] "Reading the billboards." I think the Lord works a lot with
logic. For example, he's not going to call me to be an aerospace engineer. But if I don't hear anything, I stand still. If he says go left, I go left.
I make practical decisions, and then I listen for the voice of the Lord.
– Lea Ann Parker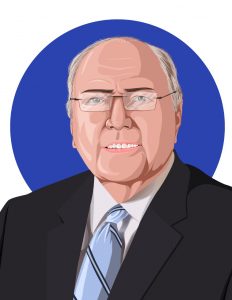 I became master of my own ship.
Jimmy Warren, '76, is the owner of TotalCom Marketing.
After graduate school, I was working for a large outdoor advertising company, and they were going to move me from Tuscaloosa to Atlanta. I could have taken that opportunity, and it would have been fine. A good life.
But instead, I started working for TotalCom, a small advertising agency here in Tuscaloosa. Six months later, in the spring of 1983, I ended up buying the company from the owner.
When I bought it, it was small: three employees with mostly local accounts. Still, it was risky. I had a wife and children. I knew I had so much to learn, and I felt fear about the unknown.
I also felt excited that I could stay here in Tuscaloosa, and joy that we could be in a place where we wanted to raise our children. It was also a new adventure. I was excited about the opportunities I could create for myself and the people who came to work here. It took probably five years to get on financially stable ground, but I persisted.
Today, we have 14 employees, two offices and accounts across the country. Our revenues have grown steadily. There were times that taking my own path was very difficult. But I think it has made me a better person.
Good advice:
When you make a big decision, do the analysis, but understand that there isn't always a right or wrong answer. Sometimes there are several right decisions. Don't look back and question it. Just go full speed ahead in the dream that you're following. Put all of your energy into that, and do eve-rything you can to make that happen.
– JIMMY WARREN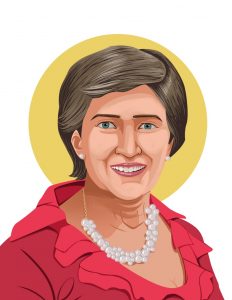 I retired—and found my purpose.
Alma Scroggins, '69, spent her career at turner Broadcasting and CNN. She was chief financial officer of the CNN News Group when she retired in 2000.
I was considering pursuing a college degree in social work when my dad said since I had a strong math background, I should consider another profession. That way, I could generate more resources to support my avocation.
That idea resonated with me. I majored in accounting and spent 30 years working on the financial side of Turner Broadcasting and then CNN. We were cable before cable was cool. It was an engaging, yet very intense place to work.
At one point, I sat down with a financial advisor to set a goal to retire. At age 52, I did retire. At first, I slept a lot. I was tired. But then I volunteered in many areas. I attended Bible studies. I worked with a school teacher helping kindergartners learn their numbers. I helped set up a nonprofit for women to support Christian organizations. I continued my work on several boards, including the Board of Visitors of the Culverhouse College of Business.
It was when I began to volunteer weekly at a women's prison that I found my passion. Our team leads a Bible study and empowerment group. We talk to the inmates about using their time preparing to return to society. We discuss rejection, forgiveness of self and others, abandonment, shame, guilt, and loving yourself. Our goal is to help them become more productive citizens who are going to be an active part of our community, economy, and our future.  I grow as much—maybe more—than they do. They become my friends.
This work [at the women's prison] has helped me see many injustices. The poor don't have the same access to legal assistance. Mass incarceration is a big issue in our society, and it's imperative that we try to make a difference by looking at the big picture.
Our church has formed Restoration Partners and we are collaborating with othe Atlanta-area churches on re-entry resources, advocacy, mentoring opportunities, and looking for ways to break the cycle of incarceration.
This is work that broadens my horizons. I'm continuing to learn and grow.
Now I know what I am here for.
Good advice:
So many people want to have a grasp of the next branch before they let go of the branch behind. I was this person, too. But have confidence that there will be things out there that will capture your passion. – ALMA SCROGGINS
To receive four issues of the Alabama Alumni Magazine each year, join the Alabama Alumni Association Online.