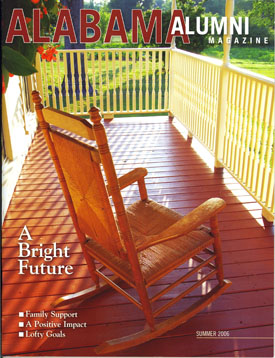 by Tiffany Summerville
In April, University of Alabama President Robert E. Witt announced the launch of the University's first capital campaign since 1998, with a goal of $500 million, half of it devoted entirely to student scholarships, to be raised by 2009. That same day, Witt announced that 60 percent, or $299 million, of the requested funds had already been contributed since the beginning of the campaign's silent phase in 2002.
Like past presidents, Witt knew he could call on the UA family—alumni and friends, faculty and staff, corporations and businesses, and even current students—to support the University and its most valuable asset, its students, as it plans for a very bright future.
Those contributing to the campaign are from varied backgrounds. Some are UA graduates, others are not. Some have made large contributions, many have made small gifts. But all have given with one motivation at heart—current and future students of the Capstone.
"I think it's very natural for alumni and friends of the University to focus on students," said Witt. "When you think about contributing, a lot of people think about major gifts," he said. "But when someone has given you $1,000 or $2,000, that can make a modest difference in the life of a student. It means you can work less hours and take more classes. It makes a difference."
And according to several contributors recently interviewed, their greatest reward comes from knowing their gifts are paving the way for future Alabama graduates.
A Tradition of Giving
Weldon and Delores Cole
Weldon Cole was able to earn his M.B.A. from UA because a benevolent donor awarded him a full-tuition scholarship; he's never forgotten that act of generosity. "Someone was gracious enough to endow that scholarship and allow me to get the education which prepared me to achieve a big slice of the American dream," he said. Weldon and his wife, Delores, are doing the same for future generations through endowed scholarships. "We felt we ought to pay it back," he said.
The Coles also firmly believe in the power of education to improve society. "We feel education is the big equalizer," said Weldon. "We have the ability to achieve a lot if we're prepared to do so, and we feel The University of Alabama can prepare a young man or woman to achieve anything they want as long as they are prepared to put the work into it.
"Those of us fortunate enough to strive to improve our position in life, and then [be] assisted by generous people who allowed us to receive and achieve, have an obligation to help the next generation the same way."
That responsibility is not something Weldon and Delores take lightly—they consider it a personal obligation to help those who will come after them. A frequent gardener, Weldon likes to think about giving through the metaphor of planting trees. "We're enjoying the shade of trees planted long ago," he says, quoting President Witt and harkening to the contributions of those in the past whose "seeds" are seeing fruition today. Now, he and his wife are busy planting their own trees for those who will come after.
Joe and Katie Espy
Joe Espy grew up in the small town of Abbeville in southeast Alabama. From early on, his father, Jack, was adamant that his son get a college education, and even worked three jobs to ensure Joe could eventually attend The University of Alabama. "From the time I could walk and talk, all I heard him say was he was going to do whatever it took to get me to the University," Joe remembers.
Jack's determination that his son receive a higher education sprung from the fact that he himself wasn't able to, despite graduating first in his high-school class. He was one of 11 children growing up in hard times in the early 1920s. He knew his family could not afford to send him to college, so he took the initiative to catch a bus to Tuscaloosa for a face-to-face appointment with then UA President George Denny to request a scholarship. Despite his efforts, there was no money available for him.
Not one to be deterred, he worked the rest of his life to ensure that his family had the opportunity to pursue what he couldn't have. Today, four of his descendants, including his son, two grandsons and his granddaughter-in-law, hold seven degrees from UA.
Now a prominent attorney in Montgomery and the president pro tempore of UA's Board of Trustees, Joe feels a personal calling to support education in the state, particularly for those who are from rural communities and who may be the first in their families to attend college. He and his wife, Katie, have committed a UA scholarship. "I have had a burning interest and desire that every child in this state who is qualified to go to the University should be able to go," he explained. "Financial inability should not prevent that."
Jack and Betty Moore
It was at the University where Jack and Betty Moore met while undergraduates. Here is where they fell in love and began to lay the foundation for their lives. Looking back on their fond memories of the Capstone, the Moores decided to share their resources so others could build their own dreams.
"We've been blessed in many ways, and we want to share some of that success and those blessings and provide a good quality education to kids who weren't as blessed as our children," said Jack. "We wanted to make that possible for them."
Through their support of scholarships at UA, the Moores hope to directly impact the leaders of tomorrow. "We wanted to make those resources available to future leaders of our state of Alabama and hopefully of the United States," said Jack. "That's our future. Our state's future, our nation's future, our businesses' future.
"I think now it's a great time for those of us who have benefited in the past to step forward and make that possible for future generations."
The Moores do this in the hope that the favor will one day be returned when the next generation perpetuates the cycle of giving for years to come. "I hope in the future they look back and say, 'Now it's my turn to step up and make that possible for future generations.'"
Tom and Judy Dawson
Tom and Judy Dawson consider their love for the University something they share with many alumni and friends. "As most alumni from the University, I want to see it continue to grow and improve," said Tom. The Dawsons believe the University's growth is directly connected to its students, and that's why they established an endowed scholarship eight years ago. "We both feel very strongly about the importance of education," said Judy.
Each year, the Dawsons make sure one student receives a full-tuition scholarship to attend the University, pursue their education and develop to their full potential. To date, eight students have benefited from their assistance. The Dawsons have witnessed the graduation of five of their scholarship recipients, and three more will earn their diplomas in the coming years. "We just feel like that's a service we can do for someone else," said Judy.
Both Tom and Judy are delighted they found a way to personally invest in the education of tomorrow's leaders. "We have a personal interest in seeing that people who might not be able to go to college get a chance at a better life," Tom said.
When Mother Calls
Dr. Morris Mayer
Dr. Morris Mayer has devoted much of his life to UA. A retired professor of marketing who spent 45 years on campus as a student and faculty member, Morris is once again rising to support his alma mater through the ongoing fundraiser. "This is an important campaign," said Morris, who though now blind and suffering from Parkinson's disease remains active in University affairs. "While I can't be a tremendous giver, I can be a big help."
When Morris was asked to spearhead the retired faculty and staff part of the campaign, he was eager to help. "There was a book a couple of years ago called When Mother Calls, and that's how I feel about this. I'm not a rich person, but the little I have will go to the University. When they call me, I'll be there."
Morris is the first to admit that "being there" looks different for each person. "You can pay back at any level," he said, "you just have to be creative." He said that he is an advocate for the importance of individuals paying their "civic rent." "When I taught, I used that philosophical framework," he added. And he's applying that same philosophy as he encourages participation in the present campaign. "You're paying back for what you earned as a student and professor."
Willie Cotton 
He has one of the most recognizable faces on campus, and about as many friends as a man can ask for. With so many acquaintances, it's a wonder he can keep them all straight, but that's never been a problem for Willie Cotton. When it comes to knowing people and places on campus, he just might take the prize.
"I get to meet a lot of nice people who keep me motivated and keep me going," said Willie, who has worked for the University for almost 35 years, mostly as a delivery driver with University Printing Services. He has strong feelings for the Capstone and believes what makes it special are the people. Even after 35 years, he still loves going to work each morning. "I get to see a new face every day," he says.
Willie is one of the 40 percent of the University's current and retired faculty and staff who have already contributed to the capital campaign. Together, they pledged $5 million, most of it designated to the institution's general scholarship fund.
Though Willie doesn't instruct students on a day-to-day basis like a professor would, he still always has them at heart. He put both of his daughters through school at the University, and now he's helping others attend as well. "I would really like to help the students get through school in any way I can," he noted. They mean everything, because if it wasn't for them, he said, his job wouldn't be needed. "It's all about the students anyways," he said. "If it wasn't for them, we wouldn't be here."
Our Students, Our Future
Lindsey Davis 
Lindsey Davis remembers how difficult it was to come to freshman orientation the summer before she began classes at UA. The first in her family to experience college, she wasn't sure what to expect.
Now, with a year under her belt, the rising sophomore from Eclectic, Ala., feels "in her groove" in Tuscaloosa as a member of the Yell Crew and the Student Alumni Association. A human development major, she hopes to go on to get her master's and maybe her doctorate, and eventually work in the counseling field.
Lindsey says she's especially honored to be the recipient of a scholarship and that the financial assistance has been "a huge help." She said, "I know people who don't even know me donated. I'm so thankful for it."
Cara Fennell
Cara Fennell just completed her first year at UA, but already had enough credit hours to be classified as a sophomore after her first semester. Her academic dedication is also evident in the fact that she is pursuing a double major in economics and psychology, and hopes to eventually work in a field relating to international economics. Though Cara is an exemplary student, financing her college education hasn't always been as easy as succeeding in her coursework. That's why her S.P.I.R.I.T. scholarship has made a difference in her day-to-day life.
In nine months, the UA student body raised more than $17,000 through the S.P.I.R.I.T. scholarship campaign, a division of the capital campaign, to help support their colleagues. As the first in her family to attend college, Cara was eligible to apply for the scholarship program, and was one of 10 students awarded the financial aid. "It made me realize that people on campus really do care about giving scholarships to students with potential and motivation," said the native of Deerpark, Ala.
Matthew Osborn 
Matthew Osborn said he was just an "average guy" when he graduated from high school; but since he stepped on campus last fall, he's been applying himself in ways that are anything but average.
A mechanical engineering major, Matthew plans to undertake a co-op position this fall to augment his studies and is looking forward to the real-life experience he'll receive while working at Alabama Power. The sophomore from Muscle Shoals, Ala., is a member of Yell Crew, volunteers at Calvary Baptist Church and likes to play intramural sports. He's also the first in his family to go to college, and he's quick to tell you how thankful he is to be the recipient of a scholarship.
He is especially grateful for the support because he knows the sacrifices his parents have had to make for him to attend school, he explained. "My mom had to go to work for me to go to college," Matthew said, and he knows the scholarship assistance helps to ease his parents' financial burden.
Dee Sims
UA junior Dee Sims, from Enterprise, Ala., is preparing to take the LSAT, and has high hopes to attend law school. But she remembers when she didn't think she would make it to college at all. "There were times when I was younger that I questioned whether or not I would have the means to even be able to attend college," said Dee. "My family is far from wealthy, and even with my good grades and involvement in high-school organizations and community service, it was quite unclear how I would pay for college.
"Thanks to everyone who has given money for such scholarships as the S.P.I.R.I.T. campaign, a lot of that burden has been removed," she said. "College isn't an easy time for anyone, but with financial problems, the stress is heightened." Her scholarship assistance has helped her "focus on the things that really matter," she added.
Sims is on track to graduate next year with a double major in political science and history, but she knows the success she enjoys today wouldn't have happened without the support of others. "There are so many people who have helped me along the way, both financially and in other ways," she said. "Without them, I wouldn't be where I am today."
To receive four issues of the Alabama Alumni Magazine each year, Join the Alabama Alumni Association Online