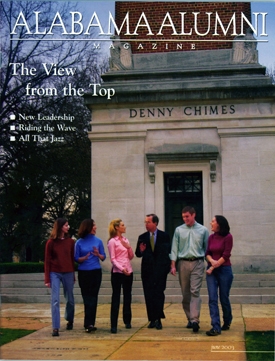 by Katie McMinn
As evidence that it offers all of the necessary ingredients for its students to excel in academics, leadership and service, this year The University of Alabama boasts five students on the USA Today All-USA College Academic Team.
Sarah Adair, Kana Ellis, Allison Kellogg, Gabriel Walvatne and Laura Medders all credit their experiences at the Capstone for helping them develop into well-rounded, successful students. This year's record number of team members was the largest number of students from UA ever named in one year, according to University Relations.
What's more, UA students garnered more spots on the All-USA College Academic Team than any other college or university this year, claiming five of the 83 spots on the list. Harvard and Johns Hopkins each had three winners, and UA had more than Dartmouth and Yale combined.
Inclusion on the academic team places the UA students among some of the nation's top college and university students who are chosen for their grades, awards and activities, leadership roles and their ability to use their academic skills outside of the classroom. Since 1991, 22 University of Alabama students have won spots on the USA Today academic team.
Sarah Adair, a senior microbiology major from Hartselle, Ala., was named to the first team. While at the University, Adair has received many top honors, including being named one of 302 students across the country to receive the Barry Goldwater Scholarship for potential as a future scientist. She also received the Phi Kappa Phi Research Award for her undergraduate research in Dr. Guy Caldwell's lab at UA, and the McWane Foundation Research Fellowship for her research on Parkinson's disease.
In December, Adair presented a poster at the American Society of Cell Biology in San Francisco for her work on Parkinson's disease. Working alongside Caldwell, UA biology professor, she has generated an animal model that allows screening for environmental and genetic causes of Parkinson's. "While none of this work would have been done without my professors' guidance and the assistance of the graduate students, I did complete most of the work on this project myself," Adair wrote for her USA Today All-USA College Academic Team application.
Adair served as president of Beta Beta Beta, the biological honor society, and a member of Phi Beta Kappa, the oldest national honor society for recognition of academic achievement in the arts and sciences. This past year Adair also worked as the co-editor of the first edition of JOSHUA (Journal of Science and Health at The University of Alabama).
"Sarah is that unusual and inspirational mix of an absolutely brilliant student who is putting her knowledge to great use in the service of others," wrote Dr. Hank Lazer, assistant vice president for undergraduate programs and services, in his nominating letter for Adair.
In addition to her academic achievements, Adair has given many hours to the Tuscaloosa community. For the past three years, she has worked two nights a week for the Good Samaritan Clinic of Tuscaloosa, which offers free medical services to patients who have no insurance and limited income. She has also become licensed in the state of Alabama as a pharmacy technician.
Kana Ellis from Northport, Ala., was named to the third team. During her time at the Capstone, Ellis, a psychology major, was very influential in the University Honors Program, serving as president of the Honors Program Student Association from 2001 to 2004.
As president of HPSA, Ellis saw a need to help introduce freshmen to the University before the beginning of the fall semester. She created Alabama Action to engage incoming honors freshmen in a period of sustained, substantive volunteer work in an underprivileged area, and provide them with an academic introduction to poverty issues. In August of 2001, the first class of Alabama Action refurbished the Boys and Girls Club in Eutaw, Ala., and last summer the group worked on the library at Holt Elementary School.
Ellis, who was named national Honor Student of the Year, put in countless hours of service to the University and the community while also maintaining a 4.0 grade point average. "Academics always came first, and going to class was the most important thing," Ellis said. "As far as extracurricular activities, I chose to get involved in organizations that had a lot of service involved."
In addition to her work with the University Honors Program, Ellis is also a member of the Computer-Based Honors Program, to which she credits much of her success. "This one program changed me so much," Ellis said. "My experiences in the Computer-Based Honors Program taught me that I can't do everything, but if I follow my heart I can do the things that really matter to me."
While at the University, Ellis was also a member of XXXI (a women's honorary), Phi Beta Kappa, Omicron Delta Kappa National Honor Society, Mortar Board Honor Society, Blue Key Honor Society and Anderson Society, UA's most selective honor society that initiates just 24 members annually.
Allison Kellogg, a dance major, was also named to the third team. During her time at the University, she was very active in the dance department through her participation in Alabama Repertory Dance Theatre and Dance Alabama. "I came to this University to be a dance major, and have been so pleased to leave a very well-rounded person," Kellogg said. "I have had a wonderful balance of the arts, academics, clubs and college life."
This Madison, Miss., native places a high priority on community service, and was named the Point of Light Foundation National Volunteer of the Day on Nov. 13, 2002, for her outstanding commitment to the communities of Madison and Tuscaloosa, Ala.
Kellogg teaches free dance classes at the Tuscaloosa Boys and Girls Club through a program called A Time To Dance. In Madison, Miss., Kellogg is involved in several programs for mentoring children. One of these programs is Reading for Refugees, through which she encourages reading by raising funds to purchase blankets for Afghan refugee children. Kellogg also created the program Star Kids, which teaches children how to use their gifts and talents to serve others in the community.
"I really enjoy doing everything that I do. I stay busy, but I like it that way," Kellogg commented about balancing community service with academics and extracurricular activities. "I don't know what to do with myself when I have a break."
Along with Ellis and Kellogg, Gabriel Walvatne, an interdisciplinary studies major from Mobile, Ala., was also named to USA Today's All-USA College Academic Third Team. As an undergraduate, Walvatne did extensive research on the Alabama justice system as part of his McNair Scholarship. He focused specifically on the issue of restorative justice, a movement in which the offender and the victim interact to repair the harm from the crime.
"The McNair Scholars Program, over and above the rest of my involvement, has enhanced my growth in so many important fields such as research, presentation, and preparation for my graduate study," Walvatne said. "It gave me the opportunity to meet people I otherwise would have not had the opportunity to meet."
As part of his research, Walvatne was allowed to enroll in a second- and third-year law class. His work was published in UA's McNair Scholars Journal, and he presented his findings at many professional conferences.
"I came to the University to be part of an institution of higher learning, so academics has always been important," Walvatne said.
In addition to his research, Walvatne served as the senior editor of New College Review, a nonfiction undergraduate magazine produced by students of New College. He is also a member of the Phi Kappa Phi honor society, the Pre-Law Student Association and the Alabama Model United Nations. Walvatne is a member of the New College Student Council and was asked to serve on the search committee for the New College director in 2002.
Laura Medders, a journalism major from Thomasville, Ga., was named to the honorable mention team. Through her involvement in the University Honors Program and the Computer-Based Honors Program, Medders has worked to decrease social inequality. As part of her Computer-Based Honors research, she developed a database and template for grant writing at the Tuscaloosa Family Resource Center that will help the agency apply for larger and more complex grants.
Medders explored the issues of disparities in educational funding, poverty, social inequality and racism as part of her honors independent study. She had hands-on experience with her research findings last summer when she chose to live and work as part of the Desire Street Ministry that serves the Desire Street Projects of New Orleans.
In addition to her commitment to social justice issues, Medders was also active in many University activities, including serving as service chair for the Alabama Student Society of Communication Arts; as assistant copy editor for Dateline Alabama, the UA online news site; as one of the UA Athletic Hostesses; and a member of Circle K International Service Club.
"I thrive on stress," Medders said. "I like to be busy and have a lot to do. It helps me focus and do better work."
To receive four issues of the Alabama Alumni Magazine each year, Join the Alabama Alumni Association Online