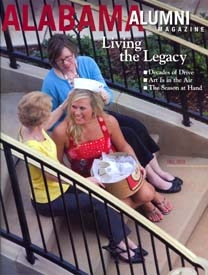 History and progress blend in UA's ambitious campus building plan.
by Jessie Jones
Each fall, new students try to find their way across the campus they will call home for the next four years. While they contemplate the future that lies before them, few give pause to the past that echoes beneath their feet.
At almost 180 years old, The University of Alabama is, at its core, a historic campus.
Today, the tree-lined Quad is still a hub of campus activity. The President's Mansion and Denny Chimes stand watch over students as they hurry to classes. However, a quick look beneath the surface shows that while so many things stay the same, the campus has seen unprecedented growth and change over the last few years.
Since University President Robert E. Witt arrived in 2003, the student body has grown by more than 9,000 students. In the last seven-and-a-half years, more than 41 new buildings have been erected.
One of the first things Witt did when he arrived at UA, he said, was explore the grounds, strolling sidewalks and pathways. He was struck by the beauty of the landscapes and of the older buildings surrounding the Quad. Conversations that followed with faculty, alumni and students  only served to highlight what he  had begun to notice. "I very quickly picked up on the importance of the  history of the campus and the importance of the sense of history to the Alabama family," he said. "What that conveyed to me was that any changes to the campus—additions, deletions or substantive renovations—had to be done in a manner that included the importance of that sense of history."
On a university campus that spans a thousand acres and finds itself brimming with Greek Revival architecture, it could be easy to assume that its growth would be a battle between preserving the past and building the future. However, that isn't the case, said Witt. "The challenge hasn't been taking into account the history and making progress," he explained. "They aren't contradictory goals. They're complementary."
A very historic campus with very big plans for the future, like the one nestled in the heart of Tuscaloosa, needs to recognize and incorporate both in order to move forward.  Recently, four colleges experienced these dual goals firsthand. The College of Education's Bibb Graves Hall underwent a total renovation, along with additional changes to Carmichael Hall. The colleges of Arts and Sciences and Engineering are benefitting from the new Science and Engineering Complex near Shelby Hall. And the Capstone College of Nursing was moved from Russell Hall to a state-of-the-art nursing building at the east edge of campus. Each of these buildings exemplifies the balance of history, form and function that have become the focal point of UA's master plan.
Where Educators Learn
For Jeanice Kirkland, the recent upgrades to the College of Education's buildings have done more than provide advanced learning opportunities for current students. For Kirkland, a 1964 graduate of the college, the transformations in Graves Hall and Carmichael Hall have given her yet another reason to come back to the campus she loves. "I just think it's the nearest thing to heaven," she said. "It has nothing to do with football; that's just the icing on the cake. My experiences at the University, and learning gained from wonderful role models in Graves Hall, shaped the person and educator I have been these past 45 years."
Kirkland, a member of the President's Cabinet and former National Alumni Association president, said she is excited about seeing the changes when she comes to visit her granddaughter, Kirkland Back, who is a freshman this fall. Back is the latest in her family to attend the University, following her grandmother and her mother, Kimberly Kirkland Back. The newest chapter in the family's UA history serves as one more reminder to Kirkland of her days roaming the Quad and taking classes. "I remember it so well," she reminisced about her time in Graves. "Compared to today, all the colors I think of were just browns. There weren't a lot of bright colors. When you're in a building that's old and has tradition, you also have the feeling of being in a place that is old and well-used, but also well-loved."
The next time she visits campus, Kirkland will find many changes to her college haunts. Graves, which originally opened in June 1929, was completely renovated in 2007. "The building has gone from being a liability to being an asset," said Dr. Jim McLean, dean of the College of Education. "The fact that we're in a building that is truly a 21st-century learning facility, but is housed in the elegance of a 1920s shell, is just wonderful." A smaller renovation to Carmichael was completed this summer to update the building that had been remodeled previously in the mid-1990s. "When you add up the cost of the renovations, landscaping and infrastructure changes, and new furnishes, we're talking about approximately $10 million," McLean said. "That's a very large investment in education, and we appreciate that."
The care the University has taken to preserve the integrity of older buildings on campus has not gone unnoticed. "We alumni talk about this often, that when we come back to the campus, even though beautiful new buildings are there and so many things have changed with progress, the essence of the campus is the same," Kirkland said.
Medical Pedigree
Thirty-three years after Gale Sanders McCormick helped found the Capstone College of Nursing, she will get to experience another first—she will be able to visit a building created just for the college.
McCormick's journey to get her nursing education was one full of obstacles. In 1974, when she was 19 and a UA student, she decided to pursue her dream of becoming a nurse. Already married and with a young son, she also needed to stay close to her family in Tuscaloosa. It was then she realized there wasn't a nursing program at the University. There had been one established in 1950, but two decades later the school moved to the medical center in Birmingham.
But McCormick was determined. It would be valuable to many people to have a nursing program at the Tuscaloosa campus, she realized. With the help of Alabama Senator Bert Bank, she and fellow students Becky Morris and Lynn Young traveled to Montgomery five days a week for almost a year to lobby for funds to re-establish the nursing program on the UA campus. Their time and persistence paid off when the Alabama Senate appropriated funding for the cause. "With the help of Bert Bank, finally in May he managed to get us $100,000 to reinstate the nursing school," she said. "That's how the college came about. It wouldn't be there right now if we didn't do that."
McCormick's nursing education began in 1976 on the third floor of Russell Hall with 32 other students, five donated hospital beds and several practice dummies. She received her degree in 1978, and has enjoyed a rewarding career in health care.
This fall, she will get to see the newly constructed home to the Capstone College of Nursing, a striking architectural presence at the east edge of campus, right across the street from DCH Regional Medical Center. The 63,000-square-foot, Greek Revival-style building stands three stories tall and cost roughly $20 million to complete. The transformation of the fledgling college to what it is today is simply overwhelming, McCormick said. She likens it to watching one of her own children grow up. "I can't wait to step foot in that building," she said. "It's a sense of pride that just fills your chest. I want to see every inch and every part of it."
To McCormick, one of the greatest benefits of her effort has been the legacy left for the college. "I feel like I got to pass that academia on to someone else who might not have had the opportunity if we had not pushed forward with reasoning and debate to justify that the main campus of the University deserves to have an accredited nursing school," she said. "The magnitude of seeing how far it's come in all these years, I'm just real proud of it. If my grandchildren grow up and want to go to school, it's an option for them. It won't be a little room tucked away in Russell Hall."
Room for Research
Just six years after the University opened in 1831, it became one of the first five universities in the nation to offer engineering classes. Fast forward to today, and the College of Engineering has about 2,700 students and more than 100 faculty members.
In an industry that considers much technology "old" after less than three years, you wouldn't expect to find history valued highly, but sitting in Dr. Daniel Turner's office, you'll find he would rather talk about the Capstone's background than anything else. A civil engineer, Turner said he just fell in love with the history of the College of Engineering and the University while doing research for the college's 150th anniversary celebration.
Turner arrived on campus as a freshman in 1964, and earned a bachelor's in civil engineering in 1969 and a master's in that field the following year. After a four-year stint in the Air Force and a handful of years teaching at  Georgia Southern College, he returned to  UA in 1976 to continue his career. Turner, a professor emeritus and former director of the University Transportation Center for Alabama, retired in December 2009, but still works two days a week in the UTCA offices. He has watched the College of Engineering's growth over the last 35 years—and grow it has. "The biggest visible change has been when alumni come to campus and call me to ask how in blazes they can find the buildings they remember," he related.
With the addition of Shelby Hall, a 200,000-square-foot facility completed in 2004 that houses several research centers, and the Science and Engineering Complex completed in August 2009, the University's "science quad" has changed the layout of the northeast side of campus. The complex, a U-shaped, 212,000-square-foot building adjacent to Shelby Hall, contains teaching and research labs.
The more than 400,000 square feet of space for science and engineering on campus aren't all that will be added to the area. The Science and Engineering Complex Phase III is already under construction. The 208,000-square-foot Phase III is scheduled to open in November 2011, with more than 40 research and instructional labs, as well as office  space for at least 175 faculty, staff  and students.
Turner said he wished that some of the professors who helped him along the way could have been around to see how the campus has blossomed, especially for the science and engineering areas. "It's a showpiece facility," he said. "It's a wonderful blessing that we need to appreciate. These opportunities come along once in a lifetime."
All According to Plan
Witt said his goals for the campus in the coming years include even more additions and expansions. "If you were to ask me today how I look at it, I don't see anything as a finished product yet," he said. "I see a good foundation that has been put in place." More changes are already forthcoming, from the proposed North Bluff residential community, dining hall and recreation center, to the restoration of Marr's Spring.
And the development underway is by no means random. "It's by design, and primarily President Witt's vision," said University planner Dan Wolfe. The overarching strategy that keeps the campus true to its roots is UA's Campus Master Plan, which serves as a road map for preserving and maintaining, as well as for growing the University. The document is dynamic, always changing and moving, he said.
Within its pages are meticulous details for ensuring that the beauty of the grounds is not marred. Everything from foundations of buildings to bike racks and signage are patterned to blend with the historic look of the University. "It's a lot of little things that make a big difference," Wolfe said.
To receive four issues of the Alabama Alumni Magazine each year, Join the Alabama Alumni Association Online