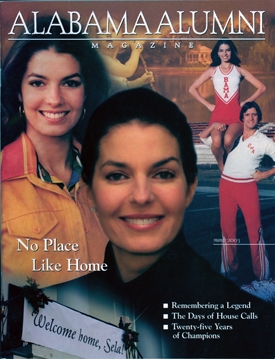 by Chris Bryant
As a young adult, Sela Ward's yearning to experience the world beckoned her away from her small-town Southern roots and eventually led her to the glitter of Hollywood. Years later, the Emmy Award-winning actress would feel another pull—this time one that tugged her in the opposite direction, back home. Ward, '77, chronicles those two journeys, and many steps in between, in her book, Homesick: A Memoir. Ward returned to her alma mater in December to sign copies of the book inside the University Supply Store.
"It's really a love letter to the South—in many ways—to the values and different pace of the life," Ward says of her book, published by ReganBooks. "Having lived in big cities all my adult life, I so miss the graciousness and caring and reaching out, that sense of community, that I experienced in the South and still experience."
Ward, best known for her television roles as Lily Sammler on Once and Again and Teddy Reed onSisters, said the book idea sprang from an appearance on Oprah. Afterward, a publisher contacted Ward. "What came up was this theme in my life of returning home," she said. "At first, I thought, why don't we do a coffee table book with lots of pictures. I really had no intentions of delving deep into my life like that."
It turned into a 257-page account of Ward's take on home and family. "It's not an autobiography," she said. "It's really more broad strokes of things than anything incredibly personal, but it was hard for me to give even that much. I am really a very private person. The publisher kept saying to me, 'you can't write about this perspective of home if you are not giving them your perspective of home.'"
The perspective Ward gives of home is a warm one, growing up as the oldest of four children in Meridian, Miss., the daughter of an electrical engineer and a homemaker. The book is peppered with memories of playing with her siblings in the woods behind their house, spend-the-night parties with friends, and chasing the "bug truck" as it sprayed insecticide to reduce Meridian's mosquito population.
But amidst tales of her palate's pleasure for Southern cooking, charm school and her take on the extra sense of belonging a deeply Southern childhood can provide, Ward addresses some of the less than picturesque things in her life. She relays joining a social service club during high school and how two girls forced her to wear an "I'm Beautiful and I Know It" sign for the weeklong initiation. "At the age of fourteen," Ward writes, "it truly felt as if they were murdering my soul." Ward also tells her readers, in some detail, many conversations between her and her siblings as they surround her dying mother's bedside during her 2002 illness.
Through it all, the South, its many positive traits, and some of its deficiencies, is Ward's focus. Although Ward, her husband, Howard, a venture capitalist, and their two children, Austin, 8, and Annabella, 4, live in Los Angeles, the couple purchased a farm outside Meridian where they return several times a year.
As an actress, Ward, 46, can be found almost everywhere. A scan of December's television line-up reveals seven different programs, in addition to an appearance on The Today Show, in which she displays her acting talents. She recently completed work on an upcoming disaster film titled Day After Tomorrow, in which she plays a pediatrician and ex-wife of a character played by Dennis Quaid.  Despite her success, some who know Ward say she remains genuine.
"She is really one of the most caring people," said Dr. Malcolm Portera, chancellor of The University of Alabama System. "She is not pretentious at all. What you see is what you get with her."
Although they were at UA simultaneously (Portera as an administrator), the chancellor came to best know Ward in the late 1990s while he was president at Mississippi State University. The university was asked to assist in an effort to renovate Meridian's late-17th-century opera house. Ward got behind the project in its early stages, Portera said. "We put a fundraising plan together to raise $32 million to renovate the opera house," Portera said. The goal was met, in part, because of Ward's efforts and the attention her involvement brought the project.
"Thirty-two million dollars raised in a town that size is a very substantial amount," Portera said. "We could not have done it without her."
Ward has founded in Meridian a permanent home for neglected and abused children. A portion of the proceeds from her book will go to the home, named the Hope Village for Children. That effort represents the type of person Ward is, says Tuscaloosa resident Connie Crutchfield, a college suitemate with Ward in UA's Chi Omega House and someone who remains close to her.
"She has always been incredibly humble, incredibly down to earth," Crutchfield, '78, says. "I don't really see a huge change to her from her college days. I would think most people would let it go to their heads, and she definitely has not."
Observing Ward at the UA campus book signing, it's easy to believe fame hasn't changed her. Dressed in a solid black pantsuit and black boots, with her black hair pulled back tightly behind her head, Ward greets the hundreds of fans who descend on the Ferguson Center in a distinctly Southern manner. "Thanks for coming, ya'll," she says in an enthusiastic voice. "Can you believe how different this place' well, you wouldn't know, you weren't here," remarks Ward, as the crowd giggles. "I used to come get my mail here—that was it. There was nothing else going on. There's a hair salon," she says with an amazed tone.
Her path to stardom reads almost like a movie script. Small-town girl attends The University of Alabama, becomes a cheerleader and homecoming queen, dates a future pro football star (Bob Baumhower), moves to New York after graduation, becomes a model, and then moves on to Los Angeles where her career skyrockets.
Ward admits her college days, which concluded with her earning a communication degree with an advertising concentration, sound almost too good to be true. "My whole college experience was just like out of a storybook," she said. "The greatest times for me were cheerleading and cheerleading practice, with the Million Dollar Band out there practicing on the same field. I just had the best time being in the middle of the heartbeat of the school."
An acting career emerged following modeling success and a stint doing television commercials. "I started studying to help me with commercial auditions and I just sort of fell into it through the back door—it was nothing I really thought I would do, but I loved it."
Ward said after getting married and having children she developed a "palpable ache." She was homesick. "What finally drove me away from the South was the very same code of customs and manners I look back on today with such wistful admiration," she writes. "For better and for worse, Southern manners were the defining influences of my life. They made me love the South and hate it, too, sent me away as surely as they now draw me back."
Chris Bryant is assistant director in UA's Office of Media Relations.
Autographed copies of Ward's book are available from the UA Supply Store by phoning 1-800-825-6802 or by visiting their Web site at www.alabamasupplystore.com.
To receive four issues of the Alabama Alumni Magazine each year, Join the Alabama Alumni Association Online