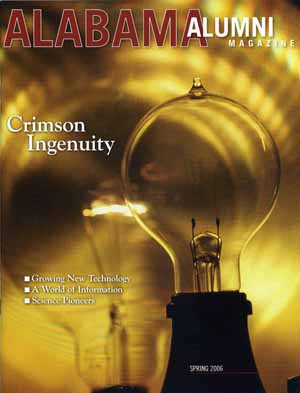 by John Draper
The University of Alabama has its share of mothers—and fathers—of invention. Perhaps its most famous alumni inventor is Robert Jemison Van de Graaff, who received two degrees from UA, a bachelor's in 1922 and a master's in 1928. He invented the electrostatic generator, which provided the first particle beams of precisely controllable energy, making him one of the founders of modern high-energy physics.
In the years since, many inventors associated with the University have followed in his footsteps, and although their names may not be as well-known as Van de Graaff, they work diligently to develop innovative equipment, products and technology that can benefit the world around them.
One of these people is Allen Smith. His packratish tendencies have served Smith well in his long inventing career—it seems his best inventions have resulted from borrowing parts from other things and putting them to a new use.
For example, the first invention he remembers was an electric fan he built in first grade to beat the stifling heat in his un-air-conditioned schoolroom in Tuscaloosa, Ala. He took a pie plate, a small motor and a battery and—eureka!—he was the coolest kid in class.
After graduating from UA with a degree in mechanical engineering in 1986, Smith began building alternative-energy vehicles. He found the BMX bike industry was producing aerospace-quality parts at competitive prices, so he built his battery-powered iterations from various bike parts.
From that experience, he and a friend came up with the basic design of an electric bike, which, after much tinkering, hammering, twisting and turning, they developed into a company: eGo Vehicles. The first product could travel up to 25 miles before needing a recharge. The company was incredibly successful, becoming the first Department of Transportation-approved lightweight electric vehicle manufacturer, and now has an entire line of products that are sold worldwide.
Later, working in conjunction with The Insitu Group, which specializes in the design and production of surveillance and reconnaissance equipment, Smith again benefited from a bent toward amicable piracy. One of his proudest inventions was a launcher he developed for the group's unmanned planes. He swiped the hydraulic system from a dump truck to create a device that would accelerate the 30-pound planes to 60 mph within milliseconds. Insitu's "flying robots" were used to provide intelligence for the first wave of Marines that invaded Iraq.
"I love doing what I'm doing," he said. But it's been a winding path to this point. After his college graduation, Smith worked for five years with the U.S. Army Missile Command, where he was a test engineer for various weapon systems. "It was real fun if you didn't think about the implications of what you were developing," he says now. After about five years, "I got philosophical and decided I wanted my energies going toward something that was constructive as opposed to destructive."
He moved himself to Fairhope, Ala., and put up his shingle as a freelance product designer. He soon met up with fellow tinkerer/environmentalist/capitalist George Henley, and found a common interest in no-emission vehicles.
By late 1998, they had formed a company, which eventually transformed into eGo Vehicles. By 2001, he had essentially invented himself out of a job. He took his shares of eGo stock and headed out West to pursue his passion of windsurfing, and to find more inspirations for invention.
"The joke is, once you get a company to that stage, you shoot all the engineers and move into production," he said. "I didn't leave with a bad taste in my mouth, though. I had great time learning about how American business deals with its engineers and innovative people. I felt good I had brought eGo to the point where I had people working for me, whose job it is to make my stock worth as much as possible."
How did The University of Alabama help him become the inventor he is? That's an easy question, he said. "Dr. Lee Harrisburger, a UA mechanical engineering professor [now retired], created a mechanical energy design clinic. It can be grueling getting through the boring math and core curriculum of an engineering degree. But at the clinic, we were able to use our new skills to build fun projects. Without the clinic, I'm sure I would have changed my major."
Smith's segue into inventing was a natural one. But not all successful UA inventors have spent their lives tinkering. Take, for example, Gaynor Drablos and Drew Aultman, who stopped their careers in midstream and founded companies based on their inventions.
While Drablos (whose first name is pronounced Gay-na "with a Southern slur," she said) was the only woman in the May 1988 civil engineering graduating class at the University, she worked as a professional engineer for only four years before having her first child. And fifteen months later, she gave birth to twins.
Suddenly, being a stay-home mom seemed the logical choice. It was that or work full time just to pay for a nanny to watch her kids, she said.
Eventually, the family moved to the foothills of Virginia, and Drablos made a new friend who was an inventor of sorts herself. Drablos and her friend got into the habit of making fabric purses as Christmas gifts. Her friend's husband worked for a manufacturer of neoprene (a synthetic rubber resistant to oil, water and heat), and one day he threw a sample of the material on the table and told the friends jokingly, "Why don't you make a purse out of this?"
"Why not?," the women thought. Today, four years later, their company, Aqua-Pruff, makes a wide array of neoprene products—from wine totes to backpacks to diaper bags to cell phone/iPod holders—selling them through retailers and catalogs in the United States and the United Kingdom.
"This invention wasn't really engineering heavy, but still I find my education at Alabama helps me every day," Drablos said. "My engineering education helps me dissect business problems and determine the approaches I'll take."
While Drablos has relied on her engineering training to keep her inventive spark alive, Aultman came out of Bama completely unprepared for such feats. Nonetheless, she has invented two skin-care products that cool and hydrate the skin: Splash Cool and Watersall. "We introduced this product in New York last year in May," Aultman said. "Already, we have retailers in over 20 states and close to 100 stores, including upscale spas and resorts. We are very optimistic about the future."
The only ingredients are purified water and medical-grade nitrogen. Granted, it's a simple idea—but many patented inventions are.
As a champion diver, Aultman had lived much of her life in and around water. With three active sons who love the outdoors, she dreamed of having a swimming pool to endure the hot summers of South Georgia. When her husband told her she could "can" her plans to build a pool, she decided that was a great idea, and went about doing just that by immersing herself in a new business venture of putting purified water in an aerosol can.
The water atomizers deliver an ultra-fine mist to replenish the surface of the skin in order to soothe and refresh, according to the company's website, and are recommended after exercise or sun exposure to restore pH balance, among other uses.
Aultman's story is instructive because it shows that the successful inventor must also be part marketer. In her case, her marketing side may even trump her inventive side. She graduated from Alabama in 1985 with a degree in advertising (attending college on a diving scholarship), and for several years she owned her own award-winning advertising firm in Georgia.
"During my education at Alabama, I was always having to come up with concepts in advertising classes—concepts that would sell," she said. "I knew my product name and my product packaging had to grab people's attention. We're just selling water. It's got to look and sound good."
Some UA innovators who are making a name for themselves in their fields are on the faculty side of the University.
There's got to be better ways for an inventor to become famous than spending day upon day scrutinizing disgusting, microscopic worms. Maybe so, but it has worked for Dr. Guy Caldwell.
Caldwell, associate professor of biological sciences in the College of Arts and Sciences, works out of a lab nicknamed the Worm Shack by students. Despite the dubious moniker, Caldwell's facility has drawn funding from some of the world's most recognizable research organizations, including the Michael J. Fox Foundation for Parkinson's Research.
The reason for the lab's notoriety is that Caldwell and his devoted students are making serious headway into finding cures for such brain diseases as Parkinson's and epilepsy by researching the C. elegans, a nematode roundworm.
While the human brain consists of around 100 billion neurons, these wiggly subjects have only 302, and Caldwell knows exactly how they all attach to one another. "It's like the fruit fly in that it's a model system," he said. "On top of that, it's the single most defined nervous system on the planet. Every single connection between every single neuron has been defined on the electron-microscope level."
In the Worm Shack, the C. elegans are exposed to toxins, bacteria, radiation, pesticides and experimental drugs to observe their effect.
Caldwell recently led a University of Alabama effort that discovered the function of a protein that can suppress the harmful clumping of other proteins. The discovery has implications in dystonia, Parkinson's and other neurological disorders.
"The process of science is literally the act of creating knowledge from where there once was none," said Caldwell, who was recently named the state's Professor of the Year by the Council for the Advancement and Support of Teaching.
Another inventor on the UA faculty, Dr. Phillip Bishop, professor of kinesiology, sees himself as a problem-solver. "All an invention does is solve a problem that people want solved," he said.
Bishop has been finding solutions through inventing since he was a kid. His latest problem-solver is a "drinkable vest," designed for the military, firefighters and others who need to stay cool in hot places.
The vest is filled with ice, which keeps the wearer cool. As the ice melts, the wearer can then drink the cold water through a straw in his gas mask. "It has two big applications: people wearing protective clothing, such as bio-terrorism suits, and people who are a long way from a water source, such as firefighters," he explained.
Bishop started working on the project in 1986 as a visiting scientist with the U.S. Air Force. At the time, the military was looking for a way to keep combatants cool and hydrated in the boiling Iraq sun. Now, the University is seeking a patent for the device and looking for a vendor to mass produce it.
"This wasn't a technology breakthrough—it was a thinking breakthrough. I just solved two problems at once with existing technology," he said.
John Draper is a freelance writer in Puyallup, Wash., whose articles have appeared in publications across the country.
To receive four issues of the Alabama Alumni Magazine each year, Join the Alabama Alumni Association Online