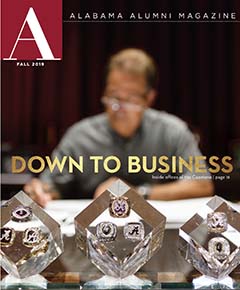 International Influence
Three alumni take what they learned on campus into their leadership roles abroad
by HALEY HERFURTH
It's true what they say—start with an education at The University of Alabama, and you can go anywhere. Just ask three international alumni who, after studying at UA, became influential changemakers whose leadership and expertise are making positive influences in countries like Turkey, Saudi Arabia and Brazil.
Taking a chance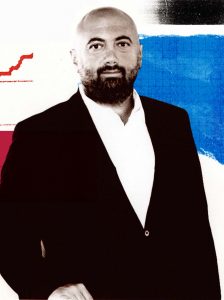 Mustafa Bayraktar is the chairman and CEO of Istanbul, Turkey-based Bayraktar Holding, a group of industrial and commercial real estate development, real estate portfolio management, automotive distributorship, retail services and automotive original equipment manufacturer-supplier corporations that span both national and international markets.
Bayraktar is the third generation of his family to work for the company, which originally began in automotive parts trading in Kayseri, Turkey, in 1958.
Though the group is family-owned, Bayraktar said he is the only member involved in the company's day-to-day activities. Each of Bayraktar's many individual companies is run by its own leadership and board. His personal role is in risk management and looking after shareholders—both of which are no small tasks, he added. "My biggest responsibility is to make sure the entrepreneurial spirit is maintained in each business unit while mitigating risk management," Bayraktar said. "This is quite challenging and keeps one on his or her toes."
He also has a master's degree in finance from Boston College, which he earned in 1992 before returning to Turkey to work in the financial services groups of Bayraktar Holdings. Later, he oversaw the management team that established banks and other financial business in markets like Romania and Azerbaijan in the late 1990s—the first 100 percent foreign capitalist institutions in formerly communist and socialist countries. "My business DNA was programmed as a banker," he said, skills he cultivated during his education at UA. After those years working in financial services, he moved into his current role as chairman and CEO.
Studying business and finance was not always Bayraktar's plan—in fact, in his early college years, he studied electronics at one of Turkey's best universities. However, he admits he was not the best student in his major courses. After earning an A in a second-semester accounting class, a joke made to Bayraktar became the catalyst for a shift in course. "A close friend of mine said jokingly, 'Don't you think that you might be in the wrong major?'" Bayraktar recalled.
When he decided to study business and finance in the United States, another friend recommended UA, so off Bayraktar went to Tuscaloosa. He fondly remembers the functional and pragmatic experiences the University provided him.
"The business school at UA was very hands-on, especially during the sophomore and senior years," Bayraktar said. "I remember most of my professors were very practical."
No typical days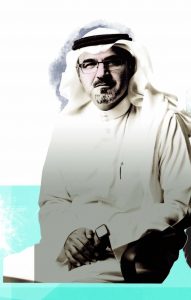 Saudi Arabia is also home to a corporate executive with a UA education. Salah Al-Otaibi is the CEO of Gulf Specialized Works GSW, a leading innovator of manufacturing solutions that offers a wide range of specialized products and services to companies in the petrochemical, oil, gas and utilities sectors.
Because his main role is supporting his team and helping them achieve the organization's objectives by removing roadblocks and resolving issues, he doesn't have a set day-to-day schedule, he said. Rather, each day has the potential to look completely different—something he finds exciting. "I don't feel like I have a typical day, as every day has a different challenge," Al-Otaibi said. "The part that I like the most is when I have the chance to walk around for about 20 or 30 minutes accompanied by one of my teammates and discuss how can we get things done in a better way."
Al-Otaibi counts it lucky that when he began searching for colleges to attend in the U.S., his sister lived in Birmingham, nearly 60 miles outside of Tuscaloosa. At first, he considered UA just a pit stop; he wanted to improve his English skills, and the University is home to the English language Institute, which offers a year-round, six-level, intensive English program for international students. "The plan was that I'd improve my English and then relocate to a different state," Al-Otaibi said.
That relocation never happened. "I fell in love with Tuscaloosa and the campus and decided to continue in UA," he said.
At the Capstone, Al-Otaibi studied industrial management. But it wasn't just the academics that kept him at the University: "More importantly, I fell in love with college football and the Crimson Tide," a love that endures to this day.
Attending college in the United States provided Al-Otaibi with valuable cultural experience, he said. "It prepared me greatly to accept others as they are, accept their religious and cultural differences—to accept them as human beings," he said.
Beyond that, the "the strength and high level of the curriculum" in his program at UA have become more valuable to him as the years pass and he continues to grow in his career.
Though Al-Otaibi hasn't been able to return to campus since he graduated in 1992, he says he is still confident in the quality of education that UA can provide to driven students. "I would say be confident that UA will get you there and chances that you will fulfill your aspirations are high," he said. "Though I never had the chance to revisit the campus, I believe The University of Alabama would be an even better place now compared to my days."
Keep moving forward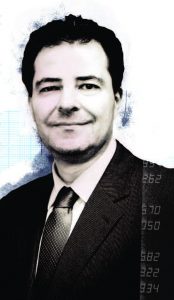 UA graduates don't just excel in the international corporate world, but in public office as well. Adolfo Sachsida, who completed his postdoctoral studies at UA in 2005, serves as the Brazilian government's secretary of economic policy of the Ministry of the Economy, a key position in determining the country's economic agenda.
Sachsida's job is "one of the highest technical positions for an economist in the Brazilian government," he said. His days start at 6 a.m. and regularly go past 10 p.m., filled with meetings with Brazil's economy minister and central bank governor and other important Brazilian government officials. When the International Monetary Fund—a Washington, D.C.-headquartered organization consisting of 189 countries working to foster global monetary cooperation—or the World Bank Fund, an international financial institution that provides interest-free loans and grants to poorer countries for the purpose of pursuing capital projects—comes to Brazil, Sachsida meets with them to discuss Brazil's economic outlook.
While Sachsida said he loves the long days and high intensity of his work, the most important facet of his job is making a difference for his country. "It's a real chance not only to make a difference in the sense of implementing a pro-market agenda in the Brazilian economy, but also to improve the welfare of the Brazilian society," he said.
Sachsida said he chose UA for his postdoctoral work because economist and researcher Dr. Walter Enders, the now-retired Bidgood Chair Emeritus of Economics and Finance in the Culverhouse College of Business, was teaching economics and finance. Enders is the author of "Applied Econometric Time Series," which demonstrates modern techniques for developing models capable of forecasting, interpreting and testing hypotheses concerning economic data and uses a "learn-by-doing" approach to help readers master time-series analysis.
But while Enders' residency at UA was the catalyst for Sachsida's attendance, he said the other instructors and the level of curriculum gave him the foundation to be successful in his current role. "The economics, finance and legal studies departments were full of very skilled and world-class faculty researchers," he said. "Beyond that, the very high-level technical discussions in the department about economic policy, econometric techniques and finance helped me to prepare myself to better understand the full implications of government decisions and to improve my knowledge about economics and econometrics."
Rocky Balboa, the titular character in the Rocky movies, says this in the series' fourth iteration: "It ain't about how hard you hit. It's about how hard you can get hit and keep moving forward; how much you can take and keep moving forward." Sachsida said those words apply directly to the path his career has taken.
"It was a long road until here, a road full of losses and a fistful of winnings," he explained. "But I always work hard, study a lot, believe in myself and pray to God asking for illumination and to put me in the right way."
And Sachsida has a quote of his own—one for any young person considering starting their career path at The University of Alabama.
"Go for it," he said. "And Roll Tide."
To receive four issues of the Alabama Alumni Magazine each year, join the Alabama Alumni Association Online.