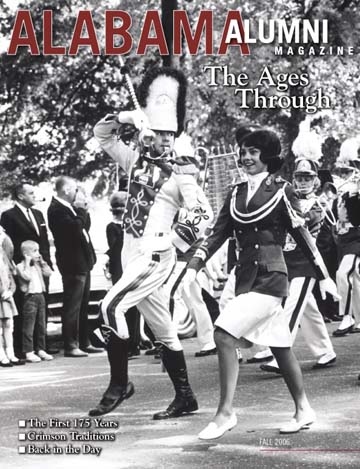 by Katharine Snowden
An anniversary is a time of celebration and also a time of reflection. When we look at new buildings and the fresh construction dust sprinkled on campus streets, it calls to mind the ashes of those buildings that have long since left us. While we admire the Capstone's ever-increasing enrollment, it is also important to honor its first class of 52 students, and all those who have walked its halls in the ensuing years.
This year, The University of Alabama is commemorating its 175th anniversary with activities taking place through December. For those faculty, staff, students and community members who attended the Founder's Day program, celebrating was done the conventional way, complete with a birthday cake and party held on the steps of Gorgas Library and the surrounding Quad. Marking the beginning of the year's celebrations, the event was held April 12, 2006, exactly 175 years from the date the University began.
Among those present was Dr. Samory Pruitt, UA's vice president for community affairs and head of the anniversary planning committee. "As Alabama's first university—its flagship—The University of Alabama has a special responsibility to serve the state," he said. Pruitt noted that "the University was built on a strong foundation of academic excellence," and said this tradition was celebrated by bringing two of UA's Rhodes scholars back to campus to speak at the program.
But the celebration has extended far beyond Founder's Day, with events, speakers, displays and logos. The W.S. Hoole Special Collections Library is showcasing an exhibit titled The Stuff of History: Celebrating the first 175 Years of Campus Life and Culture at The University of Alabama, through Oct. 20, 2006. UA athletic teams are doing some showcasing of their own—a 175th-anniversary patch, first worn by the Crimson Tide football team during the 2006 A-Day game, will adorn many of the sports uniforms throughout the year. And the National Alumni Association is presenting birthday cakes at alumni chapter meetings and distributing anniversary lapel pins to active members of the NAA.
The celebrations will culminate with the dedication of a permanent marker near the Crimson Promenade on Dec. 15, 2006, according to Pruitt, who emphasized the importance of merging the University's past with its present and future. "In this anniversary year, we are celebrating the rich history and traditions of the University, and we are looking ahead to a bright and exciting future," he said.
That "exciting future" will no doubt be shaped by its students, alumni, administrators, faculty and friends, such as the nine people profiled here, who helped define the University during their time on campus. Together, the lives of Dr. John L. Blackburn, Autherine Lucy Foster, Ashley Miles, Harper Lee, Cleo Thomas, Dr. George H. Denny, Amelia Gayle Gorgas, Katie Boyd and Joseph Bryant span all 175 years of the Capstone's existence. Although playing unique roles in their parts of its history, they are also intertwined with common threads of the UA experience.
Dr. John L. Blackburn recalled that when he was offered a job at UA in 1956, the University had just been in the news with coverage of Autherine Lucy Foster, the first African-American to be admitted. "I told them I would come for one year because I was concerned about race in America," he said. As it turned out, he has been part of the University for much longer.
Serving as the dean of students in 1963, Blackburn's dedication to progress along with his meticulous planning were credited as key elements in the peaceful integration of African-Americans into the Capstone. Now retired, he has continued to be associated with UA in various capacities for more than 50 years.
"I noticed going through the experience of integration that we don't maximize the use of our students enough," he said. An organization he founded in 1995 called the Blackburn Institute has developed a network of leaders, including student fellows, who explore the challenges that face the state of Alabama.
While Blackburn began his career with the Capstone in its 125th year, Ashley Miles, '06, graduated in its 175th year as one of the nation's most acclaimed gymnasts. Her success in athletics and academics are likely a dream that wouldn't have been realized without the civil-rights efforts championed by Blackburn 50 years earlier.
Miles received a degree in advertising and won her third NCAA title this year, and she has the future of UA at heart. "The University helped me grow to be the person I am today," she said. Miles said she plans to remain involved with her alma mater, and that it should be celebrated regularly because "it has the power to make individuals better people."
When celebrating the milestones of the University, it becomes obvious that certain people have had the power to make the University a better place. Autherine Lucy Foster, like Blackburn, came to the University in its 125th year, and her arrival didn't go unnoticed. Her admission resulted in riots on the campus, and she was later expelled for her own safety.
In spite of this, Foster contended, "We can't look back too long. I appreciate the strides the University has made since that time." And she has made some personal strides, returning to UA and receiving a master's degree in education in 1991. A portrait of Foster now hangs in the Ferguson Center.
Foster offers some strong advice: "We run into downhills and uphills. Don't take the downhills, but keep going upward." When asked why she's celebrating this anniversary year, she said, "I have great interest in The University of Alabama, and I wish it well."
Miles and Foster share another similarity: their gender. Women were not admitted to the University until 62 years after its inception; they now comprise about 54 percent of the student population. Included on the roll of women pioneers from the University is Harper Lee. Lee's novel To Kill a Mockingbird, written not quite 10 years after Foster's introduction to the Capstone, dealt closely with the segregation issues that Foster faced in the South.
Lee, who graduated from UA in 1949, won the Pulitzer Prize for her bold narrative, and Cleo Thomas said he considers it a work of literature worth revering. He also sees Lee as someone who should be honored during the anniversary celebrations.
Thomas, an attorney in Anniston, Ala., said of the hero figure in Lee's book, "Consider the moral stature of the fictional character Atticus Finch. Let him represent honorable Alabama graduates. We must honor the unknown Atticuses."
Remembered as UA's first African-American SGA president, Thomas said he wants to give back to the University through his support. "My gifts to the University cannot be of the same magnitude as its gifts to me," he explained, "but I can seek to match its spirit."
That spirit has been embodied over the years in people like Dr. George H. Denny. When Denny became the University's 15th president in 1912, only 650 students were enrolled. During his 24-year career in that position, the University saw a wave of growth, and it was during that time that it became known as the state's premiere institution. His monuments, both Bryant-Denny Stadium and Denny Chimes, serve to represent his strength and commitment.
Other buildings on campus serve to remind us of familiar names from history, including Gorgas Library. Amelia Gayle Gorgas, wife of former UA President Josiah Gorgas, laid many foundations for future students by serving in such capacities as hospital matron, postmistress and librarian. Interestingly, she was one of only two women to be at the cornerstone laying for the Washington Monument. And she's not the only woman from the University to leave a mark on the nation's capital.
Another former SGA president, Katie Boyd, '04, currently serves on the staff of Richard Shelby, U.S. senator from Alabama, as the youngest press secretary in Washington, D.C. "Serving as SGA president was an enormous honor that allowed me to be surrounded by people who wanted nothing more than to see the University grow, improve and succeed," Boyd said.
As a student, Boyd was a member of several honor societies and president of her sorority and in high school was first runner-up in the America's Junior Miss Program. She clearly has a lot to celebrate—and she is commemorating her University's 175th anniversary, though 800 miles away. "The UA family reaches far past the Tuscaloosa city limits," she says. "It is because of this family and the support they have given me that my experience in D.C. has been so great."
Joseph Bryant, '01, who was the first African-American editor of the Crimson White, has similar feelings about his support network. "When I look at UA, I celebrate the opportunities and positive exposure it gave me, both personally and professionally," Bryant said. He first visited campus as a participant in the 1996 Minority Journalism Workshop and still returns to speak at what is now called the Multicultural Journalism Workshop.
Bryant, now a reporter for the Birmingham News, said people should celebrate the fact that "the University is a place where there's something for everyone." Still, he said, this all-inclusiveness was not always characteristic of UA. "I stand a little taller as I walk around campus in recent years," he added. "Not because of any great accomplishment I've made, but because of the sense of pride that comes with being a small part of such an enduring institution."
To receive four issues of the Alabama Alumni Magazine each year, Join the Alabama Alumni Association Online