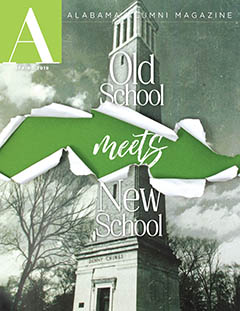 Expanding Boundaries: UA's growing fields of research aim to transform the future
By Adam Jones
Contributed by Meagan Bryant Bennett
At its heart, research is a journey to find something new. It can be sifting data on a computer, experimenting in a lab or digging in the dirt.
Sometimes the research process requires strapping into a C-130 military plane and flying to Greenland. That's what it meant for Joshua Nunn, an electrical engineering graduate student from Talladega, Alabama, who had never flown on a plane before the trip north. He was part of a team from The University of Alabama that helped scientists unveil ancient climate history and provide perspectives on improving climate models. The experience was fun and a once-in-a-lifetime chance, he said. "It was a great opportunity and great experience," Nunn said. "I would go again if I could."
Nunn, who earned his bachelor's in electrical engineering from UA in 2017, is one of the reasons the University's influential research enterprise exists. For UA, not only does research expand the boundaries of knowledge, it also inspires students to transform the future.
"The University of Alabama is committed to exploring new technologies, advancing scientific discovery and being on the cutting edge of research and development," said UA President Stuart R. Bell. "Because our professors are actively participating in research in their areas of expertise, our students are benefiting from their groundwork. We know research has far-reaching impact, and we are already seeing lives changed by what our students and professors are accomplishing through progressive research and innovation."
Research is embedded into the University's strategic plan, and four institutes have been formed to encourage faculty and researchers to collaborate. They are the Alabama Transportation Institute, the Alabama Water institute, the Alabama Life Research Institute and the Alabama Cyber Institute. Organizing around these themes will help in strategic faculty hires, student recruitment, external funding and partnerships with industry.
While placing a high priority on research is positively impacting the University, the results of that research are likely to impact people's lives. Here, we take a look at four research projects that could transform the future.
Using radar on ice sheets
For Nunn and the team in Greenland in summer 2018, their cutting-edge research was completed in extreme conditions.
"In the middle, when you're there, it's just all white. You look around 360 degrees, and it's just flat and white," said Christopher Simpson, a doctoral student in aerospace engineering, of the experience of working on an ice sheet where temperatures never rose above freezing in August.
The researchers used a one-of-a-kind radar—developed and built by UA professors and students in less than six months—to help scientists unveil ancient climate history and to provide perspectives on improving climate models. The team included Simpson, Nunn and Dr. Stephen J. Yan, who specializes in ultra-wideband radar and antenna research.
It was the first time a radar, using high frequencies between 600 and 900 MHz, imaged the bottom 10 percent of the ice sheet, which is about 1.7 miles deep, Yan said. These results will contribute to developing satellite missions to completely map Greenland and Antarctic ice. "People have used radars for a long time, but we are innovating to do something that has never been done with this technology," said Dr. Prasad Gogineni, lead UA engineering researcher on the project and an internationally recognized expert in the field of remote sensing. "We took measurements that could not be done otherwise."
It is uncertain how much glaciers and ice sheets will influence rising seas because scientists are not quite sure how they behave, contributing to wide predictions of future sea levels. To provide clarification, an international team of researchers is studying the Northeast Greenland Ice Stream, led by Professor Dorthe Dahl-Jensen at the University of Copenhagen.
Engineering researchers at UA developed a radar to provide an accurate image of what occurs at the base of the ice. The radar is the first of its kind, advancing the use of this type of technology for scanning the interior of ice.
"If you believe in climate change or not, coastal protections are a major issue in the future," Gogineni said. "This work contributes to a better projection of what the sea level will be and how we can protect the coasts."
While UA engineers study one of the world's challenges in Greenland, UA biologists are in the lab in Tuscaloosa diligently helping discover new paths to treating neurodegenerative disorders. A pair of biology professors is a critical link for transformative research into diseases such as epilepsy and Parkinson's disease.
Drs. Guy and Kim Caldwell, along with their students, use tiny roundworms known as C.
elegans, which share roughly half their genes with humans, to study human diseases. The organism's basic features allow inexpensive and rapid testing for a range of neurological diseases, and UA researchers can induce similar effects in the worm for testing. They call their lab the "worm shack." The worms can be an important step in testing therapies on a chain from studying cells to animal models and, eventually, humans.
The Caldwells and their students have been authors and co-authors on numerous papers in journals such as Nature, Science and Cell. They received funding from the National Institutes of Health, the Michael J. Fox Foundation, the March of Dimes and national organizations dedicated to finding treatments for Parkinson's disease.
One of the lab's current projects funded by NIH hopes to identify factors and methods through which individuals are either resilient or susceptible to the neurodegeneration in the brain as part of Parkinson's. Less than 10 percent of those with Parkinson's can pinpoint their genes as the only culprit, while scores of others with some genetic markers are diagnosed with the disease. Still, others have markers to develop Parkinson's, but do not.
"If we can pinpoint some of the factors that cause this distinction in resilience, then we can use them as a new therapeutic angle," said Dr. Guy Caldwell, University Distinguished Research Professor in biological sciences.
Guy Caldwell, along with doctoral student Brucker Nourse, will work with the roundworms. Even though the worms are essentially clones of each other from hermaphroditic reproduction, some animals develop Parkinson's-related effects while others do not, Caldwell said. They can learn from the healthy and sick to find genes that could be part of a protective program.
"I play around with different mutants to see which mutations make it worse," Nourse said.
Helping to make roadways safer
UA, of course, has many labs on campus, but one team of researchers is using the entire city of Tuscaloosa as a lab to help solve pressing traffic issues.
The team is working to modernize traffic lights to become smarter and communicate with vehicles passing through. These changes are needed, they say, to improve the flow of traffic, because adding lanes in America's most congested areas is no longer an option.
"We've reached a point in a lot of places in America where we can't build more roads, so we need to operate them more efficiently," said Dr. Alex Hainen, a civil and traffic engineering researcher at UA. "We're using our resources the best we can and applying technology so we can use our transportation network in the most efficient manner."
Hainen and other researchers from UA have struck a unique partnership with the Alabama Department of Transportation and the cities of Tuscaloosa and Northport to turn the area around the University into a traffic laboratory. Throughout the area, 85 traffic signals are equipped with data logging and radio communication devices that collect data from real traffic. It's not just used for academic study, but to improve traffic in the Tuscaloosa area.
"Traffic signals are computers, and we're turning them into smarter computers," Hainen said.
All the data collected can tell traffic engineers how an intersection is handling traffic flow. Without data, it is hard to know if tweaks to the traffic light work. Hainen compares it to a vehicle's dashboard—the computers in the traffic center give a gauge on an intersection's performance.
Success means more vehicles sailing through an intersection without stopping as well as safe travel for bicycles and pedestrians, using sensors placed farther back from the intersection to tell the signal how many cars are coming.
The project started showing results almost immediately. At the 85 intersections included in the project, between 5 and 15 percent more vehicles arrive on green.
Analyzing the dark web
 Another group of researchers at UA is studying a different type of network. The Network Intrusion Lab houses faculty and student researchers building mechanisms to monitor and analyze traffic on the dark web network, a part of the internet only accessible by special software that allows users to remain anonymous.
Managed by Drs. Diana Dolliver and Adam Ghazi-Tehrani, assistant professors in cyber criminology and criminal justice, the NIL also involves students from several disciplines in the forward-thinking work.
"In the NIL we get to see the real-world implications of what technology can do," said Jake Wachs, a junior from Annapolis, Maryland, studying computer science.
With technical support by the UA Office of Information Technology, the NIL is a function of the Joint Electronic Crimes Task Force. Established in August 2014, the JECTF assists local and national law enforcement officials with processing digital evidence for use in cybercrime
prosecutions.
The students in the NIL work not only to monitor and study network activity, but also to provide necessary information to local and federal law enforcement to prevent malicious activity and to help solve criminal cases.
The research being conducted at the NIL is the first of its kind. Fewer than 10 academic institutions across the United States have a digital forensics task force.
"No one has done the research that we're doing. We hope that our research opens up a new discussion in the cyber field of study," said Ghazi-Tehrani.
A record year for UA research
It's been a good year for research at the Capstone. In December, the University was included among the top doctoral research universities in the United States in the latest update from Carnegie Classification, the gold standard for distinction in research for nearly 40 years. Produced by an Indiana University research center, the Carnegie Classification of Institutions of Higher Education is said to be the most comprehensive review of educational institutions in the United States.
For the first time in its history, UA also achieved Doctoral Universities—Very High Research Activity status, formerly known as the R1 category. This is the nation's highest level of research activity for institutions that grant doctoral degrees. Research funding, research staff and the number of doctoral graduates are among the criteria used in determining Carnegie classifications.
That good news followed closely on the heels of the announcement in the fall that external grants and contracts for research, instruction, service and fellowship reached record levels for UA in fiscal year 2018. Research awards have grown by 85 percent over the last five years.
"All of the metrics for research productivity, scholarship and creativity at The University of Alabama are rapidly accelerating in concert with its mission as the state's flagship university," said Dr. Russell Mumper, UA's incoming vice president for research and economic development.
To receive four issues of the Alabama Alumni Magazine each year, join the Alabama Alumni Association Online.