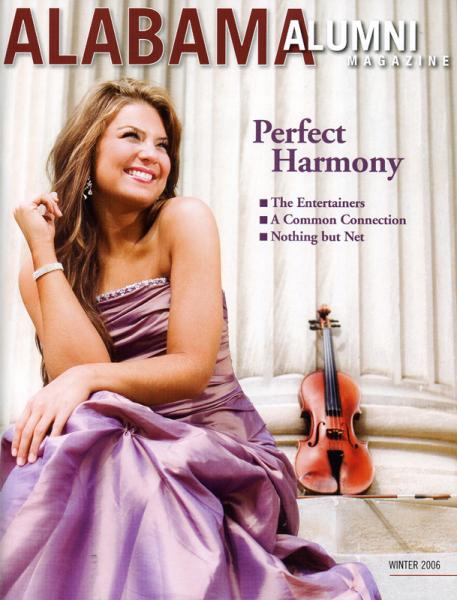 The young violinists of the Lamb Family quartet harmonize as a tightly knit family unit, on stage and at home.
by Alexandra Battito
It's Sunday afternoon, and the siblings of the Lamb Family violin quartet kick off their church shoes and gather by the brick mantle of an antique fireplace in their bright, welcoming den. Karis, 19, Kiemel, 17, Kolson, 15, and Caleb, 12, are all smiles as they perch their violins under their chins.
"This hearth has been our stage for all of our friends, family and company," explains their mother, DuRhonda Lamb, as she and their father, Bill Lamb, a 1975 graduate of The University of Alabama, look on at their children, beaming with pride.
Suddenly, the silence breaks as the violins erupt into a feisty rendition of "Yea, Alabama!" Though the family was trained in classical music, they aren't too shy to break the mold. The Lambs continue in a medley that features everything from jazz standards to "My Girl," and the swelling, pristine result owes itself to more than just a lifetime of practice.
"We have that chemistry with each other, and especially when you are performing, you have that connection with each other that would be different if you were all just friends," Karis explained.
The Lamb children all began taking violin lessons around the age of five, each determined to follow in the footsteps of their older siblings. They perform together at weddings, religious services and holiday events, but have also played everywhere from huge arenas at UA gymnastics meets to tiny hospice rooms. They've even had time to record two albums: Music with a Message and Christmas with the Lamb Family. The closest of friends, these siblings share a rare bond and a genuine love for music.
"I think people still want to see a family doing something together, and not only working together, but enjoying it," DuRhonda said. "We recently had somebody say to us after a concert that there's not only a tight harmony within the voices and the violins, but within the family, too."
DuRhonda brings out a tiny violin, hardly a foot in length, which Karis first used before it was handed down to her younger siblings as they first began to play. DuRhonda explained that because of health complications, she and Bill did not expect that they would ever be able to have children. "We were so excited when we were expecting our first. I listened to a lot of classical music, hearing about the Mozart Effect," she remembered. "One of our prayers for Karis was that she would be blessed musically. We had no idea what was in store."
The Lambs' one and only violin instructor has been Kristine Fink McCreery, who teaches at UA's Community Music School. "A lot of kids, as we would go to music camps, would hop around to teachers and have to learn different techniques," said Karis. "We're grateful to get to have one teacher all the way through. It was perfect for our family."
Kiemel and Kolson are also gifted at piano and take lessons through the Community Music School from Pam Gordon, who is also a professor of music at the University.
"We are spoiled with the wonderful program at Alabama. With the Tuscaloosa Symphony Orchestra and the Celebrity Series, our kids have become exposed to some of the great musicians of the world," DuRhonda explained. "We are just the fruit that the University has produced, and now we're able to go out and give to others what it has given to us."
Living, working and performing together as a family is what sets this musical team apart from other string quartets. "We're all best friends, and I don't think we'd be able to do it if we weren't all extremely close," Kolson noted.
In fact, the "three lambs and a ram," as their parents call them, have never performed without all four members present. DuRhonda recalled that once, before an evening performance for a large gathering in Tuscaloosa, Kolson became sick with food poisoning. "They asked me the question, 'Well, can you come and perform without her?' Immediately, Karis said, 'We have never done that before, and we're not going to start.'"
The family's greatest strength is in their ensemble, Karis added. "We might not be the best musicians in the whole world, but just because we are related and can understand each other so well, it's just perfectly in sync," she said.
Karis is now a sophomore at UA majoring in violin performance. She's studying under a music scholarship and has been very successful, being named an Outstanding Freshman last year. Still, her transition into college has been an obstacle for the family to work around, with her time now split between playing at the college level and performing with her family. Growing up, the Lamb children have all been home-schooled, which provided them plenty of flexibility to travel and perform.
"It's different, and it's been a challenge for all of us to adjust to the new lifestyle," Karis said. "But since I still live at home, I think it's really given me the benefit of both worlds."
Kiemel is a senior in high school and is also enrolled in Shelton State Community College through a dual-enrollment program. With UA flags always proudly displayed from her car windows, she is the family's most enthusiastic Bama fan. There's no doubt in her mind where she'll go to college. "I'm a die-hard fan. It's a definite; I'm going to Alabama," Kiemel said. "The Moody Music Building has been our second home, so I feel like I already go there."
Kolson, a freshman in high school, says that she can't imagine her life without music in it, and has recently started to play the viola as well. One of her ambitions is to arrange her own musical scores. "I'd really like to compose and arrange our family's music, and be able to perform it—that's my goal," she asserted.
Caleb, now in seventh grade, said that despite being the lone boy in the bunch, he loves being a part of the group and performing with his sisters. He is also involved in many of his own hobbies and activities. "I have an old Volkswagen Beetle that I like working on," he said. He and his dad often tinker with the 1960 car in the backyard. He also swims and plays basketball and soccer.
Though the Lambs together make a consummate musical team, they are also confident individuals, with distinct personalities. "It's kind of like a mosaic, where all the pieces come together. They're all different pieces, all different sizes, all different colors, but they come together to form one picture," Karis said. "That's kind of the way our family is—it's made up of very different people that fit together perfectly."
For more information, visit lambfamilymusic.com.
To receive four issues of the Alabama Alumni Magazine each year, Join the Alabama Alumni Association Online