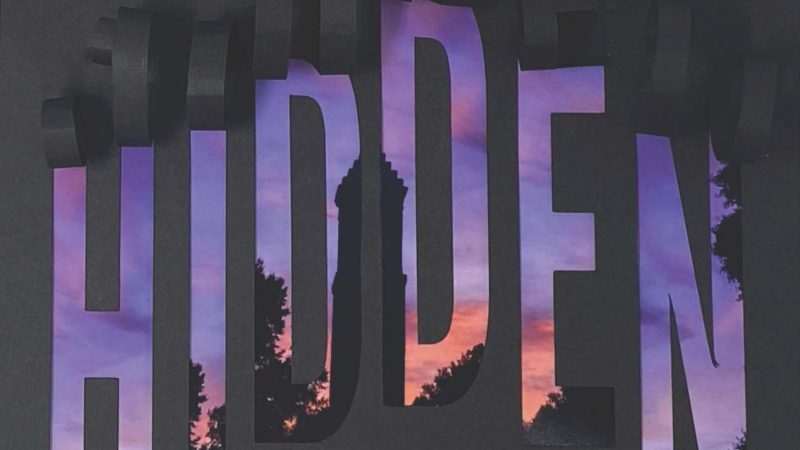 By Edwin Stanton
The University of Alabama is a big place. The campus continues to expand in size and with student enrollment.
There are so many classes and activities going on it would be easy to miss out on everything The University of Alabama has to offer. Some are obvious – student organizations or events.
Other amenities are not so obvious. They are the ones that don't get much attention or aren't even known. They are hidden.
Here is a list of not-so-ordinary programs, groups, items, places and courses at the University.
 Crimson Concierge
Got a meeting on the other side of campus and don't want to waste time searching for a parking spot? No problem. For Faculty and staff there is an on-demand transportation service that picks you up and drops you off anywhere on campus as well as the University Service Campus off Helen Keller Boulevard.
The service, which started in the fall, is accessible through an app or online through myBama credentials.
Visit crimsonride.ua.edu or call 205-348-7433 for more information.
http://crimsonride.ua.edu/crimson-concierge/
Bryant-Denny Stadium Tours
Take a peek at what's inside the home of the Alabama football team. The stadium has some new wrinkles thanks to recent renovations. Tour participants will see the Donor Hall of Recognition, skybox, press box, Alabama team locker room, a walk by the field, and through the visiting team locker room. The tour takes about an hour and a half.
For more information email tours@ia.ua.edu or call (205) 348-3680. The tour is on hiatus due to Covid, and it's unclear when normal operations will resume.
https://rolltide.com/sports/2016/6/10/facilities-bds-tour-request-html.aspx
Outdoor recreation rentals/trips
Biking. Hiking, Canoeing, Camping. Climbing. Whatever outdoor passion you have the Division of Student Life University Recreation has it.
Students can rent bikes, canoes or kayaks and even outdoor equipment for camping.
There're field trips, too. Among the spring activities planned: cave expeditions; hiking trips around Lake Nichol, Lake Lurleen and Hurricane Creek; boat outings down the Cahaba River; white-water rafting; a five-day camping and canoeing trip on Buffalo River in Arkansas. There is also a good chance for a trip to Alaska in May.
https://urec.sa.ua.edu/outdoor-recreation-news/
 Arboretum
 An abundance of botanicals surrounds the campus with a variety of trees and plants. A larger array of flora is just a 10-minute drive away at the University Arboretum, 60 acres of trees, wildflowers, plants, gardens and walking trails.
Most of the hundreds of plants and flowers on the property are indigenous to the state, but there are also a diverse group of species on display, as well as two greenhouses.
Connected to the arboretum are the remains of the Harry Pritchett Golf Course, now used by the UA cross country team. The 160-acres is also the unofficial dog park, where students can bring their dogs for some exercise or a swim in the small pond.
The arboretum is located at 4801 Arboretum Way in Tuscaloosa. Visit www.arboretum.ua.edu for more information.
 Public Nights at the observatory
Students can get an up-close look at the stars and planets at Gallalee Hall with the astronomy department's 16-inch research grade reflector telescope.
There are also trips to Moundville for deep-sky observing sessions, where you can view far away galaxies through UA's 20-inch telescope.
The viewings at Gallalee Hall are held monthly depending on weather and cloud conditions, and admission is free. Call 205-348-5050 or go to www.astronomy.ua.edu/public-events for more information.
 The Gorgas silver collection
A tour of the Gorgas House Museum is well worth the time. Exhibits of Gorgas family treasures detailing their importance to the University are on display, including the impressive silver collection of William Gorgas and his wife, Marie Cook Doughty.
The Spanish Colonial Silver was collected by the Gorgases while they were stationed in Central and South America in the early 1900s. The pieces are handmade, and the earliest pieces date to the 1680s. The silver is referred to as "moon silver" because it is constructed of unalloyed silver, which shines like the moon. There are more than 90 pieces in all.
3D printing
The College of Engineering's H.M. Comer Hall is home to The Cube, a design center with 3D printers, 3D scanners, laser engravers and traditional manufacturing equipment (waterjet, plasma cutter, CNC router). The center is open to students, faculty and staff for projects that range from prototyping new engine pieces for a research project to creating custom mounting hardware for competition teams.
Printing is allowed for personal projects, as long as it justifies the cost. Hands-on training and access to the equipment is given to help students get accustomed to the technology.
Visit www.thecube.eng.ua.edu or email thecube@ua.edu for more information.
Annual book sale
The School of Library and Information Studies holds the Annual Children's and Young Adult Book Sale with proceeds going to support youth services outreach to public libraries in the state and student diversity research in the area of children's literature and librarianship.
The latest book sale was in November, but will be back next year. SLIS also has the Book Bonanza for the Black Belt Initiative, which gives children's books to children and young adult books to libraries in the Black Belt region. The program is open for applications in February, and books are awarded in March.
Peter Bryce Preserve
Located on the east and west sides of Bryce Lawn Drive leading to Bryce Main is the Peter Bryce Preserve, a 23-acre green space. The historic Bryce Hospital, used for 150 years by the state's Department of Mental Health, was relocated but UA Board of Trustees passed a resolution to create the preserve in 2018.
The property features trees, Adirondack chairs and benches, a walking path and the final resting place of mental health pioneer Dr. Peter Bryce and his wife, Ellen.
Along the preserve are 10 small obelisks that resemble those at the entrance and the Bryce family gravesite. The smaller obelisks mark the boundary of preserve.
Hodges meteorite
In November of 1954 a meteorite hit in Alabama near Sylacauga. It's housed inside UA's Museum of Natural History.
The meteorite actually struck Ann Elizabeth Fowler Hodges on her side while she napped on her couch in the afternoon. The meteorite fragment went through the roof, ricocheted off the wood console radio and hit Hodges. She is the only known human to sustain an injury from by a meteorite.
The fragment weighs 8.5 pounds and is around 4.5 billion years old.
Moundville's Saturday in the Park
Moundville Archaeological Park is a short drive up Hy. 69 North from campus. The 326-acre preserve, once one of the largest North American cities (1,000-1,450 A.D.), is surrounded by 29 large earth mounds that served as civic and ceremonial structures.
On the grounds is the museum, which hosts Saturday in the Park, a series of demonstrations and presentations of Native American culture. Demonstrations include pottery, tools and weapons, Choctaw crafts, artifact identification and more. For more information go to www.moundville.museums.ua.edu.
Crimson Racing
UA has a design team of approximately 50 students that designs and fabricates a Formula style race car each year. The team competes with other engineering teams from all across the United States and the world at Formula SAE competition at Michigan International Speedway.
The majority of parts for the car are manufactured in house, from machining, electrical harnesses to composites. The competitions give teams the chance to demonstrate and prove their creativity and engineering skills against other university teams.
For more information on Crimson Racing, go to www.alabamafsae.com
Book Arts
The University's Book Arts program, started in 1985, educates students in the craft of papermaking, bookbinding, letterpress printing, and promotes knowledge of the heritage, responsibilities, trends and standards of the book arts profession.
The facilities are located primarily within the School of Library and Information Studies at Gorgas Library. The facilities include a type lab, a bookbindery, the Lost Arch Papermill and an art gallery.
Alabama Analytical Research Center
The center offers hands-on access to a multitude of scientific equipment, including an electron microscope, an X-Ray diffraction machine used for measuring nano particles, and much more.
The AARC is available to all students and faculty. The facility has the only Local Electrode Atom Probe on a campus in the Southeast. The probe provides a 3D rendering of materials at the atomic scale.
Fun courses
Alabama is the place for quality courses in all fields of study – science, law, engineering, business; the list goes on. It's also got some fun classes, too. Indoor Rock Climbing is available for students who want to understand the proper techniques involved.
The course, offered by the kinesiology department, helps students understand and demonstrate proper risk management and safety techniques, and proper technical skills.
Other courses available include yoga, soccer, basketball, golf, softball, tennis, volleyball, water aerobics and racquetball, to name a few.
Got Meals?/Food pantry
The Got Meals program allows students to donate meals from their dining plan to other students facing economic hardship. Donated meals are given out on an as-needed basis. Donations and requests may be taken and given throughout the year.
Student Care and Well Being runs a food pantry to aid students. Financial donations can also be made. More information can be found on these programs at bamacares.sa.ua.edu.
Palmer Lake
The campus has a beautiful man-made lake behind the Lakeside Dining Hall.  The lake is surrounded by benches and observation areas to view fish and turtles and ducks that inhabit the area.
Honored dead
Those walking along the path next to the Math and Science Education Building are sure to notice the small enclosed cemetery. The gravesite is the final resting place for enslaved people Jack Rudolph (1791-1846) and William "Boysey" Brown (1838-1846), and student William J. Crawford (died 1844).
Rudolph and Brown were slaves owned by UA and faculty members. The University honored them in 2004. "The Faculty Senate apologized for their predecessors' role in the institution of slavery," is written on a plaque next to the gravesite.
Help for families
UA's College of Human Environmental Sciences provide assistance to parents through a variety of programs. New parents are given information about their newborn and access to resources to assist with child development.
A program available for students and faculty is Baby Talk, a community-based playgroup parents with kids age 0-3 years that meets over an eight-week period. The group helps parents navigate development issues and connects parents to form a support system.
The Child Development Center also has the parent resource library, which is open to anyone. Parents can check out children's books, various resource materials and activity kits.
Special Collections
Gorgas Library is home to the W.S. Hoole Special Collections, an array of rare books, maps, paintings, photos and even furniture.
Among the prized collections is Alexander Gardner's photographic sketchbook of the Civil War, which is considered the most famous collection of Civil War photographs. There is also a hand-colored lithograph of Cherokee warrior Sequoyah, a silversmith and creator of a Cherokee written alphabet, from a portrait painted by Charles Bird King in 1828.
A Setee (sofa) that belonged to William Rufus King, the shortest-serving Vice President of the U.S. (six weeks in 1853) is displayed in the Hoole lobby.
Speaking Studio
For those who have trouble with public speaking, Alabama has the place for you. The Speaking Studio at Reese Phifer Hall helps students and faculty improve public speaking, presentation and communication skills.
Like football coaches, staff members break down film to provide feedback of presentations. The studio also works with graduate students delivering research presentations, job interviews, keynote speeches and more. For more information go to https://success.ua.edu/additional-assistance/academic-resources-speaking-studio
To receive four issues of the Alabama Alumni Magazine each year, join the Alabama Alumni Association Online.