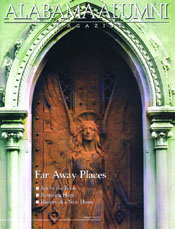 by Elizabeth M. Smith
U.S. sanctions with Cuba may not be lifted any time soon and American travel to Cuba is still limited, but that hasn't stopped professors and administrators at The University of Alabama from establishing individual relationships.
A first of its kind collaborative book-making project already is underway between UA and Cuban book artists, thanks to the imagination and foresight of Steve Miller, associate professor in the School of Library and Information Studies in the College of Communication and Information Sciences.
UA and Cuba started building a relationship after the University received an academic travel license from the U.S. Department of the Treasury in 2002, which permitted travel to Cuba for the purpose of educational development. An interdisciplinary group of UA deans, faculty and staff spent a week at the University of Havana in January 2003 exploring opportunities to build academic and educational partnerships with their counterparts at that institution.
Miller was one of the professors involved in that trip. He teaches in the Book Arts Program, which emphasizes the art and craft of making books by hand.
"Our course of study comprises bookbinding, hand papermaking, history of the book and letterpress printing and publishing," Miller said. "We provide students with a hands-on educational experience based on historical principles and techniques. This promotes the development of good craft skills and an ability to cultivate artistic expression."
Miller was excited about making the trip to Cuba. Through various contacts he was able to make arrangements to meet with paper and book artists in Cuba, as well as find a sculptor who agreed to work as a translator.
"What I discovered in Cuba is a people who are resource shy. They have great difficulty in finding what they need, but they are highly artistic and enthusiastic," Miller said.
In fact, Miller knew the Cuban book artists he would meet were in need of even the most basic book-making tools: scissors, bone folders, small tools and tape. He took "first-aid kits" of these items to Cuba and delighted his Cuban counterparts with the gifts.
He was also able to help the owners of a hand paper mill in Old Havana, where the proprietors have been making paper for the last 12 years. Miller discovered their whole production was based on making sheets of paper with just 12 small paper-making felts. These wool felts are placed around wet pieces of newly made paper to press out the water. The mill didn't have a way to find any more felts, and with such a small supply, their paper production is extremely limited.
Upon his return, Miller found two dozen felts that were not in use at UA and sent them back to Cuba with another traveler. "We sent back enough to triple the number they had," he said. "That's an important relationship. We can learn a great deal from their methods of production, their materials and aesthetics."
Miller came back to UA energized about further developing Cuban relationships, but was unsure how. Then it came to him: produce a bilingual poetry book using the poetry of Billy Collins, poet laureate of the United States (2001—2003).
"It occurred to me that what more logical thing was there to do than ask Billy Collins to collaborate with our students and faculty and our Cuban counterparts on a book of his work that would be translated into Spanish, and present it bilingually?" Miller said.
Collins thought it was a great idea as well, and responded positively to Miller's e-mail in half an hour, saying in his message, "The University of Alabama's Cuba Book Project is a vivid example of the power of literature to penetrate and indeed transcend political barriers by striking the common human note."
The plan is to create two books of poetry that will be published in the spring of 2004—an American bilingual version and a Spanish bilingual version. The American version will be sold to support UA's Book Arts Program, and the Cuban edition will be distributed free through the country's library system.
Three Latin American poets are working to translate a selection of Collins' poems, and in January 2004, Miller, Anna Embree, assistant professor of bookbinding, and three book arts students will travel to Cuba to further collaborate with Cuban artists on how the book should look.
Under the academic travel license, UA students and faculty may travel to Cuba as part of academic courses, to conduct academic research in Cuba as part of their professional development and qualifications, and to study at Cuban universities, as long as UA will grant credit for that study.
This is Embree's first year at UA, and she began work on the project before she arrived in Tuscaloosa this fall. "My focus is on bookbinding and I want to guide our students in the creative design of the binding for the American edition of the book," she said. "Everyone has to come together on how it's going to work and look and how to make the best use of the text and art and materials."
This once-in-a-lifetime opportunity for both the students and professors will produce a book that will be the first of its kind. Miller said the opportunity to work with people in another country who are equally as interested in bringing this project together is "simply fantastic."
"A very interesting thing happens when there's collaboration," he said. "It enriches the experience. Some day our U.S. relationship with Cuba will be much better, but right now it's the people-to-people connections that are making an impact."
UA's Book Arts Program is housed on the fifth floor of Gorgas Library, and features a book bindery, letter press studio and hand paper mill. It's the only book arts program in the state, and offers one of only three graduate-level programs in the United States. The book arts faculty and students welcome the chance to give visitors tours of the facilities.
Elizabeth Smith is a communication specialist in UA's Office of Media Relations.
To receive four issues of the Alabama Alumni Magazine each year, Join the Alabama Alumni Association Online