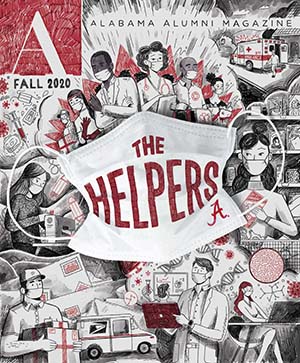 by Brian Hudgins
Illustration by Hylton Warburton
As COVID-19 cases increased throughout the U.S. during the spring and summer, many University of Alabama alumni and students sensed a need to take on new missions.
Health care workers witnessed changes in their respective duties—both in primary care and health care research. Educators, eager students and others searched for ways to lighten the load. The UA community shared meals, masks and other much-needed resources. These are the stories of several UA alumni and students who embraced the call to assist in their communities during the COVID-19 pandemic.
Ethan Suttle, '12
Ethan Suttle's New York introduction took him from Brooklyn to Long Island before he ever set foot in the city.
Suttle, a 2012 Capstone grad with a bachelor's degree in nursing, signed up to provide assistance to NYC hospitals during the COVID-19 pandemic. "My first contract was in Brooklyn, but right as I was leaving, cases started to stabilize there," Suttle said.
Suttle was re-routed to Long Island and a 200-bed facility, Long Island Community Hospital. It marked the first time Suttle would be tackling a travel assignment. He had one day of general hospital orientation and a second day "on the floor," which entailed orientation with a nurse who is experienced at the facility. Much of the learning process centered on figuring out computer system capabilities and the proper communication lines compared to Suttle's home facility, Gadsden Regional Medical Center in Gadsden, Alabama.
"There are nuances anywhere you go," Suttle said. "It is like a little city. You have a pharmacy, respiratory therapy and the physician on call. You are always learning from the people around you."
The University of Alabama gave Suttle a solid knowledge base to call upon when he needed to make decisions in New York regarding patient care. "The education I got at Alabama has been invaluable," Suttle said. "There is a heavy focus on understanding the pathology of diseases—an emphasis on why you are doing something and not just doing it. That problem-solving skill helps a lot."
That was especially invaluable in the challenging circumstances connected to COVID-19. "Critically ill patients present as a patient with pneumonia," Suttle said. "The disease course can vary and not follow a typical path like a viral pneumonia."
Suttle also learned the Long Island area had a suburban feel, similar to some areas of Alabama that have a fair amount of longtime established residents. Even though the beaches were relatively deserted, Suttle saw enough to appreciate the scenery during several weeks. "I was seeing it all from afar," he said.
Jason Farley, '98
When the COVID-19 pandemic started to impact the U.S., Dr. Jason Farley called upon his nursing skills gained at the Capstone. "Nursing is a nimble program of study," Farley said.
Both an educator and researcher at the Johns Hopkins School of Nursing, Farley's primary expertise centers on combating HIV and other sexually transmitted infections. COVID-19 brought a sudden switch. "There has been a massive shift," he said. "Some research projects have been delayed or put on hold. We were planning to roll out a large study in South Africa on TB/HIV this August, which has been delayed six months if not longer."
Farley's workload has largely moved to a few COVID-based projects. Farley and his co-workers have been doing immunologic evaluations of patients who have recovered from COVID-19.
Examination of immune system responses and how long antibody responses last is being done through a new network created by the National Institutes of Health called the Coronavirus Vaccine and Prevention Network.
Studies at Johns Hopkins have involved enrolling two groups—patients who have completely recovered from COVID-19 and patients who are actively infectious and are still dealing with the acute illness. Farley is also involved in a third project. He is a co-principal investigator in a Baltimore citywide random population cohort. The goal is to follow people for the next year to look at the incidence of new cases and the prevalence of antibody upon enrollment.
Farley sees parallels between HIV and COVID-19 from a sociological perspective. "There is that sociological change, whether it is condom use with HIV or mask use for COVID-19," Farley said. "Not wearing a mask is not just about personal consequences. You potentially expose multiple people."
Farley's undergrad experiences at UA solidified his interest in caring for patient populations during both graduate school and his professional career. "Dr. Susan Gaskins taught an early 90s
clinical course, HIV Management," Farley said. "That exposed me to health inequities. Through a STI clinic, I got to meet staff members and physicians."
Farley also became president of a UA campus organization: Students for Education and the Prevention of AIDS. Students started a free ride service for patients who had appointments at the 1917 Clinic in Birmingham. This was during the early '90s when effective HIV treatments were not available. The first-generation inhibitors and drug cocktails came along later. "Those experiences at Alabama impact my work with COVID today," Farley said. "Can I volunteer at testing sites or help set up a new testing venue in the city of Baltimore?"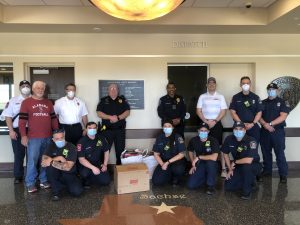 John Onufreiczuk, '09,
and the Tide in Texas Chapter
To help teachers, students and first responders in multiple Texas counties, John Onufreiczuk, president of the Tide in Texas alumni chapter, knew he and his peers would need a big Texas-sized network.
The Tide in Texas chapter and local businesses responded. "Initially, we had $1,000," Onufreiczuk said. "I spoke with (former UA football player) Lee Roy Jordan, who made a generous donation for a scholarship. He gave us permission to use part of that money. Other alumni started giving $40-$100 apiece. With all that together, we were able to take care of several different groups."
That included supplying 10 pizzas and 125 individual boxed meals for Baylor-Grapevine Hospital and Grapevine-Colleyville ISD, respectively. Tide in Texas also partnered with local restaurants. Jersey Mike's subs donated meals for people in Wylie, Texas. "It really was the coolest thing," Onufreiczuk said. "The Jersey Mike's franchise owner allowed us to get meals cheaper and take care of more people … and they have no ties to Alabama."
In addition to Wylie, folks in Sachse, Frisco and Plano received meals, including the Frisco Fire Department.
"Everybody we delivered to asked that we don't send more than one or two people (for social distancing purposes)," Onufreiczuk said. "We hit smaller cities and we did about 500 meals in a two-week period from April 15 to 30.
We are blessed. We have a lot of good alumni!"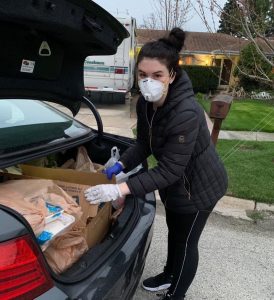 Michael Arundel, '21
When Michael Arundel grabbed 20 friends in the Chicago area to help contribute during the pandemic, he fully expected it to be a local effort.
Then the Chicago group made both the local and national news. The University of Alabama senior majoring in pre-med/biology made Leave It To Us a larger operation. The group provides a free shopping service for senior citizens and immunocompromised people who wish to avoid in-person store shopping during the pandemic. "I am in a southwest suburb of Chicago (Orland Park)," Arundel said. "My priority was to get the city and suburbs involved. I needed to hear from people all around and build a volunteer base."
About 95% of that volunteer base is made up of college students or high school upperclassmen. When a person places an order, Leave It To Us shops based on that customer's preferences for a specific store or brand.  A volunteer then introduces himself over the phone. The volunteer shopper utilizes personal protective equipment and sanitizer for the grocery purchase. The customer provides reimbursement for the goods cost, and there is no delivery fee.
After that basic framework was put in place, Arundel and the chapter coordinators addressed another project—maintaining a website for Leave It To Us. Enter Riley Byars, a UA senior who is double majoring in management information systems and mathematics. He reached out to Arundel in March to offer his skills. "I looked at the web presence and thought about how to add an ordering platform that would streamline the work for chapter coordinators," Byars said.
That initial plan grew into group discussions about upgrading the look of the website as the tools were being implemented. "It was a very unique opportunity," Byars said. "We did a live demo on a Zoom call in front of 20 coordinators. They had a lot of valuable input, and a lot of the fixes were quick fixes."
Leave It to Us grew to include a Tuscaloosa chapter, made up of two coordinators and a 40-volunteer team. "I am super excited," Arundel said. "We grew from 200 people to more than 400 people in 35 chapters throughout the nation."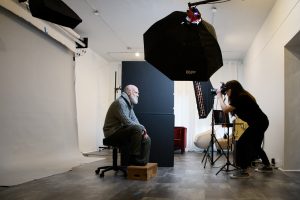 Kira Derryberry, '05
When Kira Derryberry faced a common dilemma, it dawned on her that her fellow parents could probably use a helping hand, too.
Derryberry, a portrait photographer who has owned a studio in Tallahassee, Florida, for a decade, typically focuses on doing individual portrait photography not tied to weddings or events. However, The University of Alabama alumna who graduated from the New College in 2005 with a bachelor's degree in photography and digital art, took on a new title: program coordinator.
"We were all homebound during the shutdown," Derryberry said. "A lot of people were home with kids and trying to entertain kids without going anywhere, which was difficult."
Derryberry is on the board of directors for the Professional Photographers of America, a 150-year-old organization with 30,000 members. Locally, she is a member of the Council for Culture and Arts. Through her own thoughts and discussions with friends, Derryberry put together photography projects that families could do at home with camera phones. "The Stay at Home Photography Series" was born. Considering graduations and other milestone events for children were largely being postponed or canceled, Derryberry sought out a couple of ways for parents to be able to keep sharing special moments with their kids.
The initial project was titled "Make Faces." The foundation is a portrait photo of a child. Parents could then add elements of a photo collage and post the material to social media. The second project was titled "Sprinkle in Some Fine Art." Lawn sprinklers were incorporated into outdoor photo projects to give a different environment compared to indoor portraits. The variety was a function of wanting to give everyone a chance to participate. "This virus affected everyone," Derryberry said. "I put together projects to help people document this time."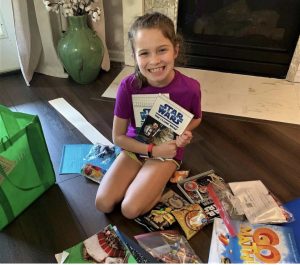 Merideth Lett, '98
During what turned out to be an extended spring break, Merideth Lett started breaking down the pieces of a plan to deliver bags of books and other supplies to students.
That meant reaching out to local stores, churches and friends to assist students who would be running low on food and other supplies. Lett, a fourth-grade teacher at Huntington Place Elementary School, reached out to Laynie Johnson, a staff member at Five Points Baptist Church in Northport, Alabama, who helped obtain 200 gift cards for students facing food insecurity. Publix donated reusable bags. Lett and her peers at Huntington Place also picked up some easy-prep meals and bottled water to help a handful of students.
Students also received academic materials in addition to food. "For special needs students with visual impairment or autism, we compiled workbook activities we had prepared," Lett said. "We had goodie bags that we set up to be user-friendly for students, so parents would not have to get involved."
Lett loaded up a SUV and sent parents messages asking them to check their porch areas. "Some students happened to be playing outside and heard a car, so I got to see some students," Lett said.
Aside from the brief in-person interaction with a few students, Lett also wanted to give students a way to list their personal feelings during the pandemic. A class social media page enabled Lett to record school (lesson) chapters and communicate with students. She encouraged students to write about their experiences. "Brand new journals were included in the goodie bags," Lett said. "It will be interesting for them to go back and read later."
To receive four issues of the Alabama Alumni Magazine each year, join the Alabama Alumni Association Online.