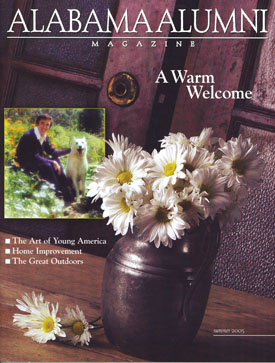 by Chris Bryant
He was once quoted by a reporter as saying that as a Gemini he had two people living inside him. Maybe that explains it. How else can you reconcile Jim Nabors' comments with his accomplishments?
Nabors, B.A. '52, belittles his own acting skills, but the folksy character he first invented during on-stage monologues in nightclubs and which would later become "Gomer," proved wildly popular, both on the Andy Griffith Show and later in the spin-off, Gomer Pyle USMC, in which he starred.
He also says he never considered himself a singer, but estimates he's recorded more than 500 songs, some as singles and others for his 46 albums, five of which went Gold and another which reached Platinum. "Not bad for a non-singer," Nabors said, before chuckling in a nod to the seeming discrepancies between his statements and his career.
"I never did think I was a good actor, to be honest with you, but I always enjoyed performing, and I really always thought of myself as an entertainer," Nabors said. "I never thought of myself as a singer. I used the singing to entertain."
The 75-year-old recently reflected on his career, from which he's "basically retired," he said, and recounted memories from his days as an advertising major within The University of Alabama's business school, as well as his critical illness, which led to liver transplant surgery in 1994.
"It's been quite a run," Nabors said.
Indeed. Even among those who've dazzled in the glare of Hollywood's spotlight, few can match the longevity or diversity of his career. In addition to the two highly successful sitcoms and the mega recording contracts, Nabors' resume includes a top 10 variety show, a talk show, several television specials, stage productions, record-breaking concert tours, performances that headlined Las Vegas for 35 years and roles on the silver screen.
"I think the thing that stands out to me the most is that I was able to do so many different things," said Nabors. "After the television years, I wanted to work, and when you're doing entertaining, you can work anywhere, anytime. I felt very lucky that I was never out of a job for 41 years."
Jimmy Pursell, chairman of the board of Pursell Technologies Inc. in Sylacauga, Ala., has a friendship with Nabors that transcends well beyond those 41 years, extending back to when the two were in high school, Nabors in Sylacauga and Pursell in neighboring Talladega.
Nabors introduced Pursell to the woman Pursell would later marry. Nabors sang at the couple's wedding, and Jimmy and Chris Pursell have gone on cruises with Nabors and visited him more than once in recent years at his Honolulu home.
"He's going to laugh about every third or fourth sentence," Pursell said, in describing Nabors. "Jimmy's very smart. He's very kind; he's very loving to his friends and his family. He doesn't meet a stranger ever. I think that's what people have always liked about him—he's accessible."
But Pursell described a night in which Nabors' accessibility came a bit later in the evening than a handful of Sylacauga adults would have preferred. "I remember one trip when I was at Auburn. He came through and had a couple of girls, and we went to Phenix City," Pursell said. The foursome hit the nightclubs. "Before the night was over, we were egging Jimmy on, and he got up and stole the show at the last place we were at. He sang opera, he sang hillbilly, he did it all. The crowd loved him.
"We got so carried away with enjoying ourselves that somebody," Pursell said, being careful not to identify a specific culprit, "forgot to call the mommas of those two girls back in Sylacauga. When we finally realized it, it was 3 a.m."
Nabors and the trio headed for home. "Mr. Fred Nabors (Sylacauga police officer and Jim's dad) was waiting for us about daylight at the city limits. Those mommas were very upset. It all worked out, but we were in trouble.
"Every time you got with Jimmy, it was sort of a hoot," Pursell said. "Jimmy just cultivates friends. If you ever get a chance to meet him, he'll be your friend, too."
One of Nabors' sisters, Freddie Danelutt, '48, who studied home economics at UA, still lives in Sylacauga, and she and her brother talk regularly on the phone.
She recalled the first time Nabors phoned home to tell his parents he was going to be on television. "My mother asked him what he was going to do on television, and he said sing. My mother said, 'You can't sing!' He said, 'Yes, I can.'"
The first time Gomer burst into song on the Andy Griffith Show, many of the program's fans might have been perplexed at the rich, baritone voice that came booming from the lips of the character, who was more apt to utter the trademark "Gooollleee" or the exclamation "Shazam!" But for any who might have seen a Jasons' Jamboree some 13 years earlier and witnessed the coordinator behind Delta Tau Delta's sketches, Nabors' diversity of entertainment would have been less surprising.
"I met some wonderful people [at UA], and more than anything else, it sort of kicked out my urge to entertain. I did all the entertaining at the fraternity, and I wrote their sketches for Jasons' Jamboree that we always won. That was really a lot of fun. I still follow the [football] team. I always root for the guys."
After earning his advertising degree, Nabors moved to New York, where he worked as a typist for the United Nations. "I tried auditioning a few times while I was in New York, for about a year. They pretty much just laughed at me," he said.
He left for Chattanooga, Tenn., and a job as film cutter, but an old nemesis, asthma, which had plagued him throughout childhood, forced him to leave the South. "That's why I moved to California; not to get in show business," he explained.
It was there Gomer was born, first as an unnamed character Nabors invented for an act he performed at a Santa Monica cabaret theatre, The Horn. His performances landed him a spot on Steve Allen's television program, which was cancelled after some 12 months, and he returned to the theatre.
One evening, some of Nabors' Sylacauga friends, who knew Andy Griffith, brought the star of the nation's second-rated television program to see Nabors perform. Afterward, Griffith told Nabors that if a part came available on his show, he would have him read for it. "I thought, yeah, sure, sure. But it was two weeks later when I read for the part," Nabors said. Gomer, the gas station attendant, proved popular. "I was offered four television series as the star after I had done just three episodes of Andy.
"My debut [in Gomer Pyle USMC, following a couple of years on Andy Griffith] was number two in the nation, and it vacillated between one and five for the next five years, and it ended up at number two. If I was doing that today, I'd be making a whole lot more money."
Nabors says no single individual was the inspiration for the character that became Gomer, but that "It fit a lot of people that I knew growing up. He was really a good guy. He had never been thrown out there in the middle of everything; he was just a good ole boy. The basis for the character was that he just wanted to see the goodness in every single person. It wasn't that he was stupid; he just didn't want to see the other side."
Following the successful television sitcom run, Nabors concentrated on his recording career, personal appearances and performance tours, hosting television specials and headlining productions in Las Vegas and in Hawaii, where he purchased a home in 1979.
In 1994, Nabors underwent a successful liver transplant after contracting hepatitis years before in India. "It destroyed my liver," Nabors said. "They gave me two months to live." He was placed on a transplant waiting list. "You never know if you are going to get the organ or not. I was failing really fast. In one month, I had lost 70 pounds." Nabors said it was estimated that he had less than a week left when a match was made.
"It's something that you don't know, how you are going to face your mortality," Nabors said. "Fortunately, I've always had a very good relationship spiritually. I had been so fortunate in my family and my career and I thought, well, it's whatever God wills. I really felt presumptuous asking for more time, so I didn't do that." He still undergoes monthly injections to fight the potential of infection, but he describes his overall health as great.
Today, Nabors said he balances his time between his Honolulu home and his macadamia-nut farm in Maui. He still performs occasionally, including headlining an annual Christmas theatrical production in Hawaii, singing before the Indianapolis 500 annually and holding sporadic concerts.
Awarded a star on the Hollywood Walk of Fame in 1991, Nabors said he's "amazed" that people still remember him. "I haven't had a press agent or anything like that for years and years," Nabors said.
"It's been a wonderful ride," he said of his entertainment career. "Always in the back of my mind I dreamed about it, but I never really expected it to come true."
Chris Bryant is assistant director in UA's Office of Media Relations.
To receive four issues of the Alabama Alumni Magazine each year, Join the Alabama Alumni Association Online