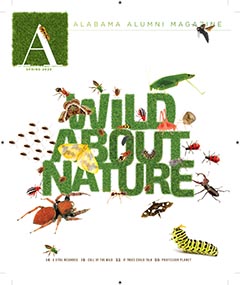 THE CAPSTONE HAS BECOME A NATIONAL HUB FOR WATER RESEARCH
by Edwin Stanton
Water is the most valuable resource on the planet. A person can't live more than two days without it. It's used to generate power, grow crops, build infrastructures and transport goods across the world. Without water, life on earth would perish.
So it makes sense to put time, money, energy and resources into studying water; how to ensure its quality and quantity; understanding humans' impact and how to preserve aquatic systems, i.e., rivers, lakes and oceans.
The University of Alabama is committed to the study of water and could be the apex for water research nationally, and even globally. In 2015, the National Water Center was built on campus by the National Oceanic and Atmospheric Administration. The facility serves as a hub for all national water-related agencies to share data and research.
Among the center's top priorities is water quantity and quality: where the water is located and if there is a sufficient amount. The center also focuses on flood forecasting and preparedness due to water-related disasters (floods, tsunamis, storms).
About 500 yards away from the NWC is another center that is helping put Alabama on the path as a major water resource. The Alabama Water Institute opened at UA in 2017 and aims to find solutions to complex issues involving water management to benefit the public.
"What we are really trying to do inside the Water Institute is take that science off the shelf and out of the peer review journal and put it into a public sector application that helps protect life and property," AWI Executive Director Scott Rayder said. "We do that in, let's say in terms of a better flood forecast or to make sure people have access to higher quality drinking water so they don't get sick. We are also looking into issues of water quantity, to make sure we have enough water to support hydropower or freshwater fisheries or potable water for communities."
In its short history, the AWI has structured itself to be a world-class institution. Dr. Steve Burian, MA '95, PhD '99, is a civil engineer and professor of hydrology and water resources at UA and the director of science at the institute. He leads the AWI in developing solutions to water-based infrastructure systems, including wastewater and water supply, as well as creating better models for flood forecasting.
Burian will soon be working with the U.S. Geological Survey, which signed a contract to build a hydrological instrumentational building along the Black Warrior River, to further aid in water research at the University and in the ability to build next-generation instrumentation for water observation.
"It's something I've done for a long time, in terms of my research, working closely with water utilities and addressing ways to improve their capacities and capabilities to do flood forecasting: in the West to deal with drought and drought contingency planning and water quality," Burian said.
The USGS will play an instrumental role in helping scientists observe water systems remotely and receive data instantly. This will allow for quicker diagnosis of potential issues with water sources. Rayder likened it to getting DNA readings for the ecosystem.
"We want to understand the ecosystem in which these biological entities exist," Rayder said. "We are going to help push the science in that space in a way that scientists 30 years ago could only dream of. This USGS facility is incredibly important because it's going to marry some of the stuff we are already doing here with the biology department and engineering to build the next generation of sensors that enable this capability.
"We are trying to build an EKG for water in the state of Alabama."
Further expanding the University's reach with water research is the Global Water Security Center, which was approved by the UA Board of Trustees and created last year.
When you consider 97% of water on earth is saltwater and 3% is freshwater (half of which is locked up in Antarctica and Greenland), that leaves 1.5% for a human population of almost 8 billion, not to mention other life on Earth.
With limited amounts of water, it's easy to see how that could create geopolitical conflict. That's where Mike Gremillion, director of the GWSC and deputy director of the AWI, enters the picture.
He was brought to UA to lead the GWSC and help the U.S. understand water security issues.
"You can look at reports all over the world on water scarcity, but the problem is our nation does not have a location for someone to come and ask about water and security issues," Gremillion said. "This center will be the place for people to come and ask."
Gremillion used Egypt and Ethiopia as an example. Ethiopia is building a dam along the Blue Nile River. Egypt takes issue with the dam because the Nile is its cultural identity, and less water flowing down the river creates problems and raises several questions.
This is where the GWSC can help.
"You get questions like, how fast will that dam be filled, when will (Ethiopia) stop letting water through the dam?" Gremillion said. "This center will be a place for our nation and the world to ask those questions on what this means from a policy perspective or a scientific perspective and what it means for technology."
Gremillion's hope is that the center will delve into science, policy and technology and help the U.S. understand what policy changes need to be made
regarding water issues.
Through the National Water Center, the Alabama Water Institute, the U.S. Geological Survey and the Global Water Security Center, The University of
Alabama has a unique pathway that will put it on the map as a center for excellence for water.
"We are setting up the research from the USGS and the NOAA partnerships," Burian said. "Doing research in water and having the ability to be connected to each part of those life cycle predictions, whether it's locally, nationally or globally— that's exciting for someone who is in water research."
To receive four issues of the Alabama Alumni Magazine each year, join the Alabama Alumni Association Online.