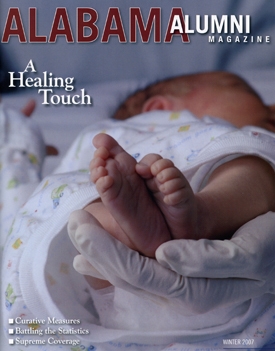 by Alexandra Battito
It's impossible to imagine a world without nurses. From those who help deliver us, to the ones who help give us our first check-up, to those by our bedside when we need critical care, nurses have an impact on us all.
"What I always say to people is that it's possible to get through your life without needing, say, an accountant or an engineer, but it is not possible to get through your life without needing a nurse, and that goes for all of us," said Dr. Sara Barger, dean of the Capstone College of Nursing (CCN) at The University of Alabama.
Unfortunately, the healthcare industry worldwide has been faced with unprecedented nursing shortages that threaten the quality and availability of medical staff. In the face of this emergency, CCN faculty are looking critically at the situation and have developed some solutions that they hope will alleviate the problem at its source, according to Barger.
One reason for these shortages is that in the 1980s, women who might have sought a career in the nursing field chose not to, seeing it as a traditionally female profession and too conventional for their taste, Barger noted. "We went through a period of about 15 to 20 years when not many women chose nursing as a profession," she said. "Today, that's really caught up with us."
In recent years, nursing has again become a "hot profession," said Barger. As a matter of fact, a greater number of men are choosing to pursue it due to increased employment opportunities-in the CCN, the percentage of male students has increased from approximately 9 to 14 percent in the last decade. Now it is the shortage of instructors that has been identified as a major barrier to increasing the nation's supply of nurses, and schools across the country are having trouble finding faculty and facilities to accommodate potential students, she said.
Dr. Marietta Stanton, professor and director of the CCN graduate program, said that the nursing college hopes to help alleviate this problem through its new collaborative program with UA's College of Education, offering an M.S.N./Ed.D. and an Ed.D. with a nurse-educator specialization. These graduate programs, which began the fall of 2007, seek to produce more nursing faculty to instruct future generations. "Not only do we have a faculty shortage, but in the next few years we'll have a pervasive shortage because a lot of the faculty my age will be retiring," said Stanton.
This collaboration is only one of a slew of new programs that the CCN is implementing to continue to produce highly qualified nurses on both the undergraduate and graduate levels.
Current traditional undergraduate students benefit from the rigorous levels of clinical experience the college requires. After nursing undergraduates are promoted to the competitive "upper-division" level of courses for their junior and senior years, they begin clinical courses in which they provide nursing care in a myriad of hospital, hospice and community environments, said Dr. Marsha Adams, director of undergraduate programs. Not only do students work in various hospital environments at partner facilities such as St. Vincent's Hospital in Birmingham, Ala., and DCH Regional Medical Center in Tuscaloosa, Ala., they also must undergo training at hospice facilities, the Alabama Department of Public Health and rural elementary schools, and with industries practicing occupational health, just to name a few, Adams said.
According to senior nursing student Sally Dye, this intense experience has been an invaluable part of her undergraduate education. "Clinical experience is the time that students are really able to put into practice what they have been taught in lectures," Dye said. "Reading about a disease is one thing; helping care for a patient and their family whose lives have been impacted by a disease and helping improve their quality of life is a far different experience."
Undergraduate students in upper-division courses also benefit from the technology of computer-simulated patients called METIs, manufactured by Medical Education Technologies Inc. The school acquired its first simulator in 2005, and now has three adult simulators and one pediatric simulator, referred to by students and faculty as "Cappie Capstone" and "Cappie Junior," said Adams. These human-like machines can blink, breathe and bleed, and have suffered countless heart attacks, strokes, gunshot wounds and much more since they've been implemented into upper-division classes.
"Simulation allows us to take students, in a safe environment, through a number of different medical problems, and they react to the simulator," Adams said. "So if a mistake is made, they're able to recover and learn from that, so when they get in the actual clinical setting, those mistakes aren't made."
Nursing senior Taylor Boone recalls how close-to-life some experiences with the simulators have been, as teachers sometimes incorporate the real-life factors of frantic family members into the scene. "We have to control them as well as take care of the patient," said Boone. "I love having days with METI; our teachers make the environment fun, but real. They take a situation that could turn fatal and force us to think critically."
Along with these advancements, Adams said she believes that the caliber of UA's nursing faculty is a main ingredient in attracting the brightest students. "We have a very expert faculty, both experts in clinical practice and teaching," Adams said. "Our faculty always have their doors open to students. That to me is our biggest asset, as opposed to other schools where faculty might not be as approachable."
Dye, who anticipates graduating in May 2008, echoed that sentiment, saying that the faculty have been very helpful and focused on helping her and fellow students become the best nurses possible. "Nursing is not only about learning medications and scientific facts, but also about caring for the patient as a whole, beyond the curricula," she said. "I believe that the faculty help instill this caring attitude by teaching that nursing is not just a degree or a job, but rather a way of life."
The College of Nursing differs from other undergraduate programs on campus in that the "nontraditional" student is becoming much more typical, especially thanks to the separate R.N. Mobility Tracks, which split from the traditional undergraduate curriculum in 1998. These tracks are designed for registered nurses with associate degrees to attain a baccalaureate degree, or both their bachelor's and master's, online.
Dr. Jeanette VanderMeer, assistant professor and R.N. Mobility coordinator, explained that the online program makes advancement possible for working adults who might not otherwise be able to achieve it. "Nowadays, nurses are working shifts of up to 12 hours, and on top of other responsibilities such as family and children, they can't just come on down to campus on a regular basis," said VanderMeer. "I think it makes university education available no matter where you are in the state, and that benefits not only nurses, but hospitals and other healthcare providers."
Donna Taylor is currently working toward her bachelor of science in nursing through the R.N. Mobility Track, and said that because she works nights at the intensive care unit in Trinity Medical Center in Birmingham, the program was the right fit for her. "We have an aging population who are living with more complex disease processes, and we have to have well-educated nurses at the bedside to take care of them," Taylor said. "The nurses are the physicians' eyes and ears when they are not present."
Through its multi-faceted initiatives, the Capstone College of Nursing is making strides toward the improvement of the industry as a whole, and responding to the need for nursing staff and nursing faculty. As it continues to recruit increasingly talented students to its programs, the school is doing all it can for the nursing and healthcare industries of tomorrow, said Barger, who emphasized that she is proud to have a bright outlook for the years ahead.
"I am thrilled that so many young men and women now want to be nurses, and the quality of students that we are attracting is exceptional," she added. "That they want to be nurses bodes so well for our profession in the future."
To receive four issues of the Alabama Alumni Magazine each year, Join the Alabama Alumni Association Online