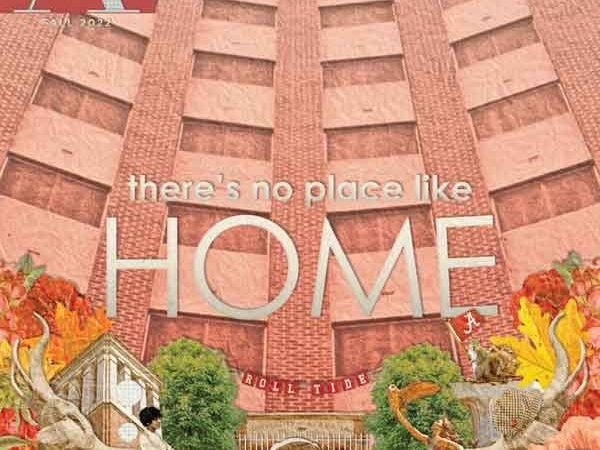 A Common Bond: Family and Community in Tutwiler Hall
The End of an Era: Generations of women speak about the true meaning of Tutwiler Hall
BY ANNABELLE BLOMELEY
THE UNIVERSITY OF ALABAMA'S campus is full of buildings that define the Capstone experience and remain in the hearts of thousands of students even after they graduate. From the history majors in ten Hoor Hall and long nights in Gorgas Library to the business students in Bidgood and the science labs in the SERC, no building stands out quite like Tutwiler Hall.
The infamous V-shaped residence hall became a beloved UA landmark, with more than 40,000 women having lived there since 1968, many of whom were living on their own for the first time in their lives. During these coming-of-age moments, the growing tradition of living in the affectionately nicknamed "Tut" began to blossom in families with Crimson Tide running in their blood.
Amy Ann Peck Stadthagen, who graduated with her bachelor's degree from UA in 2005, lived in Tutwiler during her freshman year in 2000 and 2001, exactly 25 years after her mother also lived in the all-girls dormitory.
"It's a piece of history," Stadthagen said. "At the time, it was just kind of neat that I was going into the same building that she had been in at the same age that I was."
For many UA students, particularly the ones coming from out of state, living on campus is a way to connect with a community at a time when they're leaving home and everything they know for the first time ever.
"The location is fabulous, especially for games; I mean you're right there next to the stadium. If you are in a sorority, you're right there next to your house. I just think the proximity to campus is wonderful," Stadthagen said. "I think the safety issue, with students being away from home for that first year, I think it's nice to be with a group of other girls that are all in the same position."
Named after Julia Tutwiler, a professor's daughter who in 1892 successfully persuaded UA's president to allow women to become studentsattheCapstone,thefirstTutwilerHall was built in 1914 at what would eventually be the site of the Rose Administration building. The first "Tut" lasted a little more than 50 years but was demolished the same year the second Tutwiler, the one most known by students and alumni alike, was built in 1968.
The second Tutwiler Hall was built right across the street from Sorority Row and Bryant-Denny Stadium, making it the prime dormitory on campus for girls rushing to make chapter meetings at their sororities and filing into the stadium on game day in the fall.
Caitlin Norton, who graduated with a bachelor's degree in 2010, and her mother, 1979 alumna Denise Johnson Norton, both lived in Tutwiler during their first years at the University. By the time Denise Johnson Norton moved into Tutwiler, the building was only 10 years old, and her older sister, who lived there a couple of years before, recommended it highly.
Nearly 30 years later, Caitlin, who grew up out of state, knew The University of Alabama was the place for her right when she stepped onto campus. Even after touring what seemed like countless other colleges and institutions, Caitlin picked her mother's alma mater, and at the same time, chose Tutwiler, as well.
"I've always had a really close relationship with my mom, so I think it was just really cool being able to live in the same building as my mom, my aunt, and my cousin who's eight years older than me," Caitlin Norton said. "I kind of just felt like I was continuing the female legacy of my family, and Tutwiler was a part of that."
For many, sharing the Tutwiler and UA experience with family was a way to bond in a time when freshmen weren't living at home for the first time.
"She'd be walking across campus, and she'd be talking about different buildings, and I would know where she was. I would know what her environment was like, and I would be able to suggest places that she might want to go in town. I could relate to where she was and what she was doing," Denise Johnson Norton said. "I could also tell her stories— there was just an opportunity to relate things back and keep the history connected."
While Tutwiler might have been one of the older dormitories on campus, this didn't stop decades of women from living there and creating a community of supportive friends.
Unlike some of the other dorms on campus, especially the suite-style ones, Tutwiler is known for its unofficial open- door policy, which is one of the reasons some women recommend it so highly to their daughters and other family members. Whether it's move-in day or the night of the big homecoming game, one rarely sees Tutwiler without at least a few doors open.
Denise Johnson Norton said her son also went to The University of Alabama, where he lived in suite-style dorms across campus from Tutwiler. Because he had his own room, his experience differed from his mother's and sister's.
"I think it's that sense of camaraderie that you gain in the Tutwiler environment," Denise Johnson Norton said. "When I was there, we would meet up in the common rooms and hang out there, have study groups and stuff like that. We would just sit in the halls and study and just be together. I think that created a sense of community that you can't get in the more modern style dormitories."
For many, college is supposed to be a time to get out of your comfort zone and meet lifelong friends, many of whom will share a living space, especially in dormitories like Tutwiler.
Evie Edwards Carrier, who lived in Tutwiler in 1985, said that during her stay at the University, Tutwiler was "the place to live." By the time her daughter was ready to head to college, Carrier took her to tour the many dorms on campus, which had expanded to suite-style residence halls and more.
"I tried to keep my opinions to myself, and we did the residential tours, and everybody just thought the honors dorms were the way to go or the suite-style dorms. We visited on a rainy day, and I'll never forget that those dorms were just so quiet. We didn't see anybody in the hallways. It was really kind of odd," Carrier said. "And then we went to Tutwiler, and everybody was inside. It was like walking into a movie set at a summer camp.
I mean girls were everywhere—I could not have planned it better to be there with just so much activity and so much energy. My daughter was like, 'Oh, I think I see what you're talking about.'"
A few months later, when she was moving her daughter into her new room at Tutwiler, Carrier said it all hit her at once since Tutwiler had changed very little in the decades it had been since she lived there. Despite having to say goodbye to her daughter for a little while, Carrier knew she was with the Tutwiler "sisterhood."
"I think that there definitely is a common bond and that is something we both treasure," Carrier said. "It's big to me. It's a really big deal that my daughter got to live there. And you would have to ask her, but I think she would say it was a big deal for her too."
In 2019, the University announced that the second Tutwiler Hall would be demolished in the summer of 2022 and rebuilt right next door, causing many to mourn and some to celebrate. While some girls didn't miss the twin XL beds and community bathrooms, it's no doubt that Tutwiler brought together generations of women, whether through familial bonds or the tradition of keeping your door open.
"[Tutwiler] helped me tremendously. I learned how to talk to people. I was probably a little bit shy when I went to school, but that didn't last very long. I mean just out of a sense of boredom, you're going to talk to your neighbor," Carrier said. "I met all different types of people from all different places involved in all different things on campus, but our commonality was Tutwiler."
The new Tutwiler, which is now the third, will be opening in fall 2022 and welcoming its first generation. Despite the private bathrooms and nicer bedrooms, the third Tutwiler will no doubt continue to be a University of Alabama landmark and home away from home for thousands of women.