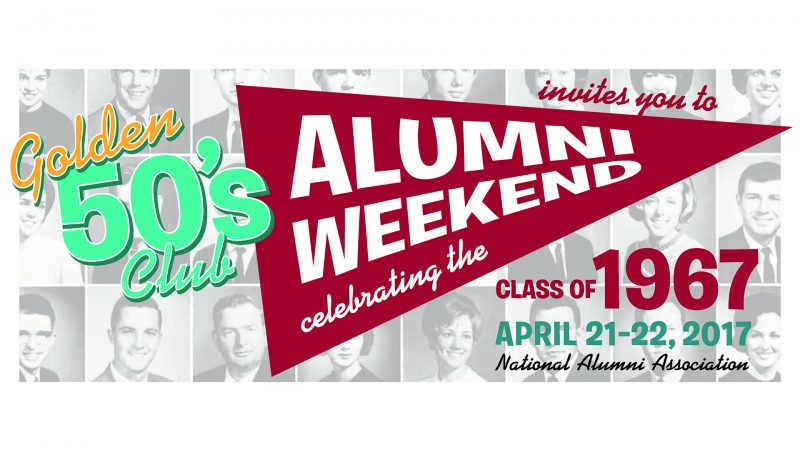 Registration is now live for Golden Fifties Club festivities, part of Alumni Weekend.  While the Class of 1967 will be inducted into the Club, any graduate from 1967 or prior is welcome to attend!
Online registration is now closed. Please register by calling 205-348-1552, or by mailing the 2017 GFC registration to:
Alabama Alumni Association
Attn:  Jamie Burke
P. O. Box 861928
Tuscaloosa, AL  35486
The Golden Fifties Club celebrates the rich history of The University of Alabama and provides meaningful experiences for alumni and former students who have reached the 50th anniversary of their graduation. Each year, we welcome a new group into the Golden Fifties Club during our reunion weekend and invite all Golden Fifties Club members to participate and welcome our new inductees.
If you have made a reservation at The Jack Warner at North River, your information packet will be available upon check in at the hotel. If you are not staying at this hotel, information packets can be picked up at Alumni Hall prior to the campus tour. Information packets will contain a registrant list, map and other additional details.
Agenda for the Weekend
Friday, April 21, 2017
Campus Tour: Members will board the campus transportation system, the Crimson Ride, for a tour of campus led by the Capstone Men and Women. The tour will depart The Jack Warner at 2:30 p.m. There is also an additional pick up location at Alumni Hall (224 Paul W. Bryant Drive, Tuscaloosa, Alabama  35401) at approximately 2:50 p.m.
Induction Ceremony Dinner at the NorthRiver Golf Club: Cocktails will begin at 6 p.m., followed by dinner at 7 p.m.  Following dinner, the class of 1967 will be inducted into the Golden Fifties Club. A shuttle will be available to take attendees from The Jack Warner to the Golf Club. 
Saturday, April 22, 2017
Breakfast of Memories: Reminisce with classmates at the Bryant Conference Center's Rast Room beginning at 8:30 a.m.
Alumni Awards Luncheon: Recipients of the 2017 Distinguished Alumni Award, the 2017 Alumni Student Award and the Outstanding Senior Award will be recognized at 11:30 a.m. in the Sellers Auditorium of Bryant Conference Center.
Golden Flake A-Day Game: The National Alumni Association has reserved a section in the stadium for Golden Fifties Club members and their guests. Cheer on the crimson and white teams at 2 p.m. in Bryant-Denny Stadium.
Parking for Saturday's activities is available in the Moody Music Parking Lot at the corner of Bryant Drive and 2nd Avenue. Please note, there is construction on University Blvd. between McFarland Blvd. and 2nd Avenue. Transportation to/from campus on Saturday, April 22 is not provided.
Other helpful links: 
An interactive campus map can be found here, while a printable map is available here.
UA Gameday information is available here.
Information about local attractions can be found here.
Directions to NorthRiver are available here.